Safety tips for lifting with excavators
Proper set-up, preparation and caution come together when excavators step in for lifting duty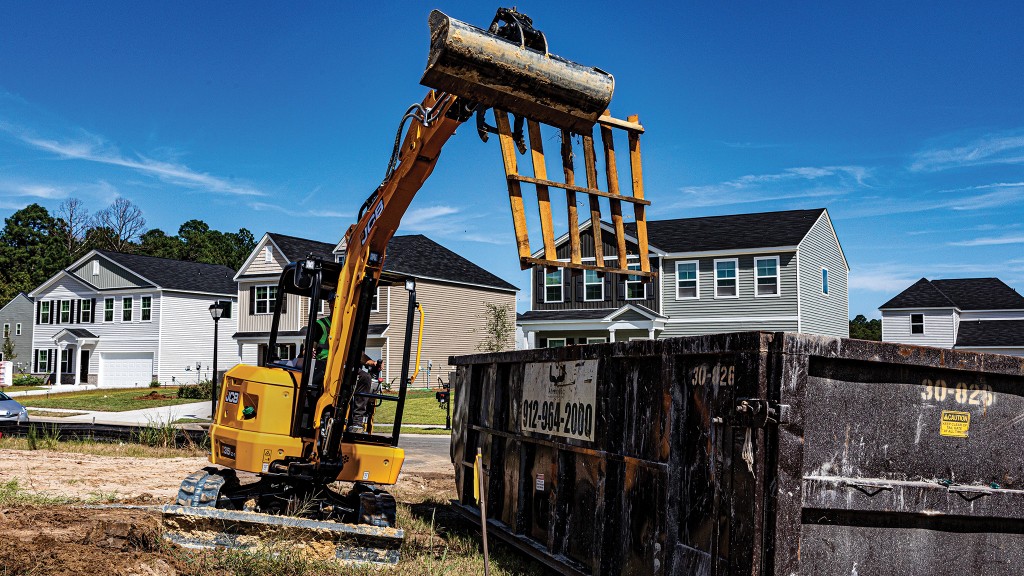 There are lots of things that need to be moved around on job sites - trench boxes, lengths of pipe, pieces of small equipment, or any number of other items that have to go from point A to point B. If there's no crane on site to help with those lifts, they can be handled by the next best thing: an excavator.
Excavators are designed to lift heavy loads and move them around a job site, so it makes sense that they can fill in for a dedicated machine such as a crane to shift equipment and materials. However, it's important to recognize that lifting is not the primary job for an excavator - and there are a number of considerations to keep in mind. Proper spec'ing, preparation and operation are all important to ensure that lifts performed by an excavator are all done safely and without potential damage to the machine.
Consider lifts when buying machines and attachments
It's a good idea to consider whether an excavator will be called on to manage lifts regularly in its day-to-day operations when spec'ing out purchases of machines, buckets and attachments. Chris Lucas, excavator product manager with JCB, suggests that customers think through their machine configuration carefully to ensure they're ready for that lifting work, starting with their choice of buckets.
"For direct mount buckets, I would suggest they purchase buckets with lifting eyes. If they want a coupler attachment, then I specify to the customer that the coupler then becomes the lifting point, not the bucket," Lucas explained.
"When an excavator handling lifting duties is equipped with a thumb, it's important to ensure that the right one is selected," he added. "There are varying styles of thumbs with varying 'bites.' Depending on what you intend to lift with the thumb, I would suggest seeing what style works best for your material."
The way in which an excavator is configured can change lift ratings, and also needs to be kept in mind when buying the machine. John Deere Solutions Marketing Manager Justin Steger advises that certain choices may result in reduced lift capability.
"The additional weight of a cab versus a canopy could affect how much the machine can lift. Length of the boom and arm will also significantly impact the lift capacity and performance of a machine. If a machine will be lifting heavy objects frequently, consider a machine with a standard or short arm, rather than a machine with a long arm," Steger suggested. "Keeping the load closer to the excavator will allow it to lift more weight while maintaining better stability."
Conventional machines safer for bigger lifts
Lucas also noted that the overall design of the excavator should be reviewed prior to buying a machine that will be doing a lot of lifting. To start, he noted that conventional-tail-swing excavators are a better recommendation than those with reduced tail swings.
"The additional counterweight on the conventional tail swing will better support lifting, especially at full reach," Lucas said.
Consider the width of the tracks and undercarriage when spec'ing an excavator for lifting, and look at the design of the upper structure as well, he added.
"A lower-profile body will be less top-heavy and provide a greater centre of gravity," Lucas said. "JCB's excavator designs all provide a low-profile design and have a greater percentage of steel in the undercarriage."
Learn and use load charts for safe lifts
While excavators are capable of handling lifting duties, it's important to remember that they are broadly designed to provide force in the opposite direction from a crane, Lucas pointed out, and that lifting heavy loads at the machine's full reach can be hazardous.
"Unlike a crane whose chassis is designed with a considerably different centre of gravity, an excavator's design is meant to support a greater force downward rather than up," he said. "For instance, an excavator is meant to apply force through the ground which applies pressure differently to the chassis, versus a crane that is meant to take upward pressure onto the chassis."
However, just like cranes, excavator operators can make use of load charts provided for their machine to plan and prepare for lifting.
"Our excavators come with lift chart decals in the operator station," Steger noted. "It's important for operators to consult the operator's manual and find the specific lift chart for their configuration of machine. A standard arm machine will have a different lift chart than a long arm machine."
Load charts are designed and tested with specific stick lengths and bucket attachments, so operators should pay attention to the parameters by which their machine's chart was created and ensure their lifts are calculated properly, Lucas advised - this includes the weight of the bucket.
"Buckets of the same size can still vary in weight depending on the manufacturer," he noted. "Also, density of the material being lifted can vary. Understanding the weight of your attachment, the length of dig-end configured to your machine, and the weight of the object or objects being lifted, you should be able to determine where your safe limits correlate to the load chart."
When it's time to perform the lift, there are a few procedures that can help keep operators and those working around the excavator safe, Steger said. He advises performing lifts on stable, flat and firm ground as far back as possible from any edges or drop-offs on the site. Machines with a backfill blade should have the blade on the ground, to gain additional stability during the lift. If any rigging is being used for the lift, it's key to know and understand the rated capacity of the rigging and to perform regular inspections for wear or damage.
Once the lift chart has been consulted, perform a test lift, picking the load slightly off the ground to see how the machine reacts, Steger said, and use slow, smooth commands on the hydraulics to keep the load under control.
Technology supports for lifting work
Just as it does for so many other excavator tasks, technology can provide support when handling lifting work. On JCB machines, for example, automated systems are able to detect when lifts are closing in on safety limits well before there's a problem, Lucas pointed out.
"On JCB excavators you will find the Lift Overload System built in as standard on our newer-generation models. This system uses a load Mass Indicator that gives both a visual and audible indication of lifting limits. The system also considers the slew position and calculates that variable," he said.
Other aspects of telematics and machine control systems can be used to make lifting work safer. Virtual fencing, Steger pointed out, is useful for keeping excavators that are moving material from clashing with obstacles on the job site and allow the operator to focus on the task at hand. Visual and audible warnings guide the user in avoiding those potential problem spots.
"In a lifting scenario where there are power lines or any other obstacles overhead, the operator can easily set the virtual ceiling in the grade control display while the boom or highest part of the machine is positioned just below those obstructions," Steger said. "As the operator performs the lift, they can keep their eyes on the load and the machine will tell them as they approach the ceiling they just set. It's one less thing for the operator to focus on until the machine approaches a limit. As the obstacles on the job site change, the operator simply goes back into the grade control display and sets new virtual fences."
Whether it's a piece of equipment being shifted across the job site or a pipe segment that needs to be placed, excavators can be used to lift some hefty loads. Using the right tools, preparing carefully and exercising caution are all key for safe lifts.
Related Articles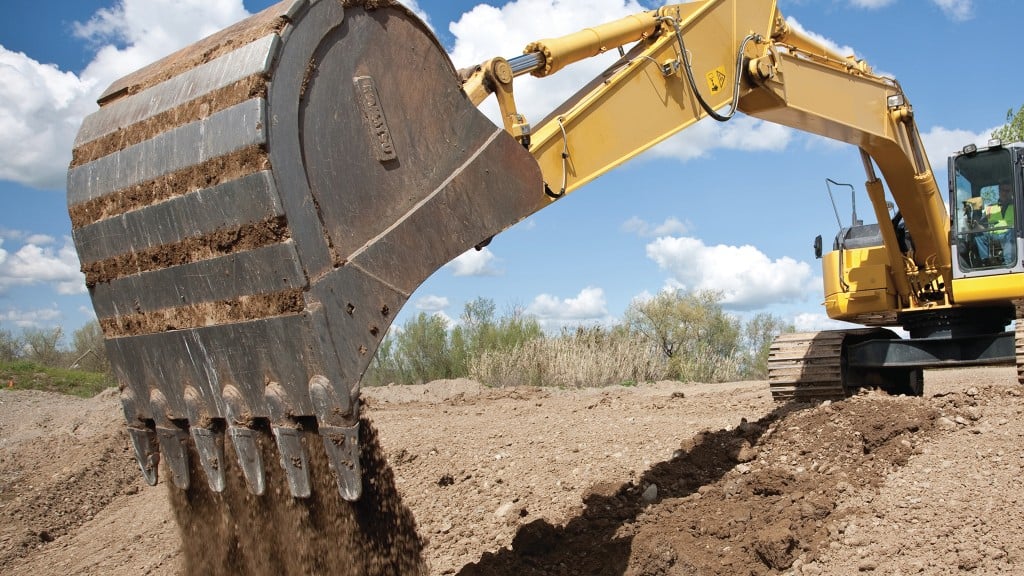 Q&A: Topcon's Mark Jones talks choosing between 2D and 3D machine control