Vermeer releases diesel-powered mixing system for HDD applications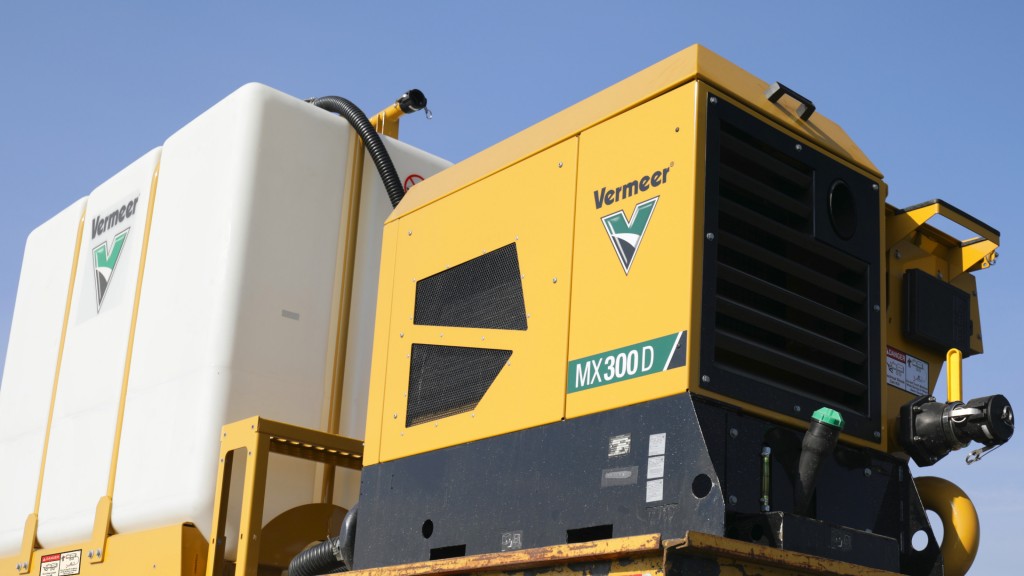 The Vermeer MX300 mix system is now available in a diesel-powered model. The system is equipped with a Caterpillar 3-cylinder 24.7-horsepower (18.4-kW) diesel engine to power two pumps for a two-tank mixing system. This design delivers a constant supply of fluid to the drill by moving fluids between tanks. After one tank is empty, HDD crews can begin mixing to replenish the fluid supply without impacting fluid pressure to the drill.
The MX300D uses a single hopper and venturi and is paired with narrow rectangular tanks that allow many customizable mounting configurations. The mixing system's compact footprint and ability to support two tanks with one engine give crews more room on the truck or trailer to carry mixing additives to the job.
Clint Recker, product manager for trenchless products at Vermeer, said a diesel-powered mixing system can reduce or eliminate the need to keep gasoline onsite. "Most equipment found on a typical HDD jobsite is powered by diesel engines," he said. "While having a few extra gas cans onsite is easy to do, crews appreciate the ability to use the same fuel type across their entire equipment fleet. Also, the MX300D runs quietly, which can be an important feature for contractors working in communities with sound level ordinances."
Like the gas-powered MX300 mixing system, each pump on the new MX300D can produce up to 350 gallons per minute (1,324.9 L/min) of flow and can be paired with 750-gallon (2,839.1-L) or 1,000-gallon (3,785.4-L) tanks. The tanks are designed with a tapered bottom to help prevent additives from settling, building up and assisting with efficient drainage. With a 40-inch (101.6-cm) tank width, the MX300D paired with two tanks can fit inside a standard-sized enclosed truck.
The MX300D has a 16-gallon (60.6-L) fuel tank and is convenient to service with access to the roll jets through the top of the tank and two drainage points operated by two accessible valves.