Doosan Infracore North America to enter crawler dozer market in 2022
The company will introduce the first of two small dozer models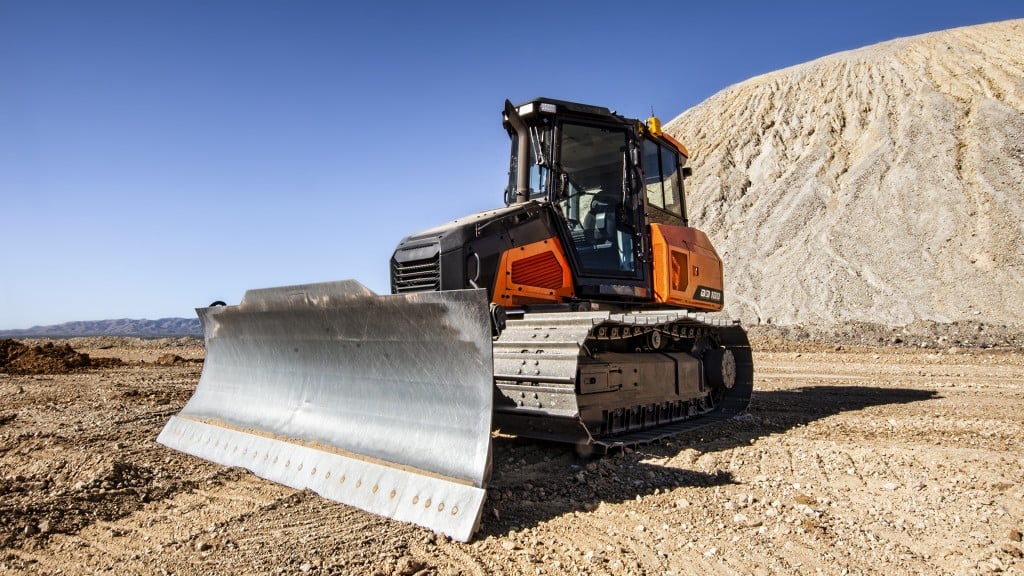 Doosan Infracore North America is kicking off its new era as part of the Hyundai Genuine group with entry into the small dozer market in Q3 2022. The first model, the DD100, is currently in the prototype stage.
Aaron Kleingartner, product & dealer marketing manager with Doosan Infracore North America, says that the company saw opportunity in this size class as small dozers under 140 hp make up 50 percent of the dozer market.
The introduction of the company's first dozer is part of its overall initiative to launch more machines in a greater range of product categories, providing dealers with a fuller range of Doosan machines for their customers. The introduction of the dozer follows the launch of the company's -7 wheel loader line and will coincide with the introduction of the first Doosan-manufactured mini excavators for North America and the introduction of Doosan's -7 crawler excavator lineup. By the end of 2022, Doosan's excavator range for North America will span from 2.7 to 100 metric tons.
Doosan's first dozer will deliver plenty of horsepower
According to Doosan, this new dozer will deliver more engine horsepower than any other dozer of its size currently in the market. There will be two undercarriage options available - low ground pressure and standard.
Electro-hydraulic controls will be standard and operators will find commonality with other Doosan machines in the cab. The cab will feature an 8-inch Smart Touch display, and operators will have expansive visibility with minimized front pillars, maximum glass area and a standard rear-view camera. Optional 3D Machine Guidance and 3D Machine Control will be available.
Preliminary specs for the DD100 include:
Horsepower: 122 hp (91 kW)
Operating weight: 25,309 lb. (11,480 kg)
Blade capacity: 3 cu. yd. (2.3 m3)
Blade height: 3 ft. 7 in. (1.1 m)
Blade width: 8 ft. 10 in. (2.7 m)
Blade angle: 22.5 degree
Drawbar pull: 33,721 lbf. (15,296 kgf)
Track length: 7 ft. 7 in. (2.3 m)
Travel speed, max: 5.7 mph (9.2 km/hr)
The second model in the lineup will be available in 2023.