Premier Christy Clark Visits Kal Tire & SST Wireless for Demonstration of Locally Developed Technology with Global Impact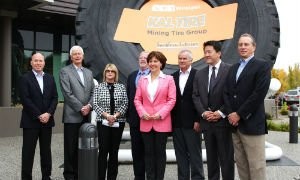 British Columbia's Premier Christy Clark was welcomed by Robert Foord, president of Kal Tire and Christopher Chong, CEO of SST Wireless, to receive a demonstration of True Tire Technology™ (TTT) which was developed under a joint venture between the two companies, both based in Vernon, BC.
TTT™ is a wireless tire pressure monitoring system (TPMS) developed for mine haul trucks that operate in some of the most extreme conditions on earth. Already installed at mines in Canada, Mexico, Chile and Mozambique, this new product has helped to advance Kal Tire's leadership in global mining tire service.
The demonstration included a rare opportunity to examine first-hand a giant 63" earthmover tire used on trucks that carry up to 400 tons of material per load, and to perform the installation of a wireless sensor. The Premier and guests were provided an informative look in to the technology, including a live monitoring of tires on trucks in a remote mine in Mozambique.
The technology provides wireless, real-time monitoring of tire pressure and temperature using sensors installed inside each of the tires that communicate through an on-board controller to the mine's base station. The data allows mine operators and Kal Tire to better manage tires, which are one of the top three expenses of a mine site, and is critical to safe and efficient operation.
TTT's ability to provide real time status of tire pressure and temperature increases safety by alerting drivers and base operations before inflation or heat problems can cause tire failure which results in time consuming repairs and maintenance. In addition, proper inflation increases fuel efficiency that can save millions of dollars per year in diesel and reduce emissions.
Kal Tire's Mining Tire Group is the world's premier mining tire specialist, with capabilities that go far beyond supplying and servicing tires. The company continues to build the infrastructure required to support international mining customers and all their tire requirements across multiple mine sites in multiple countries.
SST Wireless Inc. is a Vernon, B.C. based company with offices in Delta, B.C. that develops wireless sensor technologies with a focus on increasing safety, minimizing operational downtime and reducing environmental footprint. The company's flagship product is TTT, developed in collaboration with Kal Tire. The company continues to develop and commercialize new products, making significant advances in public transit and industrial automation.
Premier Clark spoke about B.C.'s resource economy and the opportunities it creates for companies across the province like Kal Tire and SST Wireless.
Christopher Chong expressed his appreciation of the support SST Wireless has received from both Kal Tire and the Southern Interior Development Initiative Trust (SIDIT). They have allowed SST Wireless to reach commercialization of its technology and are an example of how private public partnerships can help B.C. companies compete globally. The role of SIDIT is to grow and diversify the economy of the Southern Interior of British Columbia through a $50 million fund established by the Government of B.C. in 2006, as exemplified in the trust's investment in SST.