Wacker Neuson vibratory plate compactors available with battery or gasoline power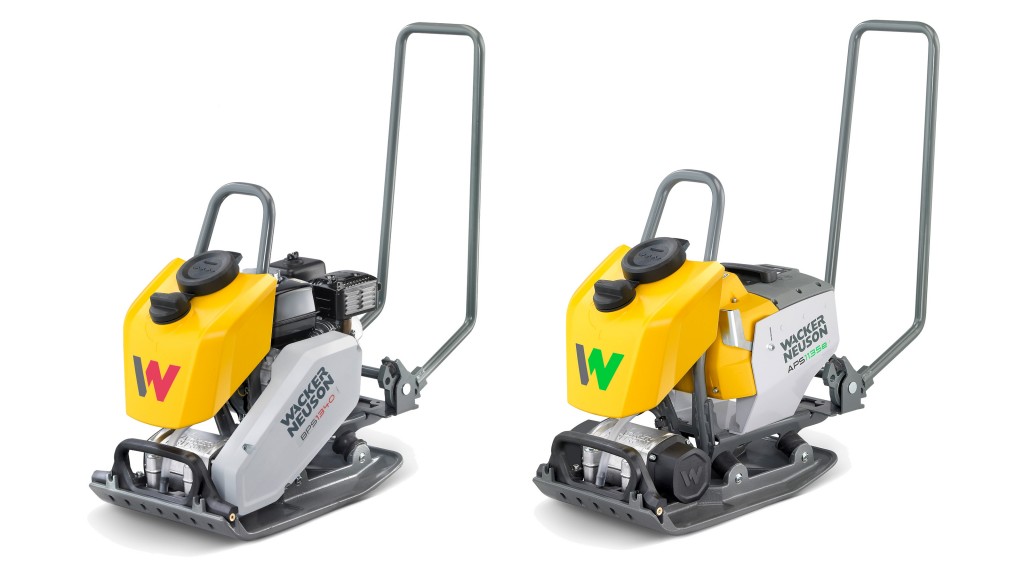 Wacker Neuson has released a new series of battery-powered and gasoline single-direction plates. The newly designed APS (battery) and BPS (gasoline) plates are suited for a variety of soil and asphalt compaction applications.
All of Wacker Neuson's new models offer a base plate designed for handling on soil and fresh asphalt. The angular side edges of the base plate provides smooth, clean asphalt finish along curbs and obstructions. The responsive guide handle makes it easy and comfortable to operate, while also reducing hand-arm vibration.
All models come with or without a large capacity water tank for asphalt applications. A large, rotary knob allows for regulation of water flow, while the efficient sprinkling system disperses water across the entire plate to reduce waste. Additionally, the modular design across all models offers spare parts commonality reducing the number of parts needed for stocking.
The gasoline models, BPS1135A and BPS1340A, are powered by Honda GX120 engines. The BPS1135A has a 13.8-inch wide baseplate and produces 2,473 pounds of centrifugal force. The BPS1340A comes with a 15.8-inch wide baseplate and produces 2,923 pounds of centrifugal force. The V-belt and bearings with lubrication reduces maintenance.
The new battery-powered models, APS1135e and APS1340e, utilize Wacker Neuson's BP1000 lithium-ion battery to offer quiet and zero-emission operation. The APS plates come in the same widths and produce the same centrifugal force as the conventional BPS gasoline models. The alternative battery-power source is ideal for indoor applications and job sites with noise and emission guidelines. The cordless APS battery plates are easy to start with the simple push of a button and the battery charge can last throughout a standard workday. They are near maintenance-free due to a direct drive with no V-belts and lubricated bearings.
The BP1000 lithium-ion battery can be inserted into any of the Wacker Neuson zero-emission product without the need for special tools.