JCB's first-ever electric telescopic handler shown at ARA trade show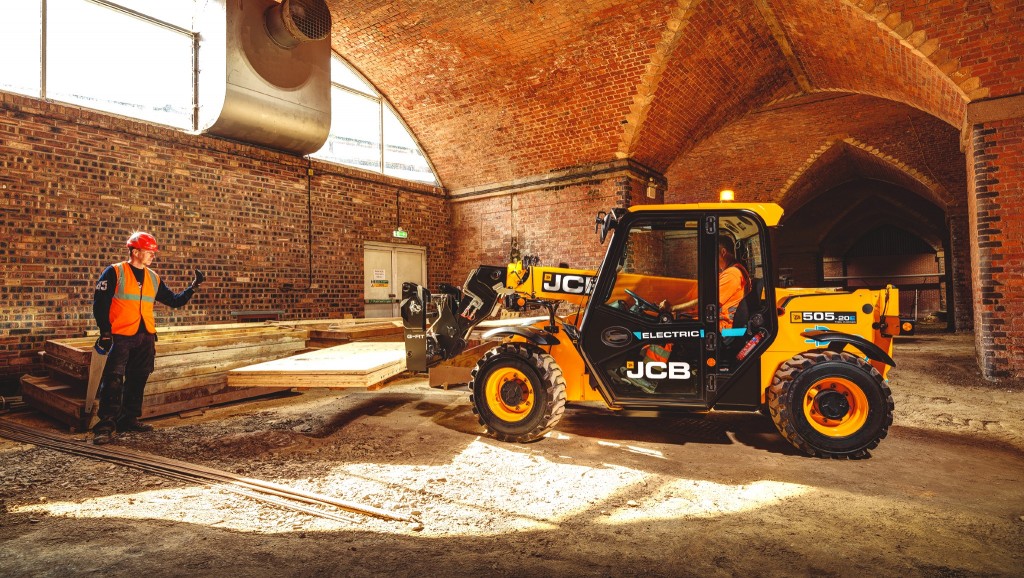 JCB featured the 505-20E, a fully electric version of the compact Loadall telehandler, at the American Rental Association trade show in mid-October. Designed to deliver the same performance as conventional diesel-powered machines, the 505-20E offers the same output as the JCB diesel telehandlers with a smaller eco-footprint.
"The most recent JCB innovation leads the world market for telescopic handlers, offering zero emissions without compromising performance, power, or productivity," said Rebecca Yates, Senior Product Manager for Material Handling, JCB North America. "The JCB 505-20E is the perfect solution for a wide range of applications in general construction, industrial and agricultural markets, particularly where strict emissions regulations or noise pollution is an important factor."
Key features of the 505-20E include:
Lift capacity of 5,250 lbs and 20 ft of lift height
96v lithium-ion battery
Dual electric motors for drive and lift deliver increased efficiency
Full shift operation capability
Large operator station with ergonomic joystick controls
Range of charging options, including on-board and off-board rapid charging
The 505-20E uses two proven electric motors, one for the driveline and the second to power the hydraulic system. The 30hp hydraulic system motor powers a fixed displacement gear pump, delivering a maximum 21 gal/min of flow.
The machine has a 110v, 16A on-board charger capable of recharging the battery in 8 to 10 hours; 220v on-board charger is an option depending on the needs of the application The JCB Universal Charger can also be used for a rapid top-up, in as little as 60 minutes.
The 505-20E has been designed to meet the current and future needs of customers in a variety of industry sectors, providing zero-emissions operation for working inside buildings, in underground construction and maintenance work, shipping ports, on environmentally friendly sites, and around hazardous materials and even animals.
A secondary benefit of electric operation is a significant reduction in noise levels, making the Loadall suitable for extended operation in noise restricted areas such as schools, inner city work, and hospitals. The 505-20E delivers an in-cab noise level of just 66.7dB, while the external level is 92.2dB. A white noise reversing alarm is available standard, to warn site workers of machine movement.
With a slightly lower weight, the maximum lift capacity is just under the diesel variant at 5,250 lbs, however, external dimensions remain the same with 12 ft 1in outside turn radius and overall height of 6 ft 2 in. The machine has been designed to deliver similar cycle times as the diesel telescopic, with no loss of performance. It can be used with forks, a range of buckets and many other JCB Loadall attachments.