Service trucks trend toward smaller, lighter and more capable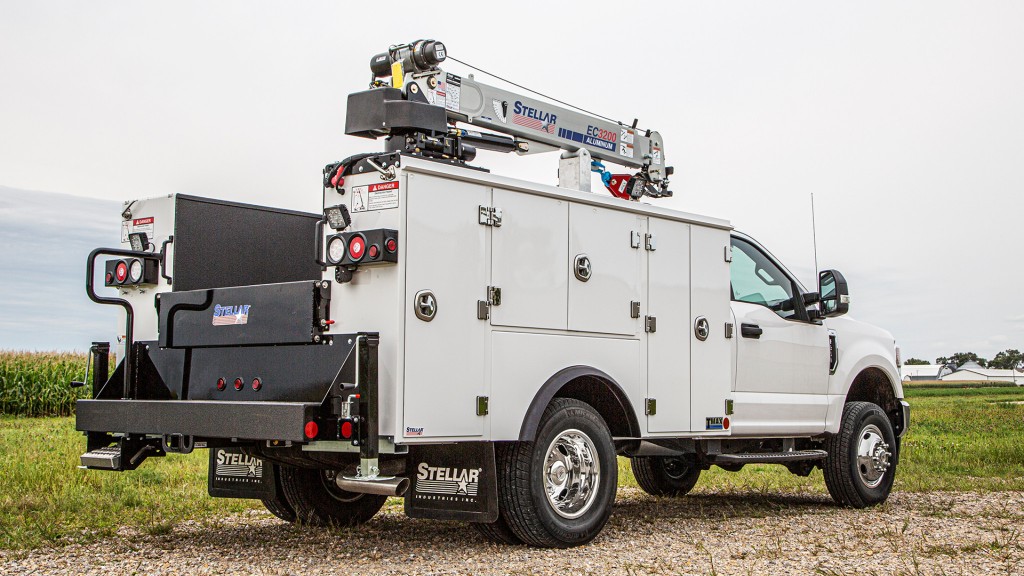 While it has been impacted by a variety of factors - from COVID-19 to factory fires and weather disruptions - the market for mechanic service trucks remains strong, and manufacturers are offering plenty of new features for their customers to take advantage of.

A rebound has seen commercial vehicle markets returning to pre-pandemic trends. According to the National Truck Equipment Association (NTEA), the need is there as evident by the nearly 11 percent bump so far in 2021 versus 2020. And manufacturers are putting time and money behind new innovations to support everything from better safety measures to new green initiatives, more focus on battery power and more.

Even with a positive outlook, the supply chain has greatly reduced inventory. So, if you are looking to update your fleet in 2022, it is important to consider reaching out to your manufacturer or distributor to see what is available as soon as possible.
Demand increased after effects of pandemic
While the pace slowed at the beginning stages of COVID-19, it started picking up toward the end of the year. Demand was even stronger at the beginning of 2021, and the momentum has not slowed down through the mid-year point.

It is not to say the industry did not feel the weight of the pandemic, but it never hit the lows that came after the financial crisis.

Overall, the industry saw a year-over-year drop of more than 20 percent, according to Steve Latin-Kasper, NTEA senior director of market data and research. For the work truck industry, Latin-Kasper says the pandemic price tag was $30 billion in 2020 as OEMs took two-thirds of the hit.

The NTEA's work truck forecast sees a market rebound of about 10 percent year-over-year for unit sales of $141 billion compared to $126 billion in 2020. For reference, 2019's total revenue was $156 billion.

Industries across the world had supply chains shut off and turned back on only to see demand of historic proportions. For the mechanic service truck industry, this caused supply chain issues from chassis to paint.

Although supply chain issues are improving in some facets, it appears this could linger well into 2022. Even prior to the pandemic, the chassis supply chain was not abundant. It is even tougher to secure now, mostly due to electronic components. Between COVID impacts and a major fire at a Japanese factory, semiconductors and the chips they are used in are difficult to come by right now.

Winter weather in Texas only exasperated the already-challenged supply chain from COVID-19. Business Insider says Texas leads North America in petroleum refining production, a key ingredient in mixing manufacturing paint and bedliner products. The uncharacteristic 2021 winter storm reduced the state's capacity to refine petroleum, leading to a greatly reduced ability to manufacture nearly all paints.
Trends in service truck design and construction
The ever-evolving industry is seeing different customer demands from weight savings to a smaller chassis and more.
Aluminum bodies
The chassis has a Gross Vehicle Weight Rating (GVWR). After adding a crane and other equipment, only a limited amount of payload can be added to keep the chassis under its legal weight limit.

The lighter weight the material on the truck is, the more operators can put on it. This has led to a surge in aluminum truck bodies. Steel adds extra mass on work trucks as opposed to aluminum. Aluminum also is corrosion-resistant, creating a higher return on its value.

Stellar has been offering aluminum bodies since 2017 and aluminum drawer sets since 2014, in addition to our steel products. In 2019 we took it a step further and introduced the EC3200 aluminum crane. The lighter truck package and corrosion-resistant materials have created more payload for the operator and proved incredibly popular.
Going smaller
Fleet managers are getting very good at optimizing their fleet. Because of this, the industry is currently seeing a trend from larger models down to models like the Ford F550. Customers are looking for a smaller size chassis that can have additional payload with some minor changes.

One of the driving forces behind this is stricter CDL laws. It also comes down to cost. Ultimately, fleet managers want a truck that is like a Swiss Army knife, where it is going to go on the job and do most of everything.
Green choices on the horizon
The push toward sustainability is not only a trend, but in some cases, a mandate. For example, there is an executive order in California that by 2035 all new cars and passenger trucks sold in the state are to be zero-emission vehicles.

In the work truck industry, there is a lot of attention and interest regarding reducing emissions and economizing fuel usage. Currently though, the demand is centred more on auxiliary power units and equipment.

The move to hybrid power sources helps meet green initiatives. Using battery power can eliminate the need for the truck engine to idle while running an air compressor or even running the crane. This not only helps lower vehicle emissions, but also reduces fuel costs. Using small, engine-driven auxiliary power units is a much more efficient use of energy since they are small units and only use those emissions. This also can result in decreased maintenance costs.

There is no question the work truck industry has challenges ahead. But, overall, the industry and demand only saw a minor blip throughout the pandemic. All signs point to a very encouraging market for the foreseeable future. If you are looking at future purchases, be sure to put a plan in place quickly to ensure you are covered.
Adam Oppermann is product manager at Stellar Industries, Inc.