2022 Toyota Tundra gets power boost, added towing and payload capacity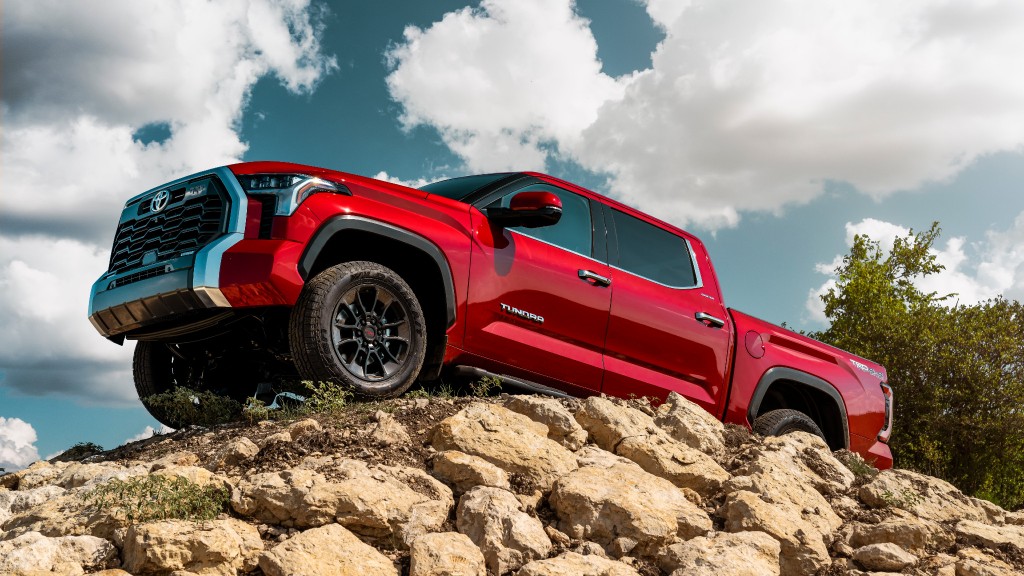 The 2022 Toyota Tundra has been redesigned from the ground up and will include new powerplant options, plenty of towing and payload capacity, and enhancements to the truck's technology suite.
Toyota says the new Tundra will feature maximum towing capacity up to 12,000 pounds and a max payload capacity of 1,940 pounds for the 2022 model year, thanks to a variety of updates.
Structural improvements add strength and capacity
Under the truck, designers have made some innovations with the frame - a widened rear frame member improves stability and towing capacity. The foundation also helps ensure excellent ride comfort and polished handling dynamics, which are further improved on certain grade levels that include hydraulic cab mounts. Aluminum and high-strength steel combine to provide strong and lightweight components throughout the truck.
A new multi-link rear suspension uses coil springs to improve handling and ride, as well as towing capacity, which is increased more than 17 percent from the previous generation. Payload is upped by more than 11 percent over the previous Tundra. Also improving performance and handling is a new double wishbone front suspension.
Hybrid power option a highlight
Tundra will feature a pair of powertrain options for 2022, a twin-turbo V6 and a hybrid twin-turbo V6. The V6 generates 389 horsepower and 479 lb.-ft. of torque, both improving on the previous V8. However, the i-FORCE MAX hybrid V6, built on the same platform but featuring a motor generator with a clutch located within the bell housing between the engine and 10-speed automatic transmission, will provide even more pulling power.
Toyota says the hybrid will generate 437 horsepower and 583 lb.-ft. of torque at 2,400 rpm. It will provide added power and torque during towing applications, while during city driving it will provide improved efficiency. Highway driving benefits from responsive linear power delivery, and off-road driving is enhanced with peak torque performance low in the rpm range.
Towing technology takes step forward
Towing and hauling capability on the 2022 Tundra are enhanced by the use of technology. Two new Tow/Haul modes increase throttle response based on the payload size and weight, paired with the benefits of the i-FORCE MAX powertrain when equipped. One of several camera options on the Tundra - which include multiple exterior angles viewable from the available 14-inch touchscreen or the available rearview mirror camera accessory - is Panoramic View Monitoring, which offers a top-down view of the truck for added visiblity. Views include rear truck bed, a rear split view for viewing either side of the trailer, and a hitch view.
New multimedia options
The new Toyota Audio Multimedia system is accessed through a standard 8-inch or available 14-inch touchscreen, and features an Intelligent Assistant to help out with voice-activated commands. A cloud-based native navigation system allows for real-time Over the Air (OTA) updates for mapping and points of interest.
Toyota Connected Services offer peace of mind and convenience. Safety Connect offers added reassurance for when unexpected emergencies occur, and Service Connect provides personalized maintenance updates, vehicle health reports and maintenance reminders.