New Hitachi mining excavator features enhanced durability, lower fuel consumption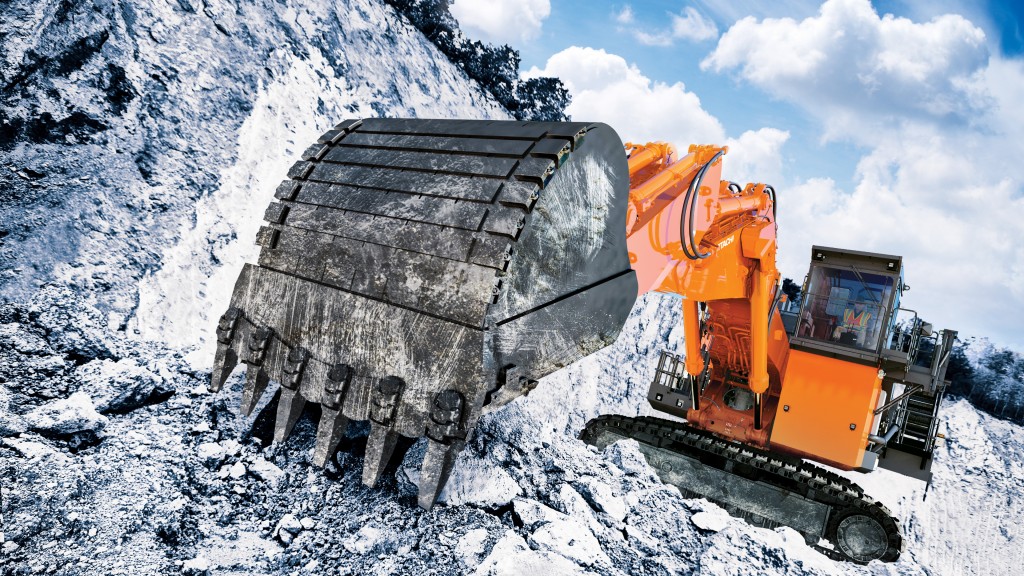 Hitachi Construction & Mining Division has unveiled the EX2000-7 at MINExpo - its latest EX-7 Series mining excavator that provides enhanced efficiency, reliability and durability. The new excavator joins the EX1200-7, EX2600-7, EX3600-7 and EX5600-7.
With the new Cummins QST30-C, the EX2000-7 features less fuel consumption for significant cost savings and lower environmental impact. Main pump electronic regulators, high hydraulic efficiency regeneration, and a cooling package work together as sustainability technologies that help reduce fuel consumption by up to 20 percent (compared to the previous EX1900-6 model with Cummins configuration).
The EX2000-7's hydraulic system conserves energy as each individual control valve is closely adjusted to direct the exact required amount of pressure to each cylinder and swing motor from the pumps. The result is lower fuel consumption and improved pump life.
A larger hydraulic oil cooler with variable speed fan also helps reduce energy demand and creates a more reliable hydraulic system. The oil cooler is kept separate from the radiator to effectively reduce hydraulic oil temperatures, increase hydraulic service life, and improve maintainability.
Enhanced efficiency, reliability and durability
The EX2000-7 features a power-focused design, including a larger bucket, to deliver consistent output for mining operations. As a shovel, the new machine has a larger 12 m³ bucket compared to the previous EX1900-6 model's 11 m³ bucket, designed to increase loading capability with a tilt angle that enhances operational efficiency. Hydraulic pumps optimized with electronic regulation also help increase efficiency.
To increase reliability and reduce chafing, the EX2000-7's front attachment hoses have been rearranged from the traditional arch style to an underslung configuration, removing the need for clamping. Likewise, a newly designed heavy-duty guard protects hoses and accumulators located in the track centre frame from rocks and debris ingress.
In terms of durability, the EX2000-7 features a stronger, more durable mainframe than previous models. Stress is now more evenly dispersed across the improved frame shape, increasing machine durability and reducing downtime. The connection between the EX2000-7 arm and boom has been upgraded from one connecting pin to two connecting pins, increasing front attachment durability.
More uptime
Additionally, the EX2000-7 simplifies maintenance for increased uptime. A new auto-lubrication system comes with 200 L large capacity grease tank, new grease pump, in-line grease filter with breather, grease level indicator in cab and provision for fitment of a second grease pump in the lubrication tank. These features provide a more reliable system with increased uptime.
The EX2000-7 also features contamination sensors on main hydraulic pumps, travel motors and swing motors to detect any contaminants that may cause damage to the hydraulic system. These sensors alert the operator of potential contaminants and record the fault code in the Data Logging Unit (DLU) and have the capability to remotely advise maintenance personnel.
The EX2000-7 is available in North and South America.
Company info
Related products