Stronger main boom improves lifting capacity on pair of Tadano all-terrain cranes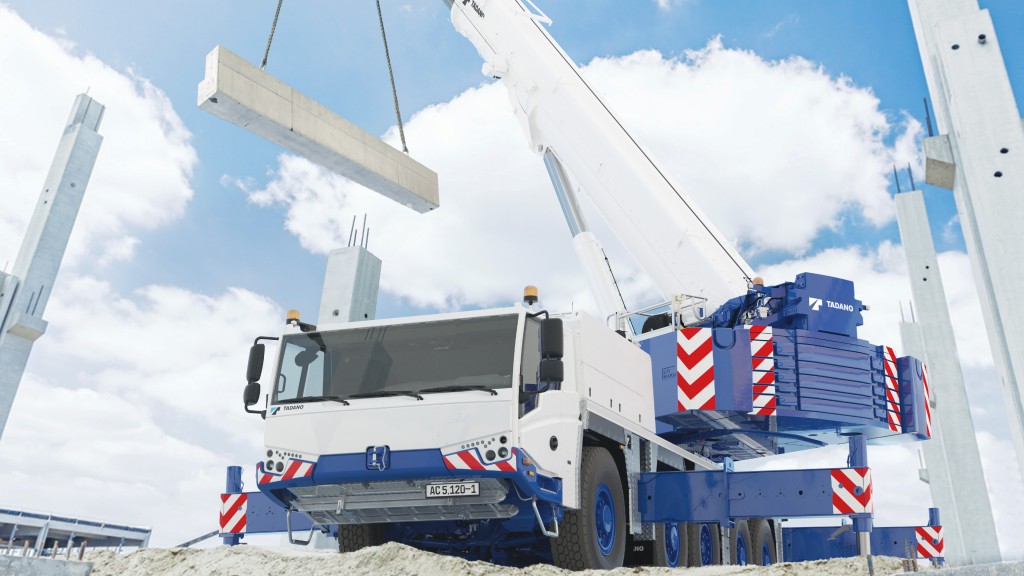 Mobile crane manufacturer Tadano is updating more than just the names of its four-axle and five-axle cranes in the 110 to 130 US ton (USt) class: lifting capacity and other features have also been improved on two all-terrain cranes.
As part of its reorganization efforts, Tadano will be standardizing the names of its mobile crane models throughout the year. The new AC 4.110-1 and AC 5.120-1 come with updated names.
A stronger boom for more lifting capacity
The pivotal point of both crane models is the stronger main boom. With it, Tadano offers greater lifting capacities. The two models can now lift 11 USt with the main boom fully extended, a lifting capacity increase of 37 percent in comparison to the preceding ATF-100-4.1 and ATF-120-5.1 models.
A bigger work area and the ability to handle tighter spaces
The boom extension means that the two cranes now have a larger work area. A smaller minimum radius, larger lifting height, and 82-degree boom angle make it possible to work closer to the crane. This makes both crane models even better suited to tight work sites and work at large heights.
Flexible solutions for extensions
In addition to the larger lifting capacity, the AC 4.110-1 and AC 5.120-1 benefit from an updated main boom extension. This extension can be set up quickly as a result of reduced complexity. The ATF-100-4.1 and ATF-120-5.1 main boom extension, including a runner, will continue to be available. Both main boom extension versions now benefit from a reduced minimum radius in the 0-degree position.