Wearable tech transforms risk management on job sites
Leica Geosystems wearable tech alerts workers to job site hazards and tracks near misses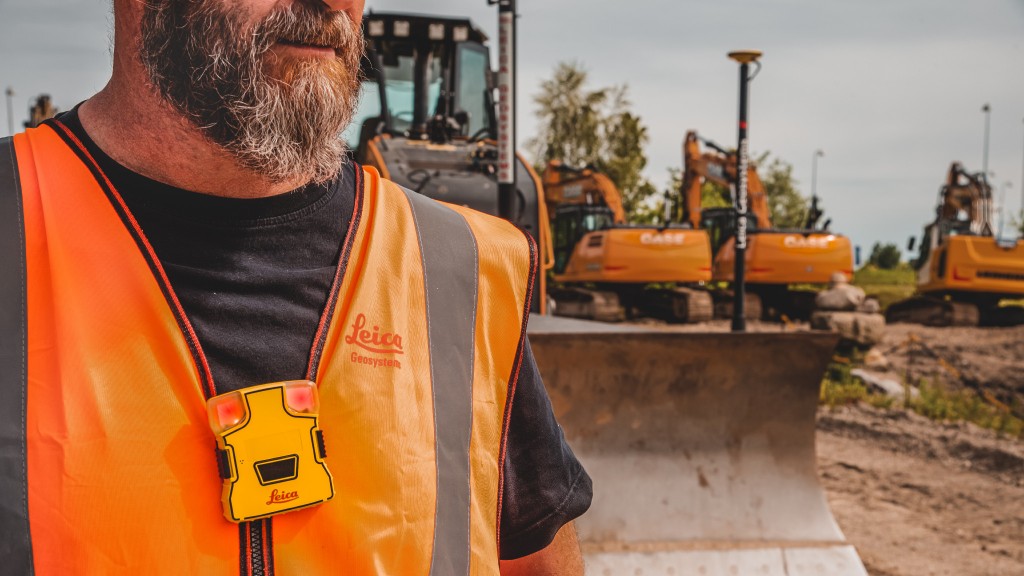 Safety on job sites must be at the top of mind during any kind of project. Safety managers are steadily being given more tools to help them protect employees across their organizations.
To develop a strong safety plan, managers need to identify where their workforce faces hazards while on the job. That data can be difficult to obtain, however, especially when it comes to near misses - these close calls can provide key insights to safety planners, but they are rarely reported by workers on the ground.
This is where technology can come into play as an addition to existing safety plans. Systems that are able to both alert workers to potential danger and collect data for later analysis and incorporation into the planning process can be invaluable in preventing fatalities, serious injuries and near misses on the job.
Blind spots around heavy equipment add danger to job site
Despite the best efforts of manufacturers, heavy equipment will always have some kind of blind spot where workers may wind up unnoticed. Accidents involving equipment and workers on the ground can have devastating results, and the best way to avoid them is to prevent people from entering those blind spots entirely.
Collisions between heavy equipment and workers have generated numerous fatalities and injuries, and preventing those accidents and near-miss incidents has become a focus for technology companies like Hexagon, related Brad Mullis. Mullis, who joined Hexagon's Leica Geosystems brand as product manager for personal alert systems after a career in civil engineering where he was responsible for occupational health and safety on job sites, said there are many challenges and consequences that can occur when heavy equipment and workers on the ground must coexist.
"What we aim to achieve is to increase the awareness on construction sites, with the goal of reducing incidents on the site," he described. "We think of the medical costs and waves incurred for injured workers, but there are also a lot of indirect costs that can accumulate for organizations - things like increased paperwork, investigation costs, training and retraining people. Quite a big one is your risk - the risk to your current contract, the reputational damage, legal fees, and more and more countries taking safety on site a lot more seriously."
Leica Geosystems has brought technology to bear on blind spots, developing a system that helps identify the location of workers around heavy equipment and alerting both them and operators to potential harm.
Alerts indicate distance and direction of potential dangers
The Leica PA10 personal alert system combines a tag worn by workers on the ground and receivers installed inside machines. The goal, Mullis says, is to increase the awareness for both operators and ground personnel, improving safety on both sides.
"With the Leica PA10, machine operators are aware of the position and distance of workers... being detected within 50 metres," said Mullis. "A worker carries a tag that identifies them and their movements. An anchor is located on the heavy machinery that locates tags that are in the vicinity of the vehicle. If a worker moves within the user-defined range of the heavy machinery, the driver is notified through a series of visual and audio alerts."
The tag worn by ground personnel is battery powered, offering up to 14 hours of operation per charge. Anchors on each vehicle are used to communicate with the tags around them, as well as anchors on other machines. When combined, the system provides direct alerts to operators when there are potential conflicts around them.
In the cab, a display provides sound and visual alerts to let operators know if anyone wearing a tag has entered the space around their machine. Coloured lights flash on the display to indicate that presence, and if the machine has been fitted with multiple anchors the direction is also indicated. A green light indicates that a tag has entered the machine's space, yellow indicates a higher level of caution, and red alerts to immediate danger.
"We can go up to six or seven anchors per machine... on a small pickup or van, you could just mount one anchor and have a defined radius around the small vehicle. As the vehicles get bigger, you could add additional anchors and define zones around the machine," Mullis said.
In addition to the in-cab alerts the Leica PA10 system has several other safety features that can be programmed if desired. The wearable tags have a panic button that can be pushed if the wearer is in distress, alerting all machines in range that something is wrong. The system can also be configured to indicate no-go zones on the job site to alert operators that their machine is nearing an area to be avoided. Obstacles can be programmed into the system to alert operators of their presence and potential conflict, and collision avoidance options are also available.
Data on near misses aids in safety culture development
Along with direct alerts, the Leica PA10 system can also help managers improve safety as a whole through the collection of data generated by the wearable tags and machine-mounted equipment. This can provide insight on underreported incidents, such as near misses, and give planners greater opportunities to improve their site's safety culture.
Each tag has a unique indicator, and the system features a logging system that can record up to 70 hours of vehicle movement. It captures position, speed, headings and alarms that have been triggered.
"If you export certain data in the log file you can see where alarms would have been triggered and track where the vehicle has been," Mullis noted.
Analysis of that data can provide a snapshot of work behaviours that may help companies evaluate and improve their safety procedures. A review of the log files can indicate where the greatest concentration of alarms is occurring on a job site, for example, and suggest procedural changes to reduce those close calls. Or, there may be a number of near misses in one area caused by a blind corner or other obstacle that can be alleviated on site.
The knowledge that information is being gathered from the tags can change staff behaviour for the better in a number of ways, notably in how near-miss incidents are handled. A great many near misses on job sites go unreported, but the knowledge that the Leica PA10 system is collecting data on those incidents can encourage workers to report more frequently.
"I think to a degree you feel obliged, in the sense that you know the system is logging these encounters," Mullis said. "It creates a responsibility from the user side."
Leica Geosystems is working to incorporate the PA10 into its machine control systems, and the next step for users will be the introduction of a web-based user interface that allows interaction with data generated on the machines. That will provide an even easier way to review collected data, heat maps of incident reports, and other information, Mullis noted.
Safety of employees on any job site is paramount, and understanding the cause of hazards that could harm those employees is important in reducing risk. The use of technology to both protect those workers immediately and capture valuable data to help in risk management planning is key for any organization to consider.