Wirtgen celebrates 60 years in business with a look back into the company's history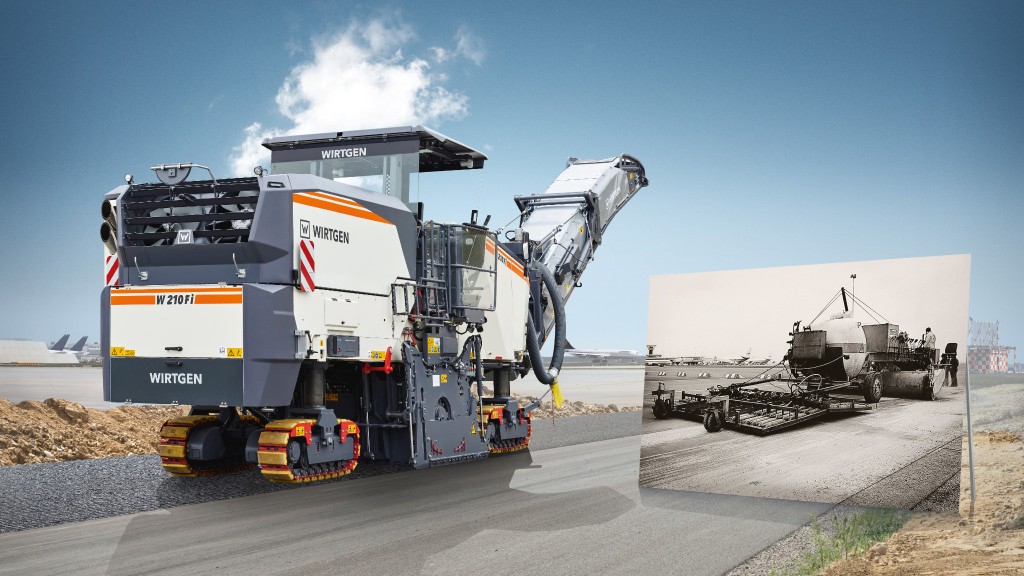 In addition to Wirtgen cold milling machines, the machine manufacturer also produces recyclers, soil stabilizers, slipform pavers, and surface miners. Wirtgen's products and technologies have been shaping road construction for 60 years, and the company is celebrating this by providing a look back at their history of road construction experience.
In 1961, Reinhard Wirtgen started out with a trucking company for road construction materials. Through innovative machine developments and a visionary approach, he built Wirtgen into an international construction machinery specialist. What makes this truly notable is that his own experience as a service provider in road construction helped shape a corporate culture that emphasizes a closeness to the customer.
Today, the company forms a central pillar of the Wirtgen Group. Each of the product brands with their own unique history - Wirtgen (founded in 1961), Vögele (founded in 1836), Hamm (founded in 1878), Kleemann (founded in 1857), and Benninghoven (founded in 1909) - has made an impact on and advanced the application processes in their field.
All in all, the Wirtgen Group stands for 660 years of experience in road construction. Five brand headquarters in Germany, international production facilities in Brazil, China, and India, numerous sales and service companies, and a close-knit dealer network ensure that the group's products and technologies are used in every market worldwide.
Wirtgen's cold milling process
In the early 1970s, Wirtgen developed hot milling, a new process that for the first time made it possible to remove asphalt over large areas. The next milestone followed in 1979, when Wirtgen revolutionized road construction with the development of the cold milling machine.
The first cold milling machine was a rear loader with a hydraulic milling drum drive. The SF 3800 C was capable of milling up concrete, asphalt, and gravel of varying depths without having to significantly heat the sub-base. This not only increased the milling depth and allowed the machine to work faster, but also saved energy.
How cold milling is done today
The current milestone in cold milling technology is the company's F series of large milling machines. With this range of high-performance machines, Wirtgen aims to set a new standards in terms of efficiency and resource friendliness, as well as in the digital documentation and evaluation of milling job sites.
Mill Assist
In the new F series, Wirtgen has implemented the first intelligent machine concept that is capable of autonomously meeting the operator's performance and quality requirements.
In automatic mode, Mill Assist selects the operating strategy with the ideal balance between milling performance and operating costs and responds intelligently and dynamically to changing conditions. This significantly reduces diesel, water, and pick consumption as well as carbon and noise emissions.
Wirtgen Performance Tracker
The Wirtgen Performance Tracker precisely measures the area milled, the milling volume, and all of the consumption data. These parameters are displayed in real time to the milling machine operator on the operator's platform.
Immediately after the completion of a the milling job, all of this data is documented in an automatically generated report and sent by email to the machine owner. The efficiency assessment is also a valuable tool for the operator in order to help them use the machine even more efficiently and further reduce diesel consumption and pick wear during the next job, for example.