Wirtgen to introduce new cold milling machines at CONEXPO-CON/AGG
The W 220 Fi and W 250 Fi will be among over 30 Wirtgen products showcased at the event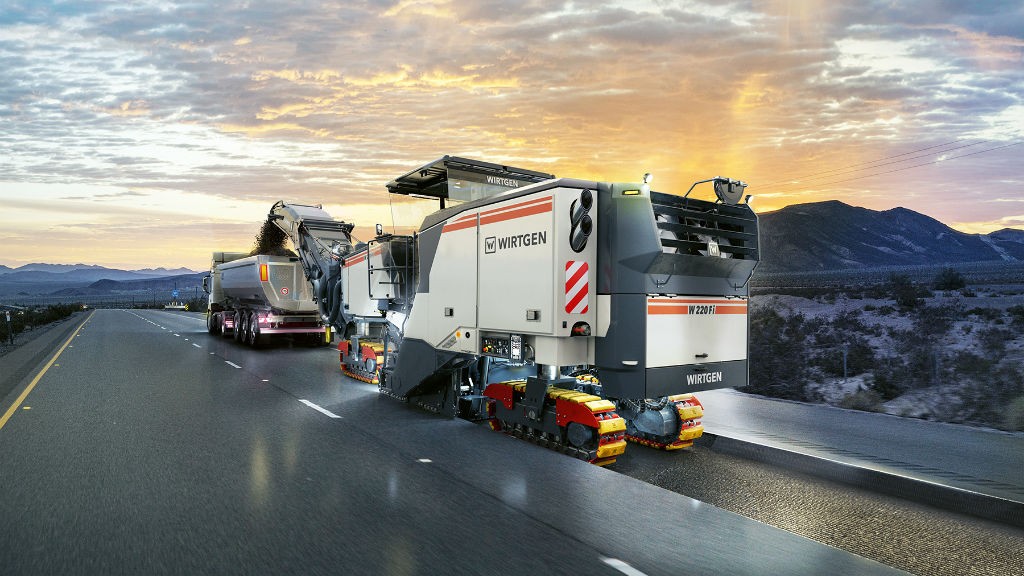 The W 220 Fi and W 250 Fi large milling machines serve a wide range of applications at a maximum milling depth of 350 mm/14 inches – from surface course rehabilitation and fine milling work to complete removal of the surface. Various drive concepts are available to ensure maximum, optimal milling performance. For example, the W 220 Fi is equipped with the Dual Shift two-speed powershift transmission, while the W 250 Fi has an Active Dual Power dual engine drive. With an engine power of 801 HP/812 PS (W 220 Fi) and 1,010 HP/1,024 PS (W 250 Fi) respectively, the two flagship models are exceptionally powerful.
Mill Assist as a standard
In the automatic mode, the Mill Assist standard assistance system provides the optimal balance between performance and operating costs. This not only improves milling performance, but also reduces diesel, water and pick consumption, as well as carbon dioxide emissions.
Mill Assist also automatically controls the Dual Shift two-speed powershift transmission. In combination with the diesel engine, both the upper and lower range of possible milling drum speeds can be extended, making it suitable for a vast range of applications. At lower speeds, fuel and pick wear can be significantly reduced. At higher speeds, high milling pattern quality is ensured even in the case of high area performances.
With the Active Dual Power dual engine drive of the W 250 Fi, depending on the project situation and the pre-selected working strategy, Mill Assist then automatically controls just one or both motors. In addition, the engines operate efficiently at optimally adapted speeds. This significantly reduces costs for diesel and cutting tools.
The machine operator can also preselect a working strategy from "Cost-optimized,""Performance-optimized," or "Milling texture quality." For example, it is possible to define the required milling texture quality on a scale of 1 (coarse) to 10 (very fine) in advance at the touch of a button.
WPT for precise documentation of performance
The Wirtgen Performance Tracker (WPT) calculates the precise surface milling performance, milling volume and consumption values for the machine. All-important performance and consumption data are displayed on the operator's platform in real time for the milling machine operator and are also sent to the machine operator by e-mail in an automatically generated report immediately after completion of the milling work.
More from Roadbuilding
The all-new CASE TR340B compact track loader — operating at 90 horsepower with a 3,400-pound rated operating capacity — is the most powerful radial-lift CTL in the CASE lineup. Its all-new 8-inch LCD display improves on industry-leading CASE visibility with a new backup camera that is viewable in both forward and reverse operation. The display also showcases critical operating information and "trip" details. All-new electro-hydraulic controls, managed through the display, make it easier than ever for operators to dial CASE CTLs into specific application demands. All new cab controls and joysticks make the new TR340B easy to own and operate.
Industries such as construction, mining, energy, utilities and forestry, face many challenges when it comes to tracking assets and employees. Equipment often has to be transferred between locations, or monitored while it is dormant during off seasons. Lone workers may have to travel long distances or visit multiple sites during the course of their activities. And, all of this is further complicated today with shifting supply chains and economic realities putting further strain on the bottom line.