Compact utility loaders vs. skid-steer loaders: the case for the CUL
Boost in capability and lower operating costs make the CUL competitive with SSLs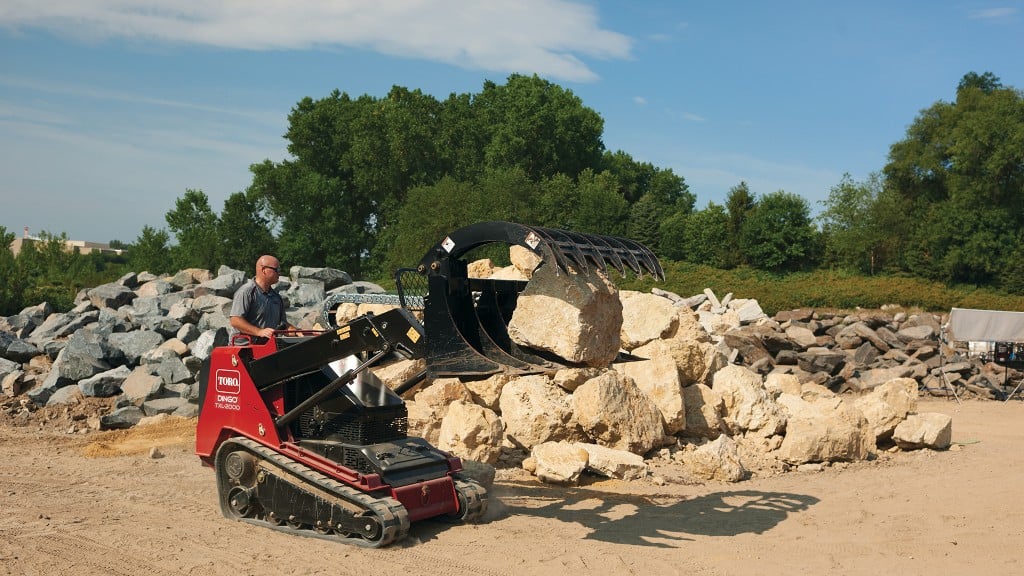 Every job has unique equipment needs, and it's safe to say that a skid-steer loader (SSL), compact track loader (CTL) or a compact utility loader (CUL) is one of the most common job site equipment requirements. But how do you choose? Kyle Cartwright, marketing manager at Toro, walks us through advantages of CULs compared to SSLs and CTLs to help you determine which rig is right for your job site.

SSLs and CTLs have served a long-standing role at job sites large and small. Ideal for hauling heavy materials such as soil, sand, rock and trees from point A to point B, skid steers can immediately increase project efficiency. However, CULs, which Toro introduced to North America more than 20 years ago, have become an alternate choice for construction jobs.

Historically, CULs had been reserved for smaller-scale construction projects because of a lower operating capacity as compared to SSLs. Manufacturers of SSLs were able to claim that skid steers were more productive on-site. However, today, CULs like the Toro Dingo TXL 2000 can lift more than 2,000 pounds – a rated operating capacity that exceeds the capacity of some entry-level skid steers.

Additional distinguishing features between the two classes of equipment include that CULs offer a better vantage point during operation, better maneuverability due to their size and easier mounting and dismounting than the larger SSL/CTL counterpart. Many of Toro's Dingo CUL models have the ability to pass through a standard 36-inch gate to access areas where space is limited.
Comparing features
Vertical vs. radial lift loader design
One of the many features that can help contractors decide on equipment is whether they need a radial lift or vertical lift on their skid steer. A vertical lift loader design on a skid steer or CUL is ideal for reaching lifting heights that cannot be achieved with a radial lift design. Many projects can be completed with a radial lift unit, and ultimately, the contractor will be able to decide whether or not a vertical lift design is needed. Historically, the rated operating capacity is higher in vertical lift loaders, which also makes an impact on the decision. As a CUL, the Toro Dingo TXL 2000's vertical lift loader arm helps it reach the same rated operating capacity as entry-level SSLs/CTLs.

High-flow hydraulics
High-flow hydraulics and auxiliary hydraulics are available on both machine types and are a popular feature with Toro customers. Especially useful in specific applications on the job site that require digging, such as auger applications and trenching, high-flow hydraulics deliver extra power through the attachment, helping it muscle through the task. It only delivers the right amount of power at the right moment – without bogging down the machine's drive system.

Horsepower
While horsepower is undoubtedly a specification to consider, it's not as much of a driving factor as it was 20 years ago. When Toro launched the market's first CUL, horsepower was hands down the main focus. Today, technological advancements have propelled the skid steer's performance and CUL equipment classes in ways that are not fully dependent on horsepower. There's a long list of additional features to consider when selecting the right piece of equipment for the job. Beyond horsepower, savvy contractors are considering the overall performance, which hinges on hydraulic system pressure, flow and machine design, among other features.

Contractors should also consider exploring electrification offerings in the CUL equipment category, especially if the job site requires indoor work. Recently, Toro launched the e-Dingo, which is powered by lithium-ion battery technology. The battery-power design makes it perfect for tasks that require heavy or continuous operation for indoor applications.

Attachments
SSLs and CTLs can utilize a wide variety of attachments, making this machine a versatile option for tackling construction jobs. However, CULs also include a wide array of attachment options for various jobs. Many manufacturers offer an entire suite of attachments to help the end-user accomplish the task at hand. For example, Toro offers 35 different Dingo CUL attachments, including implements like the auger attachment for quickly and easily digging holes, the trencher attachment for utility installation and a soil cultivator for construction applications, just to name a few.

Making the decision
The line between skid steers and CULs continues to blur, leaving contractors and equipment managers with a tough decision. Rated operating capacity previously helped differentiate, and often favour, skid steers, but that's no longer necessarily the case. Greater importance is put on size, power-to-weight ratio and price – all of which favour the CUL. CULs deliver the same amount of power, but in a smaller package, and many use tracks instead of wheels. Tracks are universally recognized as the more turf-friendly option, leading to widespread adoption. By choosing a CUL, contractors can reap the benefits of tracks without having to upgrade to larger equipment like a compact track loader.

While contractors will still need skid steers, the right CUL can take their place in many applications without a reduction in rated operating capacity and can provide significant cost savings. Different cost factors, such as capital investment costs, maintenance costs, transport and warehousing may prove to be advantageous – but each can be lower for CULs compared to SSLs/CTLs.