New light tandem rollers from Ammann offer easier transportation, maintenance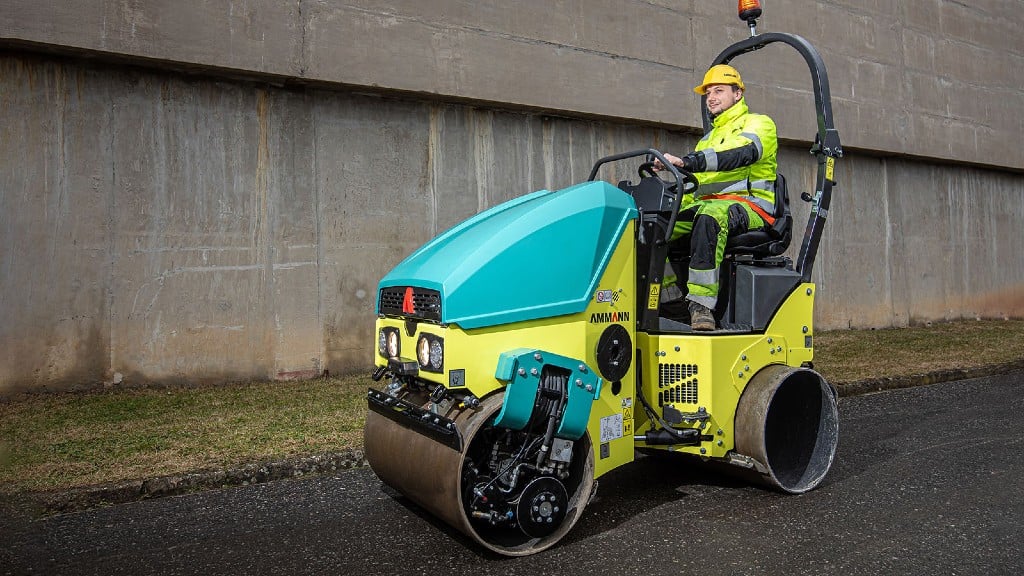 Ammann has released a new series of light tandem rollers that are easy to operate, transport and maintain. The rollers retain their ability to work in-line or off-set, enabling compaction against curbs and other obstructions.
The new double drum rollers are the ARX 12-2, ARX 16-2 and ARX 20-2. Also introduced was a combination version, the ARX 16-2C, which utilizes a steel drum in front and pneumatic tires in the rear for higher machine traction and improved sealing of surfaces.
The rollers are powered by Kubota engines that meet EU Stage V and U.S. EPA Tier 4f emissions standards. A new vibratory circuit setting delivers expanded vibratory frequencies that facilitate quicker compaction.
Another key improvement is effortless switching between drive modes. In previous generations, this required a service technician. The modes can now be changed easily.
Soft drive enables smooth, steady adjustments to directional changes - particularly important when working on asphalt. Hard drive responds quickly to directional changes. Panic stop idles the machine if the operator makes very sudden directional changes or significantly adjusts the travel lever position.
Front and rear rubber buffers, which protect lights and scrapers, have been thickened and widened and moved to a central location. Lights are set in the machine frame for added protection, and directional and working lights have been centralized. The articulation joint lock has been redesigned and repositioned for better protection.
Transporting has been made easier as vibration is automatically disabled when in "loading" or "transport" mode. A higher central lifting point is easier to access. Expanded lashing points simplify securing the machines.
Draining points have been relocated to external locations, preventing spills and reducing maintenance time by 75 percent. The battery disconnect switch is located at the main base of the engine for convenient access.
Like the previous generation of Ammann ARX Light Tandem Rollers, the machines can operate with off-set or in-line drum configurations.
Off-set requires operators watch only one drum, knowing the second will be a safe distance from an obstruction. This results in cohesive compaction up to the barrier. The in-line setting, which enables equal distribution of compaction forces, is preferred on more open jobsites.
Key features of the rollers include:
Electronic drive lever for smooth starts and stops, especially important on asphalt jobs
Mounted rubber buffers and spacious operator platform with a comfortable seat
Simple and reliable dashboard with intuitive machine control, helping inexperienced operators succeed
Sprinkling system with multi-level filtration and large water tank for extended intervals between fillings
Accessible service and maintenance points for cost savings
Maintenance-free parts for low cost of ownership