Technology, future emissions inform diesel engine development
With Stage V established, diesel manufacturers contend with regulatory gaps, electrification efforts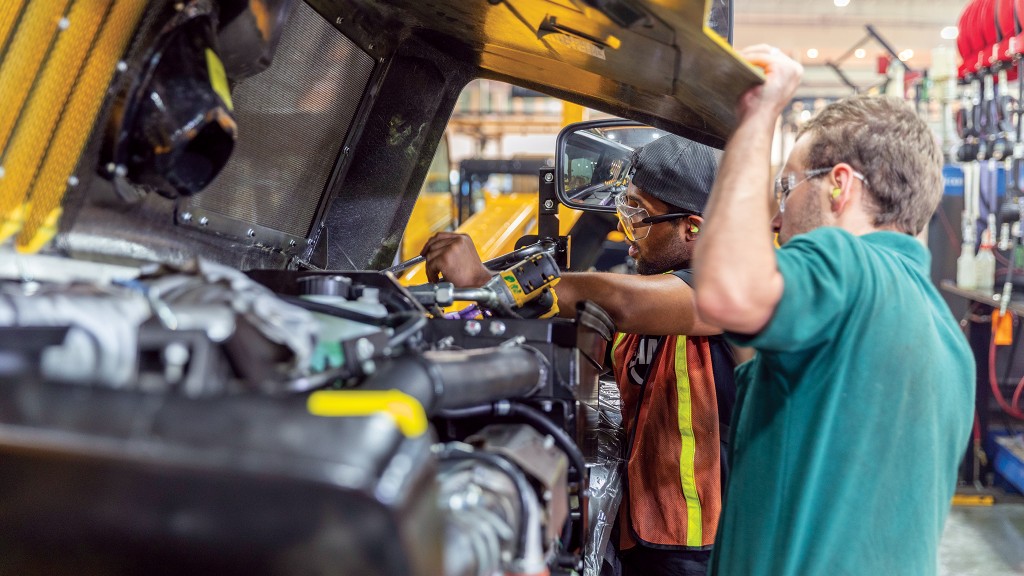 It's been a busy decade or so for off-road engine manufacturers. A long string of deadlines and new regulatory implementations surrounding emissions has brought both North America and Europe to a new emissions regime, and every manufacturer has approached the changes in its own unique way.
Now, the question is: what's next?
Continuing evolution of technology, the drive toward electrification and even more emissions standards looming down the road are all part of the planning process for manufacturers. At JCB, future-proofing is a big part of development, keeping in mind other growing trends in the industry.

With European countries adopting Stage V emissions standards, engine builders have reached a pause in development, according to Chris Giorgianni, JCB vice president of government, defense, product and marketing.

"Stage V is in place and we're seeing other countries like South Korea, India and possibly Turkey looking at emulating Stage V as well. But, then, you have the 900-pound gorilla in the room, the U.S., still at Tier 4 Final. I think that the view is the U.S. wants to be aligned with Europe. We could see that occur over here sometime between now and any future development, such as a Stage VI if you will," Giorgianni said.

At the same time, other territories are starting to catch up on the lower end of the regulatory range. As engines become more technologically advanced, the fuel they use needs to be of higher quality, and some markets are reaching that point, Giorgianni noted. Chile, Colombia and other South American locales are moving into Tier 3 and Tier 4, while Australia is in discussions regarding Tier 4 as well. That broad spread of regulatory environments is a challenge for manufacturers to navigate.

"With engine development comes cost, and with cost you try, as a manufacturer, to introduce new technologies. . . customers who have to pay an additional sum of money for that technology may not appreciate it as much. So, you try to bring additional features into those machines to help offset that," Giorgianni explained. "When you have differing levels of requirements in different countries, you're carrying costs because you're building different machines. You're not getting economies of scale because you're not building the same machine down the line. . . you have to build a Stage V machine for Europe, a Tier 4 Final machine for the U.S. and a Tier 3 machine for the rest of the world."

As machines advance, the new features become quite beneficial. Telematics, for example, takes advantage of upgraded engine electronics and can add greater efficiency - but at the same time is not available on some machines because of the different emissions regulations.

That's where efforts to future-proof development are a benefit to manufacturers. Stage V development has pushed standards beyond those needed in the U.S., and as other regions move forward on their emissions regulations the technology will be ready. Giorgianni noted that the U.S. is likely to catch up with Europe within the next few years, and the fact that Stage V is already in place - and in North American equipment, in many cases - means there will be little disruption.
Alongside continuing diesel development, engine manufacturers are exploring other routes forward for powering off-road equipment: hybrid engines, renewable fuels and electrification. Giorgianni said that can be a challenge, but at the same time it offers options to add more technologies and benefits for customers as new options are developed.

"Some of the movement you see is more in the electrification and fuel cell area. Engine emission technology restricts you because you're developing for what is currently legislated. I think you're seeing a move to other alternative type power. Globally, JCB has announced a compact telescopic handler, a small mini excavator, a small dumper - as time goes on, you will see more electrification," he said. "On the large end, we're doing development on a 20-ton excavator with a fuel cell, where your only exhaust is water. It's an exciting time, because manufacturers are looking at different ways to solve problems."

Giorgianni noted that as battery prices drop and fuel prices increase, an inflection point will be reached where electrification will make more sense financially and more development will move that way. In the meantime, technology breakthroughs reached during development of new emissions approaches and alternative options will continue to benefit buyers.

"When we introduced Tier 4 Interim and transitioned to Tier 4 Final, there was a big push on telematics - you have the electronically controlled engines with the ECUs and you're able to pull all this data. The data was all there, but you couldn't mine it. Now you can," he said.

Electronics paired with telematics means fleet owners can review operator performance, train better, improve their fuel efficiency and more all from reviewing the data that was not previously available. Those side benefits of development are likely to continue thanks to continuing emissions regulation changes at various government levels as well as buyers themselves who are embracing more environmental efforts on their own.

"In some respects, irrespective of what the federal government is going to do, it's forcing the hand in a good way. It helps push industry along, probably more quickly than anticipated," he said. "You have this excitement level: where can the product go and what can we do? It's an exciting time."