Electric material handler raises profitability at waste sorting facility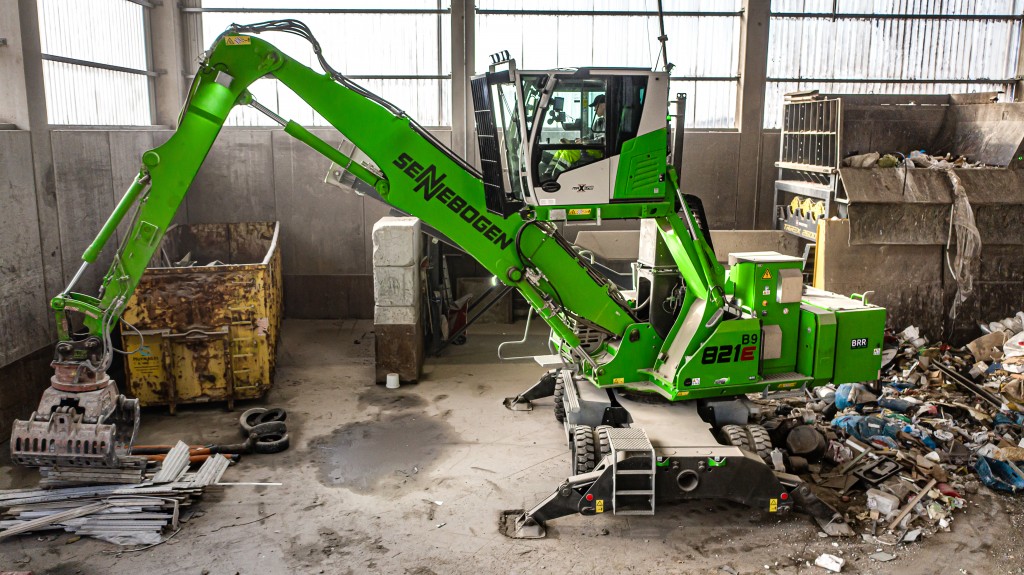 The electric SENNEBOGEN 821M E-Series material handler is now hard at work in Germany. Hufnagel Service, a waste sorting facilities and a family-run waste management company, opted for a material handler that is connected to the power supply via a permanently installed cable on the ceiling of the building. Hufnagel Service has already benefited from the transition to the SENNEBOGEN 821 M electric material handler processing up to 125,000 tons of waste annually.
Hufnagel Service was founded 25 years ago and is now run by brothers Marc and Oliver Hufnagel who employ a staff of about 200 people. As one of the first recycling companies in Germany, Hufnagel Service made the decision in 2016 to build one of the most modern waste sorting facilities in Germany on its 30-acre (12 hectare) site. Since 2020, part of this plant has been home to the SENNEBOGEN 821 M E-Series electric material handler.
"Initially, we had used a SENNEBOGEN with a diesel engine in the 54,000 ft2 (5,000 m2) building in front of the shredder. Over time, we noticed that we didn't actually move it from the spot, except for maintenance work. Now we feed the plant with an electric material handler with an additional diesel generator at the rear. This 19 kW auxiliary engine allows the machine to remain just as maneuverable as the previous model. However, we are now saving on operating costs in a big way by relying on the electric drive."
Updated commercial waste regulations passed into law in 2018 drastically increased the need for materials to be separated. Since then, at least 30 percent of recyclable materials must be extracted from commercial waste, which is otherwise destroyed in incineration plants. Having the SENNEBOGEN 821 M E-Series material handler with a reach of 42 feet (13 m) allowed Hufnagel Service to easily adopt these new regulations.
According to Marc Hufnagel, there were a number of other reasons to switch to the environmentally friendly, electrically powered material handler. This 821 E-Series produces no exhaust fumes making it a welcome alternative for indoor use while being safer for employees. It can reach full power as soon as the engine is started. It also promises a much longer service life with less frequent maintenance interruptions as oil or fuel filters don't have to be changed.
As Marc Hufnagel further explains: "You can't imagine what a big fire hazard is being caused by lithium-ion batteries. Batteries and rechargeable batteries are now installed almost everywhere, from children's toys to electric bicycles and power tools. When these have not been properly removed before disposal and are subsequently damaged in the shredder, the heat generated usually leads immediately to minor or major fires that are difficult to extinguish."
Fire risk exists at their facility, but many preventative steps have been put in place. In an event like this, an automated fire extinguishing system that monitors the entire facility with thermal imaging cameras initiates firefighting with foam. Even if the electric material handler is still in the hall during one of these events, says Hufnagel, "It can be driven out of the hall with the help of the Powerpack."
With the SENNEBOGEN diesel Powerpack, the material handler can be conveniently moved out of the facility for maintenance work, making it more agile and offering more flexibility than a stationary electric solution.