A different way to handle urban demolition
SENNEBOGEN material handler is a multi-tasking machine that can be used for urban demolition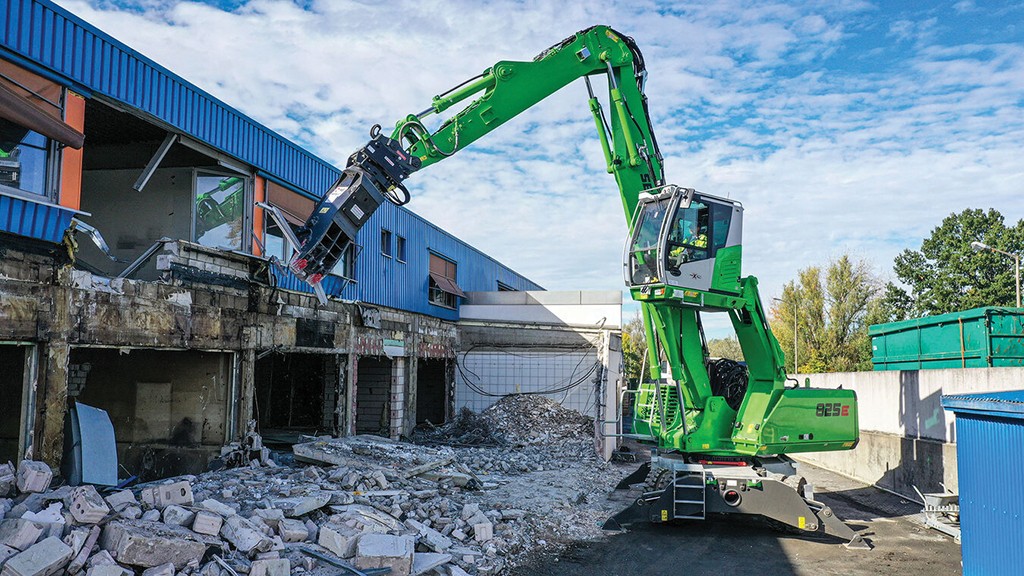 As cities become more dense, the challenges of bringing equipment into and out of jobsites increase. According to Jason Jones, Americas sales manager for SENNEBOGEN, confined space, noise levels and collateral damage are the three biggest challenges for demolition contractors working in urban environments.
Alongside its purpose-built demolition excavator lineup, SENNEBOGEN manufactures material handlers, which are commonly used for waste handling, scrapyard and port applications, but there is opportunity to address some of the challenges in urban demolition by deploying a material handler on a demolition jobsite. Material handlers are built tough and versatile, and with the right variety of attachments, a material handler can do several tasks on a demolition jobsite, reducing the number of machines needed.
Handling demolition with precision
Precision in urban environments is vital and, according to Jones, material handlers excel at delivering precision.

"With the precision of a material handler, you're able to take a building down with one attachment, place the material into specific, organized piles, and demolish that on site with another attachment," he said. "In the case of steel, use a magnet to pull your steel back out of [the piles], take the steel and load that for its destination. Then change the attachment to a grapple and pick up your aggregates or concrete, things that might be going to a secondary aggregate location." Any remaining material can be sorted for waste disposal.

A typical demolition jobsite might have an excavator with a shear taking the building down, another excavator with a bucket picking up and loading material into trucks, and potentially a wheel loader as well, depending on the size of the job, that's moving material around or loading trucks. A material handler can eliminate the need for some or all of these machines, depending on the job.

The beauty of using the material handler, Jones noted, is the variety of attachments that can get the job done, including shears, grapples, magnets, buckets and hooks – any of which can be quickly changed out on site.

According to Jones, the 360-degree full lift capacity of the material handler produces lower fuel burn, saving the contractor fuel costs as the machine has to be repositioned less, and there is no tradeoff in stability if using a wheeled model. The wheeled machines are more mobile, have lower maintenance costs, and require less upkeep than tracked machines; however, tracked machines are preferable in more aggressive environments.

For operators used to conventional excavators or construction equipment, getting into the rising cab of a material handler is an adjustment. The operator will get a much better elevated view of the jobsite to see where they are working, and the SENNEBOGEN Maxcab tilts up to 30 degrees in addition to rising. Jones noted that the cab is comfortable and built for safety with standard bulletproof glass and guarding. Dual cameras on the rear and right side of the machine provide additional jobsite safety, and operations can add a camera to the end of the stick, if desired, for greater visibility of the work.
The 825 E-Series material handler
The 825M E material handler, while not a dedicated demolition machine, has been used by some customers in demolition applications because of its versatility. The 825 E-Series machine is available in two configurations: the 825 M with rubber tires and the 825 R-HD with crawler tracks. Both models are powered by a 173-hp engine, feature a 15-kW magnet system and deliver maximum reach of 45 feet 11 inches. The 825 can be powered by diesel or electric drive, or a diesel-electric combination. ECO mode, automatic idling mode and automatic stop all save diesel fuel consumption. The wheeled model has an operating weight of 57,600 pounds and the tracked model has an operating weight of 72,300 pounds. SENNEBOGEN offers the 830 E R-HDD and the 870 E R-HDD as dedicated demolition machines.
Related Articles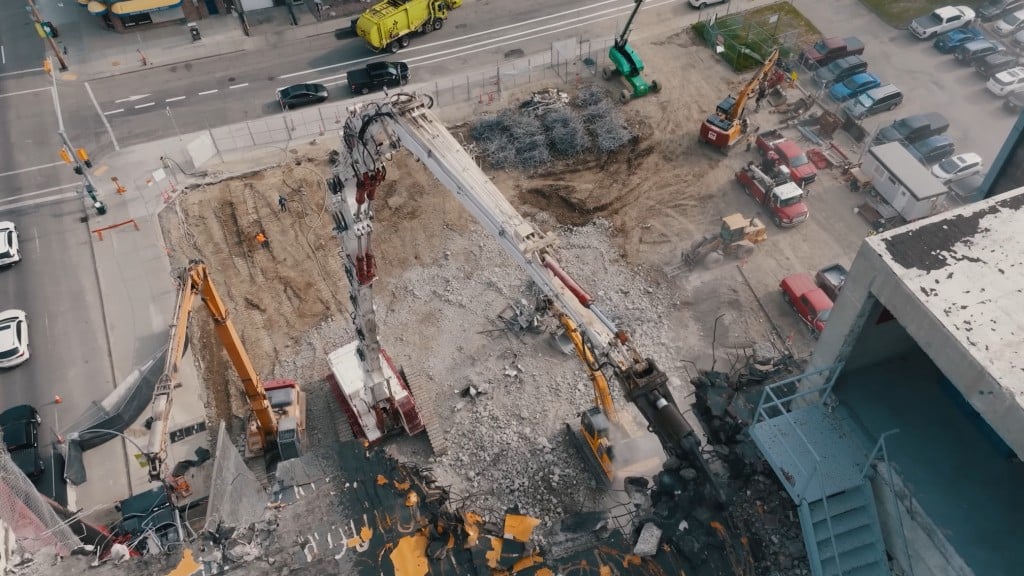 (VIDEO) Priestly Demolition takes down 10-storey Calgary building with colossal KOBELCO excavator