Liebherr crane innovations include world's first battery-powered crawler cranes, focus on safety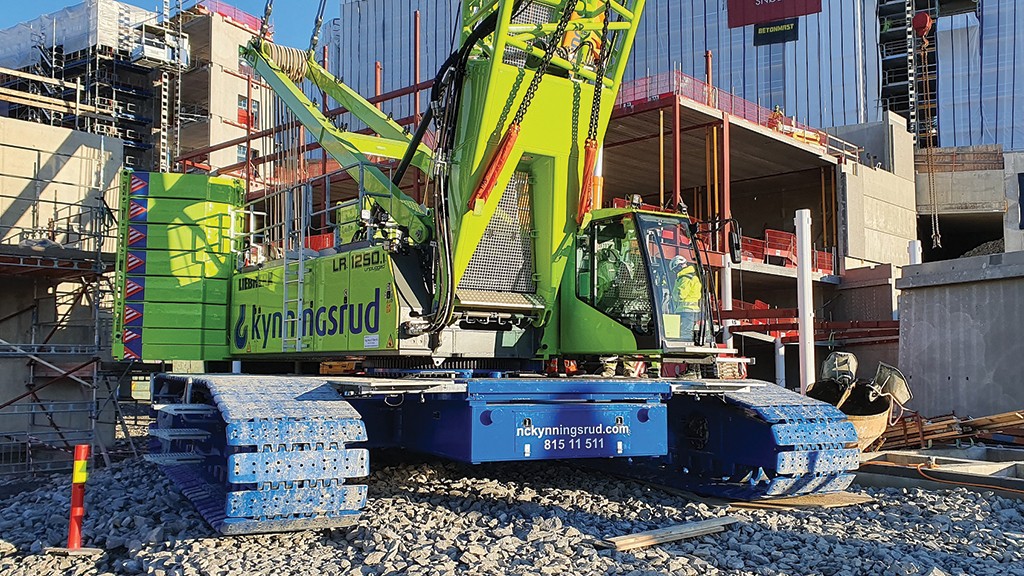 Lower emissions and advanced safety features are key themes in Liebherr's recent crane introductions. With the introduction of the world's first battery-powered crawler cranes, the company is opening up new opportunities for end users to meet emissions reduction targets and lower noise levels in sensitive environments – requirements that are pushed by tenders for new projects. The company has also recently introduced new and updated crawler cranes and a 150-tonne mobile all-terrain crane that continues the company's rollout of single-engine models.
The world's first battery-powered crawler cranes
Following the introduction of its LB 16 Unplugged drill rig, Liebherr has introduced the world's first two battery-powered crawler cranes, the LR 1250.1 and LR 1200.1. This year ESTA, the European Association of Abnormal Road Transport and Mobile Cranes, awarded Liebherr's LR 1250.1 Unplugged crawler crane its award for Innovation: Manufacturer.

The Unplugged cranes are powered by an electric motor rated at 225 kW. The LR 1200.1 Unplugged has a maximum lifting capacity of 200 tonnes while the LR 1250.1 lifts up to 250 tonnes. In addition to offering zero-emissions operation, the low noise levels of these cranes suit them for work that must be performed in environments that are sensitive to noise.

According to Liebherr, these cranes can be charged in about 4.5 hours using conventional job site electricity supply, or 2.25 hours at a higher amperage. Tyler Bragg, divisional manager – foundation equipment/crawler cranes at Liebherr-Canada, noted that these cranes are built on the same platform as their diesel-powered counterparts and performance is similar; with no engine to service, maintenance is reduced – there are no filters to change or fluids to top up, the battery just requires a visual inspection.

A single charge will last for four hours of lifting unplugged and the crane can be operated with the umbilical plugged in for continuous power.

According to Kyle Jardine, divisional director – mobile and maritime cranes at Liebherr-Canada, the availability of unplugged cranes gives Liebherr the opportunity to give contractors a competitive advantage for bidding jobs that have stringent emissions requirements, particularly as large corporations are seeking solutions that fit within their sustainability plans for projects and are turning to crane rental companies with that need.

Bragg added that, given the upfront cost of the Unplugged models, the interest is coming from large general contractors and equipment companies that have developed health and safety and environmental plans. He expects that these cranes will be used for downtown city work that is close to a central grid and where lower emissions and noise levels are desired.

Liebherr is currently working on certification for North America with availability expected toward the end of 2021; these cranes have already been approved for and released in Europe, with the first LR 1250.1 model going into operation in Oslo, Norway. The crane was ordered by Kynningsrud Nordic Crane AS before it was fully designed, with Eirik Kynningsrud, general manager at Kynningsrud Nordic Crane AS noting that the government wants zero-emission construction sites in the country and the company was happy to lead the way in delivering green solutions.

Liebherr expects to introduce Unplugged versions of the smaller LR 1130 and LR 1160 later this year.
LR 1700-1.0 crawler crane
The LR 1700-1.0 700-tonne-capacity crawler crane is Liebherr's new successor to its LR 1600/2. The crane's dimensions are similar to the predecessor, but delivers greater lifting capability. All transportation units for this crane are a maximum of three metres wide except for the H lattice sections of the main boom, which are 3.5 metres wide. According to Liebherr, this crane can meet more stringent width limitations and the company can supply the boom with 3-metre-wide lattice sections if needed. Transportation weight of the slewing platform and the crawlers each comes in at under 45 tonnes.

This crane is ideal for industrial work and wind turbine installation projects. With a 102-metre main boom and a 96-metre luffing jib, this crane can be raised for 198 metres. For wind turbine installation, maximum boom length is 165 metres with extra H sections and a 15-metre fixed jib can be added.
LR 1300 SX crawler crane
This 300-tonne-capacity crawler crane has been updated with a number of safety-focused features. One of these new features is a slewing gear force limiter. According to Bragg, in the past it was up to the operator to decide what speed to swing at with the load, but now with these new sensors the machine makes that decision, protecting the crane from overstressing. Another new feature is a boom up and down aid. The crane now monitors the optimal angle for lifting the jib off the ground and lowering the jib to the ground and will alert the operator if they are coming close to or exceeding the optimal angle.

There are also new load charts for wind speed, but the operator still needs to be aware of the wind speed so that they can select which chart to go into. This crane also has a vertical line finder for when the operator can't see the end of the hook. With the vertical line finder, the boom head will centre itself over the load so that when the operator picks it up they won't get a side load that starts swinging.

LTM 1150-5.3 all-terrain crane
Liebherr's new 150-tonne all-terrain crane features a 66-metre telescopic boom which is 10 percent longer than the predecessor model, the LTM 1130-5.1, and offers approximately 15 percent greater lifting capacity. With the boom fully extended this crane has a lifting capacity that exceeds 9 tonnes. Lattice extensions for this crane deliver a hook height of 92 metres and radii of 72 metres.

Like most of Liebherr's new all-terrain cranes, this new model features a single engine with ECOdrive for reducing engine speed, faster gear shifting off-road and greater efficiency to minimize fuel consumption on-road. ECOmode delivers lower emissions and quieter performance in crane operation, and reduces carbon dioxide emissions and noise levels. This crane also has LICCON 2 work planner software, and features VarioBase with asymmetrical outriggers, which delivers greater stability in lifting operations and enables outriggers to extend to different lengths.

For the first time on a telescopic all-terrain crane Liebherr is offering adjustable hook blocks, which have been redesigned to be lighter while still heavy enough to ensure that the hoisting winch spools reliably. The weight of the hook block can be easily increased as necessary.

Liebherr's latest developments in zero-emission crane operations, reduction in emissions from diesel-powered machines and advances in safety features are designed to help give contractors an edge in competitive bidding as that process comes with new challenges to meet stricter emissions and noise regulations around the world. As for what's next, look for more Unplugged cranes later in 2021.
Related Articles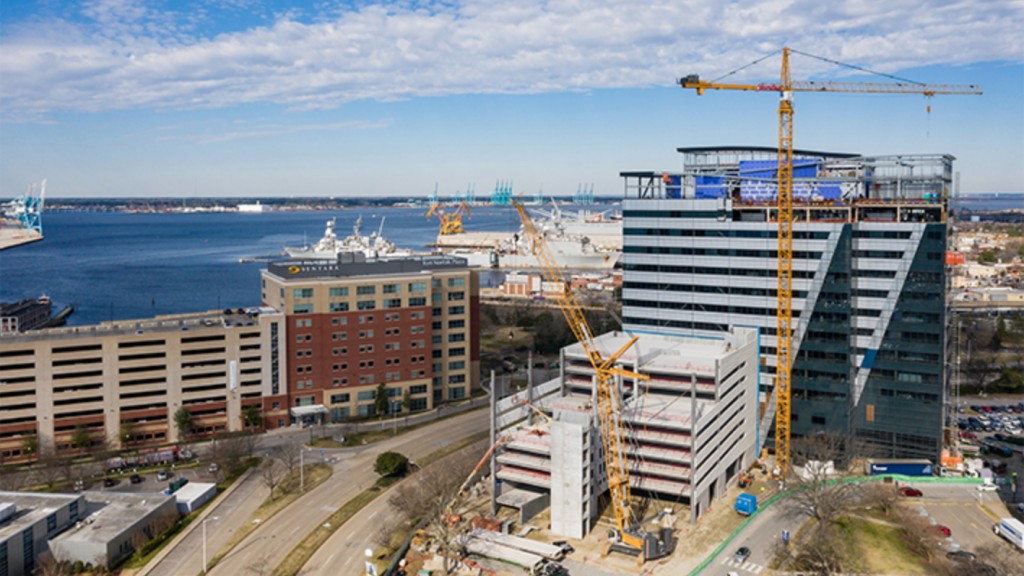 Liebherr crawler crane provides high lifting capabilities for construction of new parking garage