Liebherr crawler crane provides high lifting capabilities for construction of new parking garage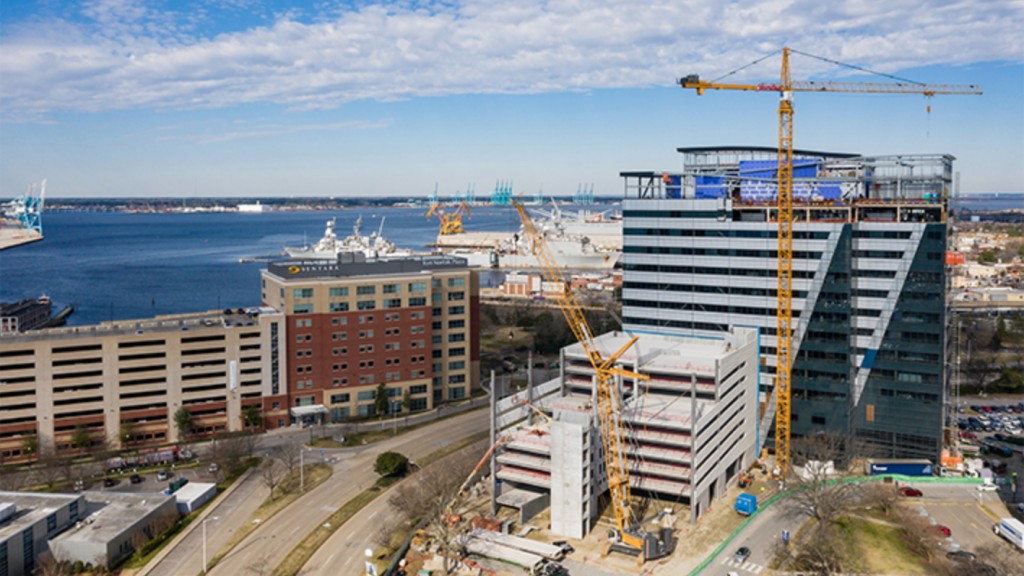 CHKD officials along with Virginia Governor Ralph Northam, state and local officials and W.M. Jordan Company broke ground on the brand new mental healthcare facility in Norfolk, Virginia in September 2019. The new hospital will be an addition to the current CHKD and Sentara Norfolk General complex and is scheduled to open in 2022.
Structural Unlimited LLC was tasked with constructing the parking garage structure for the new CHKD Mental Healthcare facility located on Gresham Drive. The first floor of the parking garage is 19 feet and 10.5 inches high to accommodate ambulance needs going to the facility.
Structural Unlimited used one of their 330-ton Liebherr LR 1300.1 SX crawler cranes fitted with carbon fibre pendants to lift and set concrete wall panels in place for each level of the parking garage. The construction of the nine story parking garage began in January 2021 and was completed April 2021.
The LR 1300 operated up to 12 hours a day handling the precast wall panels that weighed between 50,000 to 90,000 lbs. Each panel was lifted and placed side by side and then welded together.
The LR 1300.1 SX crawler crane has a lifting capacity of 330 tons with a possible hoist height of up to 664 feet. For special lifts, where a higher load chart is required, a super lift attachment can be attached. The crawler cranes high horsepower engine provides plenty of power for simultaneous movements of swing, main boom and luffing jib without slowing down, which makes job site operations like steel hanging very fast.
Furthermore, the machine is designed to quickly assemble and disassemble. "We quite often disassemble, move and assemble a LR 1300.1 SX within the same day," mentioned Andy Merrell, owner of Structural Unlimited.
The LR 1300.1 SX is used in various applications such as steel erection, pre-cast and infrastructure work. The LR 1300.1 SX was the best solution for the CHKD parking garage project because of the cranes ability to make a pick-up of 90,000 pounds at 110 feet outreach.
At this specific job site, Structural Unlimited was faced with the challenge of making sure the luffing jib tip remained underneath the Liebherr tower crane working on the same jobsite. The LR 1300.1 SX was equipped with 95 feet of main boom and 125 feet of luffing jib. The LR 1300.1 SX luffing jib can also be outfitted with a 3-part/99,210 pound aux. jib/rooster which Structural Unlimited did not require on this particular jobsite.
Structural Unlimited currently owns four Liebherr LR 1300.1 SX, all equipped with carbon fibre pendants for increased capacity and operates them in the southeast United States. Structural Unlimited LLC was founded in 2009 and is based out
Company info
Related products
Related Articles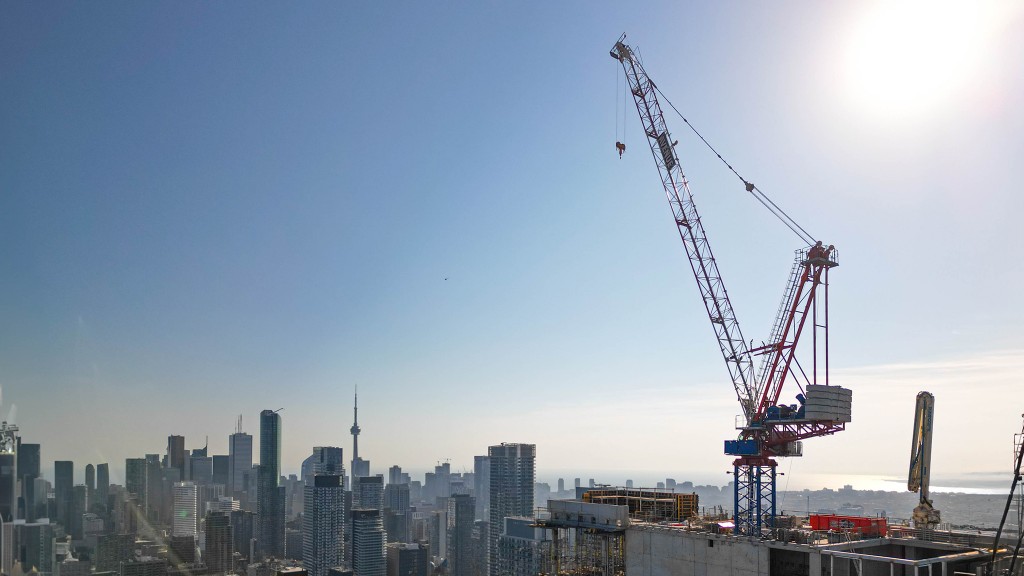 Tight squeeze in Toronto skyline is the right fit for Raimondi luffing jib crane