Lincoln Electric Announces EPA Tier 4-Compliant Platform for Multi-Process Vantage® 300 Engine-Drive Welder
Ideal fit for pickup trucks, this compact power source features a Kubota® diesel engine for smooth, quiet performance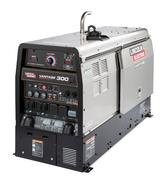 The quiet, compact Vantage® 300 from Lincoln Electric provides an EPA Tier 4-compliant, multi-process, industrial, diesel-engine-drive welding solution for construction teams, pipe-rig owners and rental-fleet managers.
The unit's four-cylinder Kubota® V1505 EPA Tier 4-compliant, water-cooled diesel engine with a gear-driven camshaft has a closed breather system to keep the engine compartment and ground clean. The system eliminates oil mist from collecting inside the engine compartment, especially on surfaces that would lower engine-cooling efficiency. It also provides excellent fuel economy and reduced noise.

The Vantage 300 delivers five welding process modes, including stick, Touch Start TIG®, MIG and flux-cored, with a separate arc-gouging mode. The unit operates at 300 amps at 100-percent duty cycle, with output up to 400 amps at a temperature of 104°F/40°C.

The Vantage 300 also delivers three-phase, 240-volt AC generator power, with a 12.5-kilowatt peak (11-kilowatt continuous), for equipment such as plasma cutters, pumps or inverter welders, among other common construction tools. It also delivers 3,500 watts while welding at 250 amps. The machine is small enough to fit in many pickup trucks and features a standard, stainless-steel, lockable, removable sliding engine-access door that provides ample space for engine and oil-filter work without requiring large clearance space on a truck.

For more information on the Tier 4-compliant Vantage 300 engine-drive welder, call (888) 355-3213 to request Bulletin E6.206 or visitwww.lincolnelectric.com.