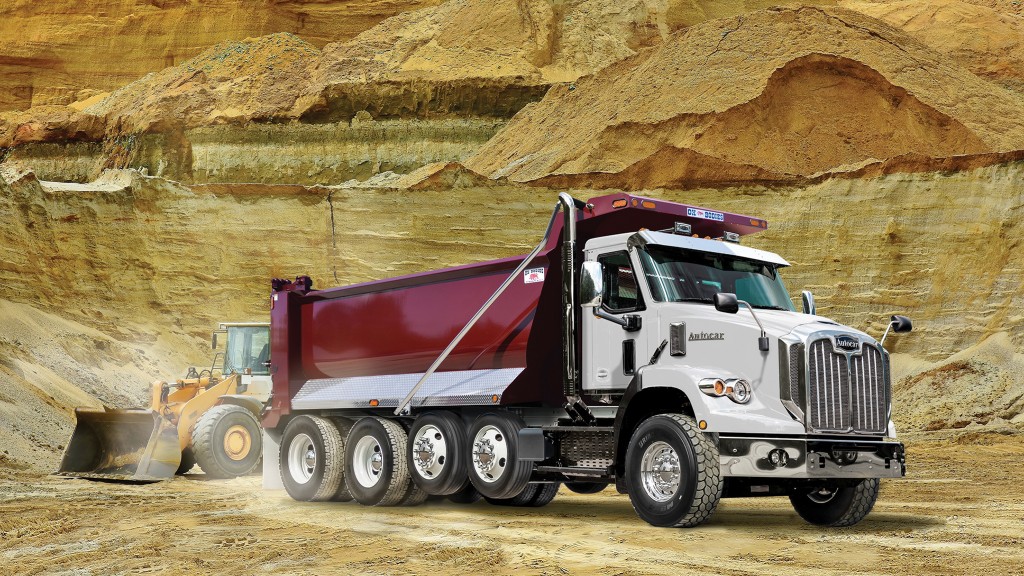 Autocar has a long history of providing tough vocational trucks in markets like refuse and recycling, concrete and terminal operations. Its trucks are well known for their capabilities in the challenging garbage sector among others.
With the launch of its DC-64 severe-duty truck, Autocar opened up its markets to new uses and capabilities, and two trucks delivered to customers recently - including one into Canada - are proving the abilities of the new platform.

Autocar delivered its first DC-64D severe-duty conventional dump truck to a customer in Quebec recently. LMA LaPointe Construction received the custom-built truck, built on a Class 8 chassis and including a SPIF-compliant 20k Simard twin-steer suspension axle.

"At Autocar, we don't believe in cookie-cutter products. Each truck is custom-engineered to meet the unique needs of our customers," said Eric Schwartz, President of Autocar Industries. "The DC-64 was built for the heavy-duty construction work LMA LaPointe Construction handles, so it makes for a great place to launch our new DC series dump truck."

The new DC-64 is offered with a pair of diesel engine options, the Cummins L9 or X12, which offer ratings from 300 to 500 horsepower; the X12 generates up to 1,700 lb.-ft. of torque, while the L9 tops out at 1,250 lb.-ft. Fuel economy from the Cummins engines is, according to Autocar, the best in the industry, reducing cost of operation. The DC-64 is also available equipped with Cummins' ISX12N compressed natural gas engine, which generates between 330 and 400 horsepower and offers a maximum of 1,450 lb.-ft. of torque.

GVWR for these trucks maxes out at 84,000 pounds. The chassis is available with a 112.5-inch BBC, and a wide variety of axle options are available, along with custom options as needed by the customer.

The DC series cab has been designed to ensure it can handle the challenging conditions that come with vocational operation. Built with a combination of steel and carefully selected components, then reinforced with aluminum corner castings, the cab is also fitted with a wraparound windshield that provides drivers 325 degrees of visibility. Inside, the cab has plenty of space, providing the driver with room to work and operate without sacrificing safety and comfort.

The DC-64 is customizable across a range of applications, and another new delivery provides a good example of that. Autocar introduced its first DC-64P boom pump truck, equipped with a Schwing 38-metre boom, to State-Wide Concrete Pumping, in Ohio.
"State-Wide specializes in first-hand proficiency with modern, cutting-edge techniques for a quality result, making this the perfect partner to work with to deliver our first-ever DC series pump truck," Schwartz said.
The State-Wide DC-64P has been designed to give operators a flexibility to set up in areas where traffic can continue to flow while allowing the boom full reach off one side of the chassis. The pump uses 915 degrees of boom articulation on the working side of the five-section boom. In addition, it has vector controls, a rock valve and Schwing's Super X outriggers for quick set-up and a compact, stable pumping platform. According to Brian Boles, commercial general manager specialty vehicles with Autocar, the concrete pump market is a good example of how the company's custom engineering benefits customers.

"Pairing the benefits of our DC conventional chassis with the Schwing boom pump and custom engineering gives State-Wide the exact tool they need to do the job and best serve their customers."