Versatile high-capacity mobile cone crushers: an in-depth report
Aggregate operators can process a range of materials with mobile cone crushers in their spread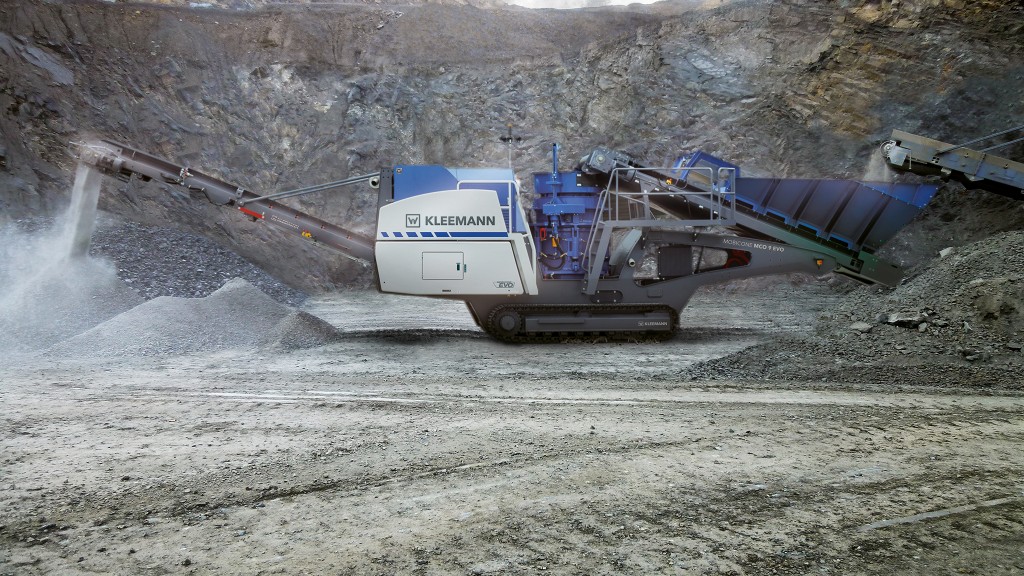 In an aggregates crushing spread, a cone crusher can find its role just about anywhere through the process. Cone crushers are capable of handling a variety of material sizes and types, and generate a wide array of final products. High-capacity mobile crushers are even more effective, processing more material and offering flexibility when it's time for operators to change up their production. Heavy Equipment Guide spoke with industry experts to take a deeper dive into these versatile mobile crushing workhorses.
How do we define high capacity for cone crushers?
As with many definitions when it comes to equipment of all kinds, different manufacturers have different ways in which they outline the concept of high-capacity cone crushers. Daryl Todd, president of Frontline Machinery, which represents Keestrack and Terex Cedarapids crushing equipment, advised that they would define high capacity products as having feed rates from 300 tons per hour and above, for example.
Toni Laaksonen, senior vice president of McCloskey, said their definition of high capacity involves crushers with more than 200 horsepower.
"There is always an interest in producing more output with less input. Our high-powered direct-drive cones have a large stroke to enhance multi layer or rock on rock crushing with increased throughput. It is generally easier and more productive to transport finished products versus raw materials, and mobile crushing equipment allows the equipment to be closest to the raw materials," Laaksonen said.
Tracked cones with power up to 400 horsepower work well with jaw crushers and screeners, he noted, and distinct features like multi-layer crushing in which McCloskey cones make use of rock-on-rock crushing deliver higher productivity along with better reduction and end product shape with less liner wear.
For Kleemann, the definition of high-capacity crushing focuses on meeting or exceeding the customer's needs and expectations based on production requirements for specific products, according to Kelly Graves, director of sales. "Mobile high-capacity crushers must be designed and engineered to meet these requirements while allowing versatility to make changes; operator safety while in operation; and maintained production during the time of ownership - while keeping cost per ton at a profitable margin."
Is interest in higher-capacity crushers growing?
There has been an increased demand for high-capacity mobile crushers across the aggregates quarrying sector, from small applications up to very large producers, according to Todd.
"These customers require easier portability, quicker setup times and the ability to plug and play additional plants quickly," he said. "Manufacturers such as Cedarapids continue to expand their product offerings to include a variety of crushing plants as well as complementary screening plants to offer a complete solution."
Keestrack, he noted, expanded their crushing and screening product range to add the H6e track-mounted mobile cone crusher, a 62-tonne fully hybrid plant with a design based on leading crushing technologies. It is combined with a diesel-electric drive, which allows for flexibility and high-cost efficiency.
Technological advancements drive new needs for capacity
Technological advancements in mobile primary crushing has driven the need for secondary and tertiary crushers such as high-capacity mobile cones for Kleemann as well, Graves noted, with growing interest from large and small aggregates producers as well as contractors.
"Because of this increase we have designed our machines to meet the demands set by our customers, as well as to match our cone production to that of our primary crushers," Graves said. "Kleemann engineers focus on rpm, head speed, stroke and horsepower of the cone during the design and engineering process. Furthermore, the engineers design our feed system components to ensure proper feed consistency to the cone crusher, to maximize and maintain production."
Laaksonen said McCloskey dealers have been receiving increased demand for 400-hp cones on tracks, with interest in performance measurements and operation enhancements such as mobility, fuel efficiency and reduced complexity. "Cones need to not only have the horsepower, but also a design that delivers high capacity. McCloskey's high-powered direct-drive cones have a large stroke to enhance multi-layer or rock-on-rock crushing with increased throughput."
How are high-capacity mobile cone crushers used?
Applications in which cone crushers are best used focus on hard rock and abrasive material, Laaksonen said, with horsepower ratings between 200 and 400 hp generally meeting the main needs.
"Footprint, mobility and productivity rank high for customers who are crushing along a rock face or have a limited space for equipment, or who may not be in one location for more than a few months," he said. "On the other hand, we also have customers with mobile equipment working in the same spot for long periods of time. Mobile equipment has that kind of versatility."
Cones are used in a variety of secondary and tertiary crushing roles that vary from region to region, Todd noted, from producing rip rap to manufacturing sand, with jobs such as making road base or recycling asphalt added in. Versatility is, again, a key.
"Portable and mobile plants offer increased flexibility with the opportunity to mix and match units to arrange the appropriate set-up for that application, while offering the ability to supplement existing spreads or easily grow with demand or changing needs."
Cones handle hard, abrasive materials
Hard, abrasive materials like limestone, granite, quartz and gravel are common materials run through cone crushers, Graves noted. For creating good, cubically shaped product at high production speeds, cones are a good choice. They also help in reducing unwanted fines.
"Customers for our cones vary from large aggregate producers who operate multiple sites to small aggregate producers who need the ability to be mobile while on site, sand and gravel operations who follow the feed material in the pit, and contractors who move from site to site regularly," Graves noted.
What optional features are available on high-capacity mobile cone crushers?
Every crusher owner's needs are different, and it's important to have a robust selection of options that can be fitted out to meet those requirements. Todd noted that both Keestrack and Cedarapids have a range of options available.
"Cedarapids offers options such as metal detectors and magnets, as well as quick set-up options like run-on jacks and diesel or electric operation," Todd said. "Most Cedarapids plants can be configured for specific needs such as improved reliability, increased mobility and maximized production, all while reducing downtime and maintenance."
For Keestrack, the satellite-based telemonitoring Keestrack-er system helps document important performance information in real time while also letting the crusher operator know about any malfunctions. It can also record production data if a belt scale is installed. Todd noted that other crushing and screening options include pre- and after-screens, an oversized return conveyor, hopper extensions and more.
Efficiency and production quality are key
Efficiency and production quality are key to Kleemann optional features, Graves noted, with such options as the Continuous Feed System (CFS) helping customers maximize material flow into the crusher.
"CFS monitors fill level inside the cone while controlling feed belt speed to properly 'choke feed' the cone. This type of feed system provides the customer with quality shaped product, maximizes wear life on cone liners inside the crushing chamber, and provides consistent production of the product," Graves explained.
McCloskey cone crushers also offer a number of standard and optional features to allow for a range of mobile crushing functionality, Laaksonen said.
"All McCloskey mobile cones come standard with full dust suppression and covers, wireless remote controls for tracks and feeder, adjustable level sensors for maintaining continuous load in the chamber, and metal detectors to protect the cone from tramp while operating," Laaksonen noted.
On McCloskey's C2 and C3 models, a return conveyor allows oversize material to either recirculate, move to stockpile or feed a secondary crusher. The conveyor design offers good ground clearance in its working position, meaning it doesn't need to be moved when tracking the crusher, saving the operator time. "However, options alone do not increase benefits for the end user; they should contribute to the desired results for the specific operation," he added.
Range of power options offer efficiency
Power options are also key when it comes to Keestrack plants; the company offers hybrid units on its high-capacity cone crushers which make the machines capable of running on diesel, as a generator set that can be removed to power other equipment, or connected to mains power. Kleemann also offers a hybrid solution that allows customers to swap from diesel to power from the grid, reducing fuel consumption and cost per ton. That system allows for the use of the SPECTIVE operating system also gives operators the ability to monitor components and operate the cone at maximum efficiency, Graves added.
"If a fault in the system occurs SPECTIVE provides detailed troubleshooting information allowing for a quick diagnosis by the operator. When making cone crusher adjustments the operator must be able to perform these functions quickly and safely, therefore keeping machine availability at the highest level," he said. "Adjustments on a Kleemann cone are controlled by SPECTIVE through a large operator-friendly display using an automated process providing a quick and accurate adjustment."
What considerations should buyers keep in mind when selecting a high-capacity mobile cone crusher?
There are plenty of good reasons for aggregates operations or contractors to look into buying a high-capacity mobile cone crusher. So, what are the important factors that should be evaluated when making that purchase?
"Customers looking to upgrade existing spreads, increase production, improve production flexibility or reduce their footprint can benefit from high production units," Todd advised. "Mobile producers or contractors servicing multiple sites with the same equipment and crews will find high-capacity crushing plants can offer a cost-effective solution."
Keep cost per ton in mind
Todd suggested that cost per ton is an important consideration when choosing a crusher. One may have a higher initial up-front cost, but its ability to produce, how well it wears, its serviceability and uptime may result in lower cost per ton over the long run, adding overall cost savings for the owner.
"Selecting a proven and trusted brand, in addition to working with local distributor partners to identify the proper size and type of unit, will offer you the best long-term and cost-effective solution to ensure you get the lowest cost per ton and maximize your investment," Todd said.
Laaksonen agreed, noting that reliability is most important, followed by ease of use and availability of wear parts. "McCloskey cones are built with this in mind, with its reliability paired with simplified controls and ease of access for maintenance and service," he said. "Local service, parts and support are as important in the purchase decision process as the cone crusher. All will need liner changes and wear parts in addition to regular maintenance. A high-production machine that is not working is not producing."
Evaluate your existing crushing spread
He advised that an evaluation of the existing crushing spread be done to consider how the machines work together and determine what the most important requirements are from a high-capacity cone crusher. Factors like product capacity, finished product quality, fuel efficiency, simplicity and longevity can all come in to play. Additionally, consider how easy the cone crusher is to use and have some knowledge of liner applications and automated machine controls, to ensure the cone is running at its maximum productivity.
"The key to efficient and high-production crushing is to marry high capacity, reliability, access to wear parts and regular maintenance to extend the life of the machine," Laaksonen said. "In combination, these will not only deliver on the requirements for a high-quality end product, but position the customer for stronger return on investment and growth."
Manufacturers must understand customer needs
Buyers should ensure that the manufacturer they're working with understands their customers' needs while providing a high-capacity cone crusher that efficiently produces quality product at the highest production rate and lowest cost per ton, Graves recommended.
"Buyers should embrace new technology in high-capacity cones, as this technology positively affects the cost of ownership while protecting their investment," he added.
Keep dealer support in mind
Good dealer support is key to ensuring that cone crushers earn the most possible money for their owners, cutting downtime and keeping rock moving steadily. Graves said that trained field technicians and parts availability from a broad dealer network will bring many benefits to buyers.
"Be sure to consider downtime and maintenance as well as parts availability and commonality," Todd added. "Don't forget to look down the road a few years. Consider what brands offer the best resale values and abilities to expand for future growth with strong dealer support."