The screen scene: an in-depth report on mobile screens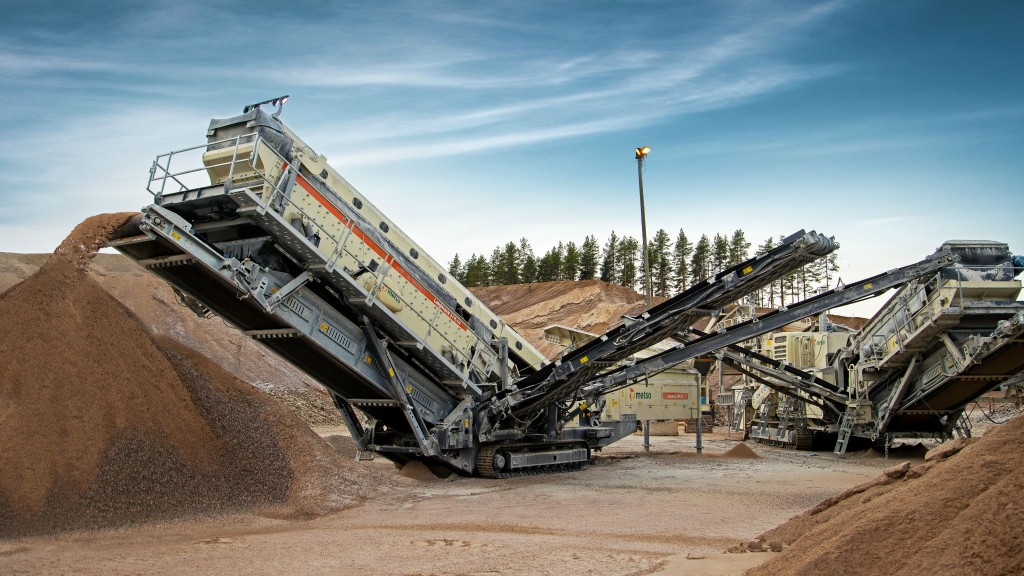 The final step in producing marketable aggregates is separating material into the various products that end-users need and want for their projects. So, after crushing, that material is screened and sorted into sellable sizes.
While stationary screens have been used for years, mobility has become more important to quarry operators, and screens mounted on tracks or wheels are found in many operations. Automation and updates to technology have made mobile screens an efficient and productive part of aggregates operations.
Versatile for multiple products
There are generally two types of mobile screen on the market today, according to Daryl Todd, president of Keestrack dealer Frontline Machinery. Scalpers and classifying screens have important parts to play in preparing aggregates for sale.
"Scalpers are built to withstand harsh applications and the toughest of materials. They are mainly used for the primary scalping of material up to 1,000 mm in feed size (often referred to as oversized) and for the splitting of material from 12 to 200 mm. Some scalping screeners are available with flip flow screens for screening of difficult materials with high moisture content or for sticky material," Todd explained. "Classifiers are mainly used for screening of fine fractions and a finished product from 2 to 50 mm."
Finishing screens can be integrated into crushing equipment, Todd noted; Keestrack jaw, cone and impact crushers can have classifiers built on in one-, two- or three-deck designs that recirculate oversize; this approach can cut down on the amount of machinery required.
Screens are built in multiple designs, with multiple decks depending on the customer's needs, explained Patrick Reaver, inside sales director with Astec Mobile Screens.
"You have traditional horizontal screens, high incline screens, multipurpose scalp screens and then high-frequency screens all offered in mobile platforms," Reaver said. "Most of them are a combination of two and three decks."
Mobile screens are important parts of the process for aggregates producers because they are flexible and productive in a variety of situations, Reaver noted.
"Everybody is looking for really easy mobility, which leads to some of the small units getting even smaller – and at the opposite end of the spectrum you have the big units getting bigger for those who are worried about production more than mobility," he noted.
With some operations handling more than just virgin aggregate, some mobile screens do have multiple jobs. Metso, for example, offers screens in its Lokotrack ST series in two types, according to Jarmo Vuroenpaa, product manager, mobile screens.
"Multi-use screens are typically used in various types of applications, from primary scalping and topsoil handling to recycling and sand screening. Fine aggregates screens are optimized to work as part of a multi-stage Lokotrack crushing and screening plant; however, equipped with a tipping or vibrating grid, fine screens can be fed with a wheel loader," he explained.
Versatility is a big driver when it comes to purchasing a mobile screen over another option, according to Toni Laaksonen, McCloskey International senior vice-president. Being able to move machines from quarry to quarry, and then swap out screen media for more end products, is a real bonus.
"Add on the multiple configurations of screen media, including fingers, bofors, punch plate, wire mesh, urethane square mesh or speed harp and you create a versatility that delivers multiple high-quality products into the market. The bottom line is wheeled screeners deliver portability, and tracked screeners allow for high mobility, whether they are inclined screens, horizontal screens, wet or dry, or trommel screens," Laaksonen said.
Productivity, efficiency and reliability are important aspects of mobile screens, said Patrick Messmore, Kleemann technical sales manager. "Kleemann screens fit well into aggregate production facilities because they boast high production in the screening process, excellent efficiency through low fuel consumption, and reliability with their robust component design," he noted. Mobile screens are versatile, quick to set up, and are simple to operate – those aspects are key to making them a big part of any aggregate operation.
Taking advantage of automation
For quite some time, screens have been considered to be a secondary piece of the equation when it came to a quarry operation. However, with new updates taking advantage of technology improvements and automation, these machines have become more central to the process, Reaver said.
"Mobile screens have always been looked at as a side piece that you would use outside of your system, just to add an extra product. . . today you're seeing people bring those into the main system – maybe they had a stationary system before and are now creating a full tracked spread, or bringing that tracked screen in as part of the stationary spread," he said. "Once they do that, they want to have a little more features and benefits, or have more artificial intelligence."
Automation on screens can encompass a range of functions; Metso's larger screens, for example, have the ability to communicate with other Lokotrack units to help keep processes stable and balanced, Vuroenpaa noted. In other cases, more direct automation is available.
There are numerous parameters on screens that need to be monitored and maintained to ensure efficient operations, Todd said, including the RPM, amplitude, G-force and inclination. "If these parameters are properly adapted to the application, the highest productivity can be achieved. The role for the manufacturer is to simplify the calculation and setting of those parameters as much as possible."
Intelligent controls can monitor those parameters as well as other machine operations to keep reliability up, Todd added, something that can bring central lubrication systems into the automation mix as well.
Kleemann has taken its own approach to automation, providing operators an easier way to run their machines. "Via a remote control panel operating system, the customer has total control of the entire plant from one single operating panel," Messmore said. "Three connection points around the machine allow the operator to maintain positive visual control at all times."
An automated operating mode for starting up the screen is also available, providing an efficient and intuitive process for operators, Messmore added.
Remote operation is making it easier for operators to ensure productivity remains high, Laaksonen said. "Productivity itself remains something that is a combination of measured product and quality or spec product. It is the latter that remains largely a manual and visual process as machines are being set up to run at their maximum capacity without sacrificing the quality of the product they are intended to make."
Telematics, monitoring and other technology
Technology is making a big difference in the ways that customers can use their mobile screens, Messmore said, especially as telematics are added to the mix. Kleemann machines are fitted with the company's WITOS telematics system, which provides multiple benefits thanks to the ability to remotely access information about their machines.
"Being able to monitor the equipment from a distance allows Kleemann owners to make smart business decisions based on the performance of a plant," he said. "Usage tracking and determining that a machine could be better utilized in a different job or a different setup will allow them to be more efficient in their business."
The WITOS system can track information including fuel consumption, machine settings, fault codes, engine parameters, historic data and maintenance scheduling, all information that can help improve productivity for both the owner and Kleemann's dealer network, which can diagnose issues faster remotely.
Technological advances that can handle the harsh environment of quarries are helping improve accuracy and consistency of measurement for producers, according to Laaksonen. "Data and information are key to monitoring and maintaining equipment, and telematics not only allows fleet visibility of location and operation, but can also be used for maintenance and machine error warnings, as well as collecting remote diagnostics data. The more information we have on a machine and its performance, no matter where it is, the more capable we are of lengthening its productive lifespan through proper maintenance and service."
Connectivity is a big part of the technological advances included in mobile screens across the board. Metso has given its machines the opportunity to connect on a broad scale, Vuroenpaa noted.
"All Lokotrack ST mobile screens have the possibility to communicate via satellite to a Metso Metrics remote system, providing online information on machine performance," he said. "In the future, integrated solutions with belt scales will enable enhanced possibilities to control and optimize the process."
For Todd, the ability to track Keestrack machines' performance remotely is key to productive operation. The Keestrack-er telematics system is web-based and uses GPS to allow transfer of data including engine performance as well as other functions and conditions to mobile or desktop computers.
"This allows for immediate reaction to avoid machine damages or reduced production," Todd noted.
In addition, other solutions can be integrated, such as volume-based laser measuring scales that allow for real-time production monitoring and reporting to be accessed remotely for immediate insight into performance and easier project management.
Power options central to updates
When it comes to improvements and advancements for mobile screens, much like other types of aggregates plant equipment there is one area that is broadly considered: electrification. Dual-power screens that can run on diesel or electricity are a growing part of the industry.
"A lot of the time, producers might already have a large generator or line power on the site – it's cheaper and more efficient to run it on that versus diesel, and emissions-wise it will produce a better footprint," Reaver said. "For Astec, we have a redundant system – either a diesel engine that drives hydraulic pumps or electric motors that drive hydraulic pumps."
Dual-power machines cut down on fuel use as well as reducing the amount of maintenance required to keep a screen running, Reaver noted; the ability to use line power rather than diesel means a significant reduction in operating costs.
Keestrack has also focused on electrification for its machines, Todd noted, using diesel-electric power with full electric options, as opposed to diesel-hydraulic drives.
"Screens only need the installed power for the starting process. In normal operation, only a minimal amount of the installed power is required. Hydraulic systems deliver the same amount of oil through the whole operation and create heat, which must be cooled in oil coolers. This results in poor power efficiency," Todd said. "Electric driving systems deliver the energy which is required at the time of operation; consequently, 50 percent of energy can be saved with electric drives."
While dual-power options are also available on Kleemann plants, the company has looked at everything from reliability of components, screen box sizing and inclination angles, to motor frequencies and amplifications and other areas to improve efficiency for its equipment.
"Kleemann's focus on improving screen productivity and efficiency lets customers leverage advanced technology for higher productivity and profits. Technology that allows operators to easily and safely operate the plant is key to ensuring a high standard of productivity," Messmore said. "Kleemann has widened screen box sizes to optimize productivity and efficiency. Our EVO screens have great ease of access to all maintenance ports and the engine bay for service, which speeds up maintenance and keeps equipment running longer."
High stroke and adaptability on Metso screens provide excellent screening efficiency in different applications, according to Vuroenpaa. Screen size has also been given plenty of consideration. "The new Lokotrack ST4.10 provides a full 5- by 20-foot screening area on all three decks. In addition, the products of all three decks can be mixed if so required," he noted. "Special attention has been made in the design to ease closed circuit combination of the unit with large Lokotrack crushing units."
Unique approaches to the way screens function have been part of their development over time; Astec, for example, uses multi-frequency technology; the screen has a conventional two-bearing vibrator, traditionally used on an incline screen that also has a high-frequency vibrator on the bottom deck. Combining the two increases the G-forces the screen can produce, which improves productivity. It also makes it easier for the screen to process material that has higher moisture content.
"We're also looking at the kinds of smart systems and electronics we can have – are we able to integrate them into the system so that we can start to detect failures before they happen? It's possible to make the machine react by turning off the feeder or taking other actions so that, in the event of one failure, we don't experience an even larger failure," Reaver added.
Another productivity improvement that Keestrack has considered is the way in which material stratification occurs on the screen deck, Todd related. "This can be achieved in the best way if the thickness of the material on the deck is in a perfect relationship with the screen mesh size. The thickness of the stream depends on the screen width and inclination," he said. "This is the reason why Keestrack screens have a width of up to 2,000 mm and classifiers can be set for different inclinations."
Keeping screens safer
Aggregates operations have plenty of hazards for staff to be wary of, and screen manufacturers have kept that in mind when designing and updating their mobile screens.
"Safety is a key element during the whole design phase, taking into consideration all the aspects from operation to maintenance and transport," said Vuroenpaa. "In practice, using high-quality components and modern design tools ensure both the dependability and safety of the solutions. For the customer, this results in excellent uptime and high productivity."
The challenge is always to ensure that personnel aren't able to access dangerous portions of the machine while it's in operation without impacting the overall design and operation, Reaver pointed out.
"The traditional thing is to have good guarding, but then you try to go beyond that and look at the overall setup of the machine – where are the operator controls in relation to transfer points, understanding how you would load and unload the machine off a trailer, because that can be dangerous," he said. "Even knowing how it would go down the road – are there things that we need to look at because it's going to be too big... it has your name on it as it's going down the road, so you have to be cognizant of that. There are also things like shutdowns and E-stops around the machine, remote controls with E-stops on them – that's always a good idea."
Kleemann uses a number of features to ensure its customers are safe around their screens, Messmore pointed out. A remote control panel, for example, gives the operator total visual control of the machine when setting up or tearing down. Each side of the machine has a port where the remote can be plugged in so the operator can move from side to side and still see what's happening.
In addition, Kleemann's machines can be connected for quick emergency response. "When an E-stop is depressed, all machines cabled together will safely come to a halt together, so the operators don't have to worry about material spillage or overfilling hoppers or crushing chambers," he said.
The WITOS telematics system also gives technicians and others the opportunity to monitor and maintain the machine remotely, ensuring that if there are problems arising they can be repaired quickly.
On Keestrack machines, hydraulically foldable walkways provide safer approaches for servicing, and screens can also be raised or lowered hydraulically for easier, safer access, Todd noted.
"To save time in changing screen meshes, fast tighteners for side tensioned meshes are available. Machine controls offer special service modes which avoid any movements of components during access to the machine," Todd said. "Furthermore, counterweights, shafts and springs are protected by covers."
Laaksonen added that McCloskey encourages its customers to educate their staff on the equipment thoroughly as a key safety measure. "Proper training is key to prevention of incidents in any crushing and screening environment. Operators need to be aware and informed. We are also always striving to improve access to key areas of our screening plants to encourage regular maintenance and inspection, thereby reducing the number of incidents through prevention."
Related Articles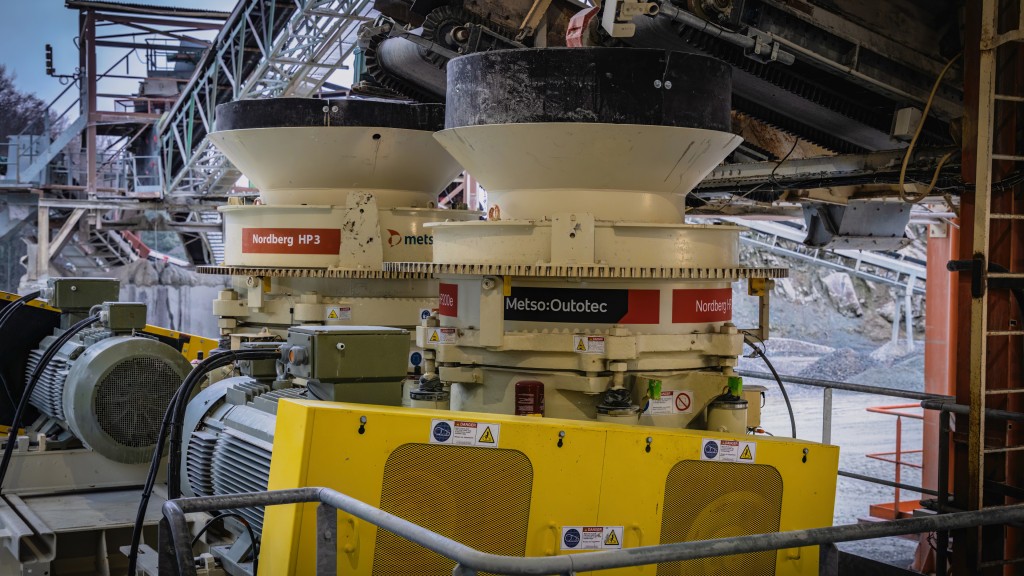 Metso Outotec's new cone crusher incorporates powerful operation and sustainable design