Manitou launches new all-terrain compact forklifts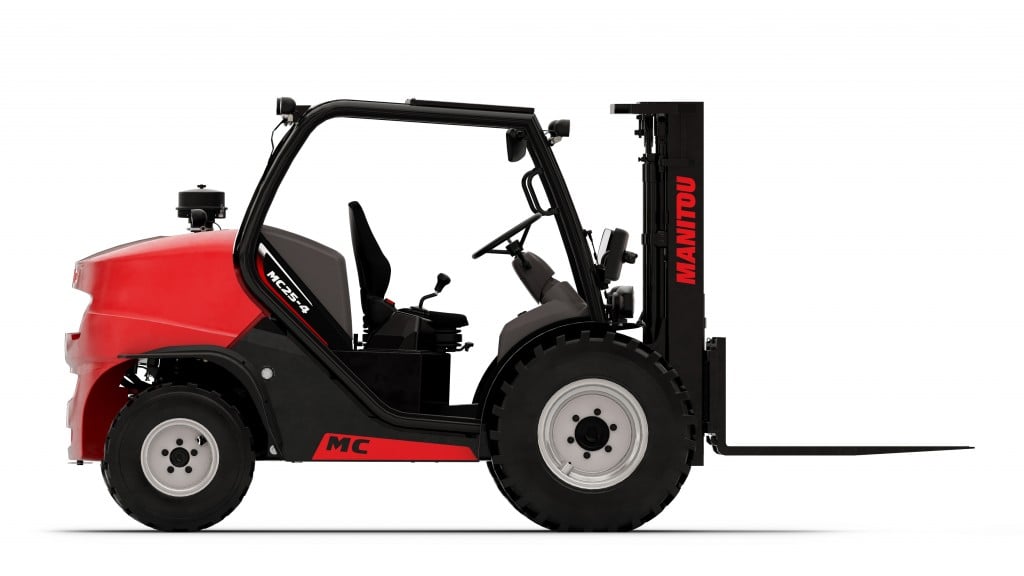 Manitou Group has launched the next generation of compact rough-terrain forklifts with the brand new MC 25-4 and MC 30-4 models. These two models create a bridge between the indoor industrial style (ME/MI) and the true rough terrain forklifts (M series) in both size and performance.
This versatile forklift can be used for handling pallets in both indoor and outdoor applications such as fruit and vegetable production, for nurseries, oyster farming, events and much more.
"Replacing the successful MH25-4T model in the Manitou range, the ALL NEW MC 25-4 brings performance, visibility and operator comfort to a new level," said Brian Rabe, North American product marketing and training manager, Manitou Group. "The innovative panoramic glass roof and redesigned mast offering improves visibility. Standard selectable 4wd/2wd and new chassis improve performance. Reduced total cost of ownership and larger operator station are all key improvements rooted in Manitou's DNA."
The new machines include:
High ground clearance: The MC's offer the highest ground clearance on the rough terrain compact forklift market with 11.8"
Panoramic glass roof for full visibility
Available with two motors on front wheels or four on front and rear wheels
MC 25-4 and MC 30-4 have the ability to switch from 4 wheel drive to 2 wheel drive on the dashboard for any application
Front and rear wheel mounted drive motors put the power to the ground in 4WD mode and in 2WD mode give you the speed to transport long materials distances
Fastest compact forklift on the market with a Kubota engine
Fuel consumption has been reduced by 12 percent, compared to the MH 25
Preventative maintenance has been reduced by 20 percent, compared to the MH 25
Related Articles
The new Volvo EC950F crawler excavator was made for large haulers. In fact, it can fill our 60-ton A60H haul truck in just four bucket passes with an average cycle time of just over a minute. Right now, get 0% for 24 months to save up front, then enjoy improved efficiency and lower fuel consumption to spend less down the road.
Learn more about how the perfect pair from Volvo boost your profitability.