Mack MD Series drives increased interest in medium-duty vehicles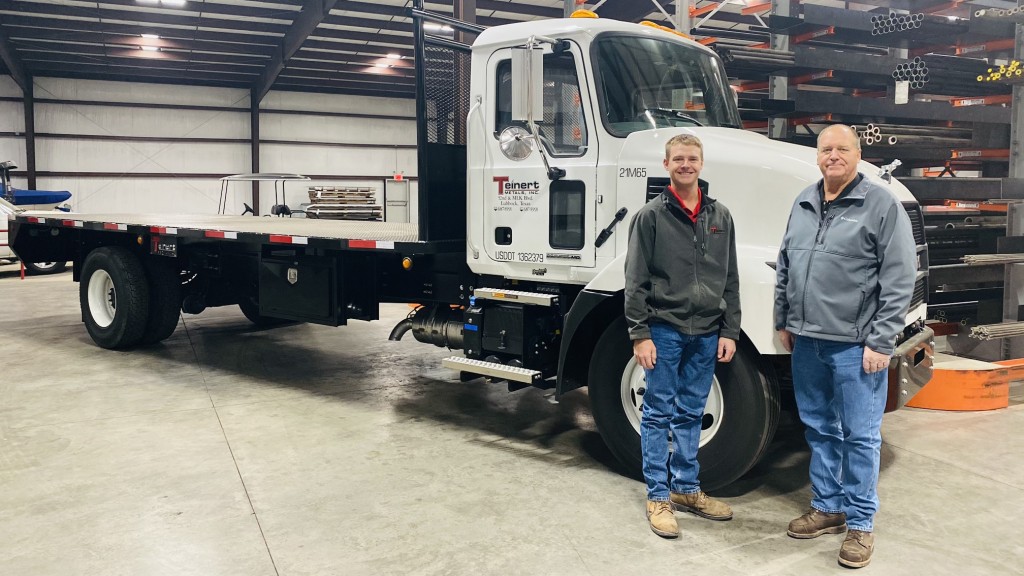 Mack Trucks' MD Series models are exceeding customer and dealer expectations for productivity and performance, resulting in strong order activity and driving increased interest in the medium-duty vehicles.
"Mack is proud that customers and dealers are excited about our new Mack MD Series," said Jonathan Randall, Mack Trucks senior vice president of North American sales and commercial operations. "We knew the product had potential for strong market acceptance, and the initial reception and response confirms our confidence. With the addition of the MD6 and MD7 vehicles, Mack now offers a complete lineup of Class 6 to Class 8 vehicles to meet customer requirements."
The Mack MD Series includes the MD6, a Class 6 model with a Gross Vehicle Weight Rating (GVWR) of 25,995 pounds, and the MD7, a Class 7 model with a GVWR of 33,000 pounds.
"Mack has a tremendous history dating back to World War I, and the Mack Bulldog on the Mack MD6 signifies the truck's durability and reliability," said Kevin Podmore, vice president of fleet and strategic sourcing, United Site Services. "Our medium-duty trucks need to be able to handle a broad range of environments, and we believe Mack's reliability will enable us to see incredible results."
Available in 4x2 configurations, the Mack MD6 and MD7 are ideal for dry van/refrigerated, tank truck, dump, stake and flatbed applications. The MD Series also offers a clear back of cab and top of frame rail to make it easier for body builder adaptations. It's this versatility that customers appreciate, said Steve Rybacki, director of medium-duty trucks for Bergey's.
"There's been a lot of excitement about this product, both internally and with customers," Rybacki said. "The Mack MD offers great flexibility and an accommodating clean frame option, allowing for a wide variety of body upfitting opportunities. This feature has made it a perfect fit for customers such as United Site Services."
A Commercial Driver's License (CDL) is not required to operate the MD6 model as long as the payload is non-hazardous. The MD6 and MD7 models are equipped with the Cummins B6.7 engine, an Allison six-speed transmission and Meritor front and rear axles.
The Mack MD Series models feature a sharp wheel cut for increased maneuverability in tough to navigate urban settings, as well as an 103-inch bumper-to-back-of-cab (BBC) measurement. The driver-focused interior of the Mack MD6 and MD7 models shares comfort and ergonomic design features with Mack's Class 8 truck models, ensuring a quiet ride for drivers. The exterior of the medium-duty models was inspired by the Mack Anthem, Mack's highway model, matching its bold look and styling in the grille and hood design.
Eight wheelbase lengths are offered with the Mack MD Series, supporting typical bodies ranging from 10 to 26 feet. The vehicles come standard with 22.5-inch wheels or optional 19.5-inch wheels.
Bruckner Truck Sales in Lubbock, Texas, currently has 180 Mack MD models on order and sees the vehicles as a strong opportunity for their leasing fleet.
"The Mack MD is still built like a Mack truck, and it's offered with a proven powertrain, probably the best combination for Class 6 and Class 7 trucks, so there are no questions and no hurdles to overcome," said Cobe Gilliam, truck sales representative at Bruckner's. "This is one of the best new product introductions we've seen, and it's one we welcomed with open arms. It's one of the easier products to sell."
Teinert Metals a family owned and operated steel supplier based in Lubbock, is Bruckner's first customer to receive the Mack MD6 truck. Teinert operates 18 trucks in its fleet and ordered the MD6 because of the positive experience the company had with the two Mack Anthem models it operates.
"It's pretty special that we received Bruckner's first MD truck," said Logan Teinert, fleet manager of Teinert Metals. "The truck rides very nicely. It looks sharp, and is well built and durable. Immediately, we received several compliments on it out in the field. Our drivers are very excited about running it."