Dowel pin drilling attachments deliver productivity and safety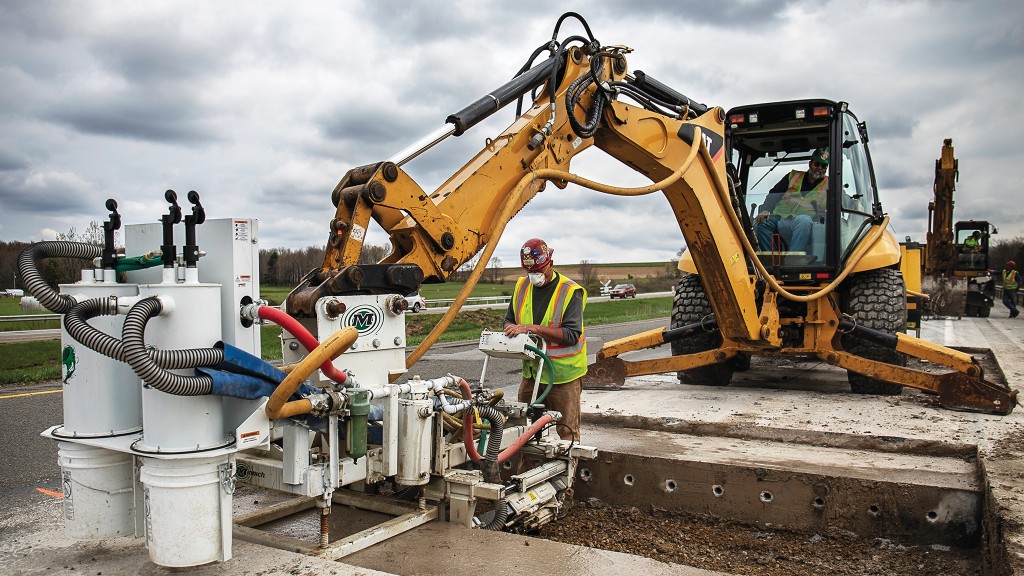 Compact machines are for more than just moving dirt. Today's machines can be outfitted with specialty attachments that enable them to do more jobs and do them more efficiently, and safer, than ever before. Dowel pin drilling attachments for compact equipment can deliver significant productivity and safety benefits for concrete road repair jobs. I spoke with Rob Minnich president/chief marketing officer and Todd Jurjevic president/chief sales officer from Minnich Manufacturing to get the scoop on dowel pin drilling attachments for compact carriers – here's what you need to know.
What is a dowel pin drilling attachment?
A dowel pin drilling attachment can be used instead of hand drilling to insert steel dowel pins into the sides of the old concrete for a full-depth concrete road repair job. A dowel pin drilling attachment mounts onto the front of a carrier, such as an excavator, backhoe loader or skid-steer loader, and will not only drill straight, but has multiple drills that can work simultaneously.
A dowel pin drilling attachment delivers time savings
Hand drilling for one dowel pin takes anywhere from two to five minutes. With a dowel pin drilling attachment, the operator can complete drilling for multiple pins simultaneously, depending on the attachment model, all in under 30 seconds.
A contractor performing a series of patch jobs will typically set up a caravan of equipment to cut out material, pull it out, drill the holes, etc. The carrier machine with the dowel pin drilling attachment mounted on the front can easily move within this caravan.
Significant safety benefits
Manual dowel pin drilling is hard labour and challenging to do accurately. The force going into the concrete is also going into the worker's body – putting the drill on a machine saves wear and tear on the body. And, when outfitted with the optional dust collection system, these drills reduce debris on the job site.

What do you need to operate a dowel pin drilling attachment?
In addition to the carrier, the attachment runs pneumatically and requires an air compressor, which will typically be mounted on the back end of an excavator, sit in the bucket of a backhoe or be pulled behind a skid steer. Minnich Manufacturing works with contractors to provide the correct mounting harness to connect the attachment to their carrier and ensure that the attachment choice is right-sized to the carrier and compressor. Operating the attachment requires two people: one operating the attachment on the ground, and the other in the cab of the carrier.

The Minnich concrete dowel pin drilling attachment line
The line runs from A-2 through A-6; the most common model is the A-3SS (A indicating air-compressor-powered, the number indicating how many drills are on the attachment, and SS indicating that it has side shift capability). Side shift capability is mostly commonly added to A-2 and A-3 models, but A-4 and A-5 can have side shift capability as well. The A-3SS can drill three holes at once, then side shift to drill three more without repositioning.