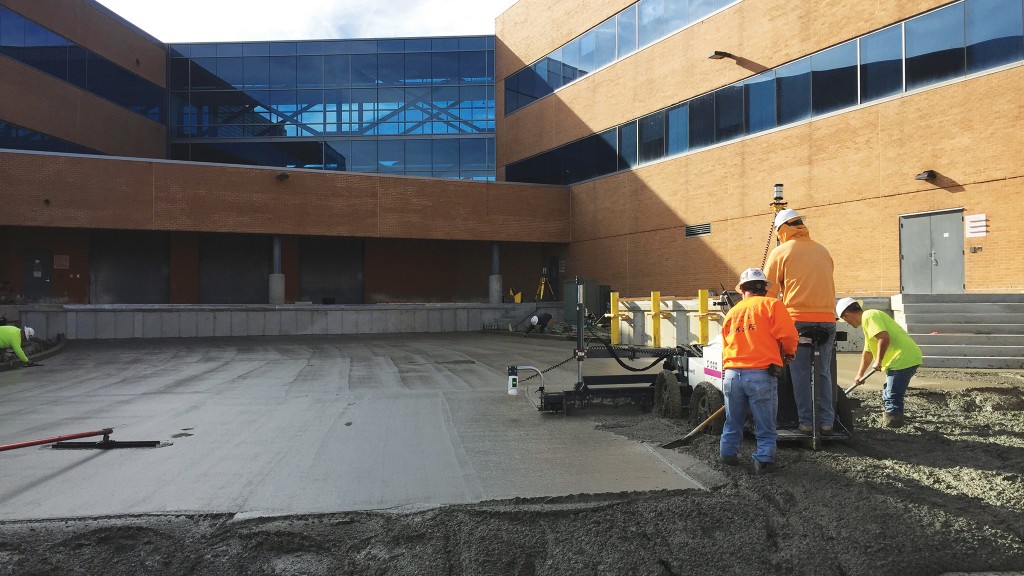 Concrete is an ubiquitous part of construction projects and often provides the base upon which many other aspects of construction rely upon for strength and support. Whether it's a new road or the structure of a high-rise building, concrete slabs need to provide strength and, to work as a base for construction, it must also be poured with precision.

While concrete pads have previously been levelled with extensive help from surveyors, hand measurements and other tools, today's concrete tools are leaning into the growth of measurement technology. Laser measuring equipment tied in with total stations and other precision instruments are bringing greater quality to concrete construction.

In fact, laser screeds have been available for more than three decades, according to Andy Werdin, sales manager at screed manufacturer Ligchine. The technology has steadily developed over the years since that introduction, with regular improvements that have constantly added precision to the concrete finishing process.

"Screeds have been around since the late 1980s. . .obviously it's grown in leaps and bounds," he said. "We're using lighter, more robust materials, and machine programming has come a long way in that time. A lot of early machines had basic PLC controllers on them – now they have microprocessors that will run with your computer. With the development of smarter systems, different laser technologies and positioning systems, that has all contributed in producing a better, tighter product."

Myron Hillock, sales director with screed manufacturer Somero, noted that while the screed itself has changed little over time, the technology itself has changed greatly.

"I've been with the company since 1998, and when I came onboard they had just entered the second generation of the technology that controls elevation of the screed. The framework of the machine, the engine, the hydraulic propulsion. . .it's very solid as construction equipment. Where the technology lies is in how we control the screed head," Hillock said.

Precision measurement on job sites can be a challenge because of the surroundings and the situations in which screeds are being used, Hillock noted. Something as simple as a stiff breeze can cause a challenge, Hillock noted.

"If a compactor or dozer happens to be working in the vicinity of the tripod, well, that vibration can be transmitted through the legs to the transmitter, and send out a shaky beam. Or, if the laser transmitter is mounted on a clamp and attached to a wall, if that wall is being buffeted by winds on the outside, you can have inaccuracies," he said. "Then you have interior slabs - most every interior slab has columns supporting the roof, but the further you get away from the laser sending you the beam, each of those columns starts to cast a shadow."

Somero screeds operate with laser receivers on mast poles at either side of the machine to allow for the system to make adjustments independently on either side as the pad is levelled. Those receivers can often fall into the shadow of a column and lose the beam – and precision. That's where smarter technology helps out, Hillock said. "If one side goes blind, the other side automatically mirrors what the good side is doing – that's our first default," he explained. "Then, the minute it receives two signals again, they return to totally independent."

In addition, Somero measures elevation in both vertical and horizontal directions. If the screed starts to twist and push off the contact point with the concrete due to buildup of material or other occurrence, the company's Self Leveling Head technology recognizes that and makes adjustments to ensure there's no interruption of the concrete mat.
Advancements in technology have focused on improved laser and machine control systems to ensure that the product is as smooth as possible, Werdin noted.

"The use of positioning systems and GPS have allowed screeds to perfectly match a plan for a parking lot. I think in meeting specifications, they are so much tighter now than they were 10 or 15 years ago – the use of machinery and technology is almost required to get the numbers that contractors need to be profitable and put out a product that is of quality to meet that specification," he said.

For Ligchine that means partnerships with key technology manufacturers for products that use automatic machine control, telematics and other systems to ensure the high levels of performance that operators need. Wireless technology allows Ligchine machine operators to use their equipment remotely, allowing them to observe the entire pour more closely, Werdin said.
In addition, screeds are also benefitting from increased awareness of remote diagnostics and monitoring that give owners a better understanding of how their machines are working and when they need maintenance or repairs. Somero's equipment will tell an operator that a fault has occurred on the machine and saves it for later review, allowing the company's service technicians to understand any issues that are recognized through the course of the day, Hillock said.

"Once, if you had an electrical issue, you'd be going through the entire machine to look for a loose wire or something. Now it tells us exactly what's wrong," he said. "Same with the engine. . .as long as the engine is running, we are monitoring engine function, hydraulic and electrical functions all multiple times a second. If there are any glitches, the diagnostics will give us a code."

Other technologies making inroads in concrete screed use include 3D control systems, which allow contractors to input prepared designs into the computer and work with those plans to get the job done.

For example, telescopic machines equipped with 3D systems can handle tasks that would have been considered a challenge in years past. Hillock gave an example of paving over a ditch as a difficult task that is easier thanks to 3D controls.

"We can screed on a downhill slope of five percent or whatever it may be, transition through the valley at the bottom, and then that changes from positive slope to negative slope and we can screed the uphill face of that ditch," he said. "Not only are we controlling the up and down, we're pitching and rolling the head to the desired location simultaneously as well."

With contractors of all sizes taking more advantage of these high-technology additions to concrete screeds, there is a growing interest in the use of concrete construction where there might have been asphalt or other surfaces in the past, Werdin said.

"If contractors and business owners are looking at replacing an asphalt parking lot, they look at the maintenance costs and initial cost of asphalt versus the longevity and reliability of concrete, and that's driving a switchover," he said. "And the need for having tight tolerance slabs is always growing."