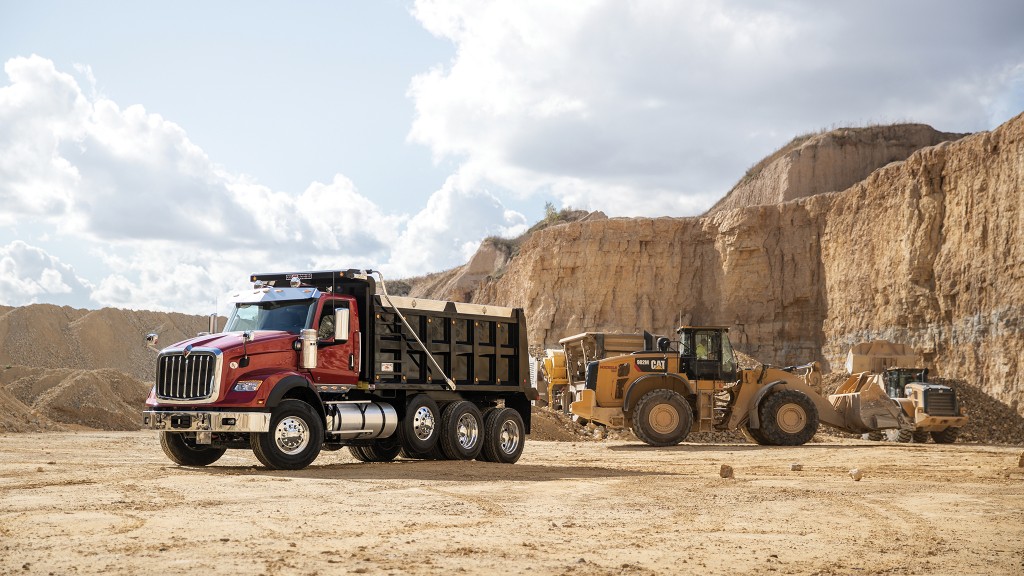 International has introduced a redesigned version of its HX vocational truck line, bringing new design concepts, technology and solutions to the company's severe service vehicles.
The HX is the first truck introduced under parent company Navistar's Project Compass initiative, an effort that is intended to bring flexible and modular design to its offerings, while making the customer experience more streamlined.
"The new HX Series represents our most comfortable, durable, technologically integrated and driver-focused severe service truck ever," said Mark Stasell, vice president, vocational truck with Navistar. "It is the physical representation of our Navistar 4.0 strategy – putting the customer at the centre of everything we do."
New look and larger cab
Stasell introduced the new trucks by noting that the new HX series features a new look, with a durable three-piece hood that brings a strong look to the truck and is crack resistant and designed for visibility.

A new cab design is ready for extreme duty, with reinforcements in key locations to ensure a long life. Designed using high-strength steel and protected by ChemGuard, LineX and International's topcoat process, it is intended to be impenetrable to salt while not resulting in a weight penalty.

Dual external air cleaners provide a classic look while also increasing filtration to improve operation in dusty areas. International has replaced marker lights with LEDs to improve nighttime safety, and Stasell said the trucks are easy to customize, allowing for the choice of visors, mirrors and LED lighting along with stainless steel components.

Inside, the cab is larger and fitted with large power windows as well as a high-quality HVAC system to improve driver comfort. Trim packages include a line of premium heated and ventilated seats. Driver assist technology from Bendix is available to help improve driver awareness and safety.
"The cab interior is the driver's command centre, so every inch needs to be attuned to their needs," Stasell said.
Powerful engine options
The HX620, a 119-inch BBC set-back front axle truck or tractor, is available with two engine options. The International A26 engine generates up to 500 hp and 1,750 lb.-ft. of torque, while a 15-litre Cummins X15 is available generating up to 605 hp and 2,050 lb.-ft. of torque. The HX520 120-inch BBC set-forward front axle truck or tractor is equipped with the Cummins X15. Available transmissions include Eaton and Allison manual, AMT and automatic selections.

Maneuverability is a key focus on job sites, and the new HX models have been designed to provide maximum capability in that area. Dual steering gears and advanced anti-lock braking systems provide drivers with excellent turning, traction and control, Stasell said. The trucks are also built with plenty of capability for rough and rugged work, thanks to a variety of axle and suspension options that include Hendrickson's HAULMAXX HMX-EX suspension and other options to give greater reliability.

Under all of that, the new trucks are built around strong frames, including the available lightweight single-rail option that is capable of handling all kinds of heavy loads. A Huck-bolted frame and crossmembers on the chassis minimize movement and wear, and a range of factory-installed steerable lift axles are available. For moments when the driver finds themselves stuck, there is a front tow pin option that is rated up to 150,000 pounds.
Connectivity inside and out
International has fitted the HX series with Diamond Logic, its internal electronics system that streamlines and enhances installation of electronic equipment.

"Gone are the days of awkward control boxes mounted between the seats where your drivers can't easily see the controls," Stasell said. "Diamond Logic gives you an integrated, easy to program and customizable system mounted directly in the dash."

Operation of truck bodies is made smoother and easier by integration into the Diamond Logic system, giving operators more confidence, Stasell noted.

HX models are also connected externally. International's OnCommand Connection is a real-time remote diagnostics system that gives customers a view of their fleet's health, maximizing the ability to manage maintenance planning and repairs.

"We use connected technology pulling from a number of data sources so dealers have what customers need on the shelf," said Friedrich Baumann, Navistar president, sales, marketing and aftersales.

International 360, a service communications and fleet management platform, is available on the HX Series, making it easier for owners and drivers to communicate seamlessly with the International service network.

Deliveries of the new HX series begin early in 2021.