HUMMER makes shocking return to market as fully electric supertruck
CrabWalk, adaptive suspension and more add off-road capability to 1,000-horsepower EV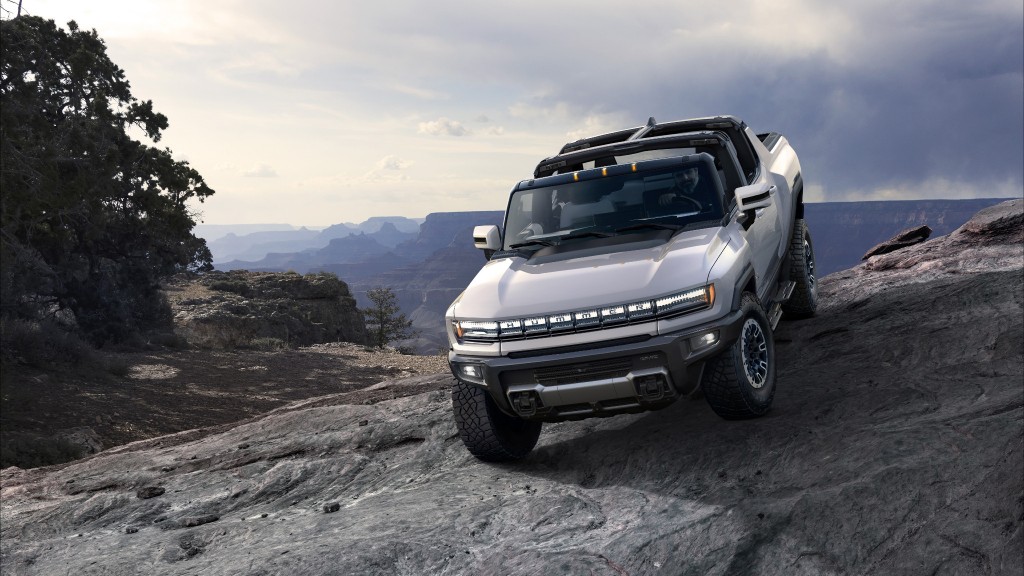 When the popular HUMMER nameplate left the automotive market in 2010, it's certain that nobody expected it to return ten years later as the first fully electric vehicle in the GM stable.
That's exactly what it's done, though - GMC has unveiled the HUMMER EV, a truck that carries on the look and feel of the military-inspired first generation of HUMMERs with next-generation power and propulsion.
The new HUMMER EV boasts an estimated 1,000 horsepower and 11,500 lb.-ft. of torque generated using GM's Ultium electric drive units and batteries, with an estimated range of up to 350 miles.
"We had one goal for HUMMER EV: Build the most capable factory truck - ever," said Al Oppenheiser, GMC HUMMER EV chief engineer. "It's an absolute off-road beast with a unique e4WD drive system that provides maneuverability unlike anything GM has ever offered before."
GM's proprietary Ultium technology will generate power from three separate motors within two Ultium drive units, giving the HUMMER EV solid performance both on and off the road.
"This innovative truck comes to market with speed and purpose, bringing GM another step closer to an all-electric future," said Mark Reuss, president of General Motors. "With our Ultium Drive architecture as the foundation for an exceptionally broad range of performance, HUMMER EV is perfect for the customer who wants capability, efficiency and performance."
Up to 350 miles on a charge
The first model to come to market, branded Edition 1, will target 350 miles of range on a single charge; if drivers need to extend that range, the vehicle can be plugged into fast chargers for a quick top-up. GM says its industry-first technology mechanically switches batteries from parallel to series during charging, making the HUMMER EV compatible with the fastest 350 kW DC fast chargers.
The company says that pairing means ten minutes of charging can provide nearly 100 miles of range.
Drivers will be able to use the Watts to Freedom feature, an immersive experience that unleashes the full acceleration capacity of the EV propulsion system, which can generate a 0-60 mph acceleration of an estimated 3 seconds. The HUMMER EV also features selectable drive modes to tailor its performance for various conditions, both off- and on-road.
Off-road features include CrabWalk diagonal steering
For those who take their trucks into the great unknown, GMC has piled on the off-road features for the new HUMMER EV. Adaptive air suspension with available Extract Mode allows the suspension height to be raised by up to six inches for extreme off-road situations like boulder crawling or water crossings. That pairs with 35-inch tires that give the truck even more clearance for scaling up to 18-inch verticals or fording two-foot-deep water.
And, if that's not enough to get in or out of that difficult terrain, it also features four-wheel steer and GM's CrabWalk feature - which allows the front and rear wheels to steer at the same angle at low speeds, giving the HUMMER EV the ability to drive diagonally for greater maneuverability.
It's tough to see everything around a vehicle during off-road operation, but GM now offers the UltraVision camera system, which includes front and rear underbody cameras, giving live views of obstacles and allowing drivers to ensure their wheels are right where they need to be.
Underbody cameras are protected against damage and fitted with a wash function. GM says up to 18 camera views are available in total.
​Premium interior design
Drivers will find the HUMMER EV a welcome vehicle to occupy, with premium materials used throughout the interior and a new 13.4-inch diagonal infotainment screen and 12.3-inch diagonal driver information centre offering up vehicle performance and driver awareness information as needed.
The truck's Infinity Roof and transparent Sky Panels can be removed and stored in the "frunk" storage compartment, giving a true open-air driving experience, and a power rear drop glass window and power tonneau cover are also available. The HUMMER EV is fitted with a MultiPro tailgate, with six functional positions.
"The GMC HUMMER EV reimagines an instantly recognizable silhouette for a modern, all-electric future," said Phil Zak, design executive director. "Its design visually communicates extreme capability, which is reinforced with rugged architectural details offered with a premium, well-executed and appointed interior."
Reservations for the 2022 HUMMER EV are available now through gmc.com. Production will begin in late 2021.
Watch the HUMMER EV launch video