Alternatives abound as Calgary takes on truck pilot projects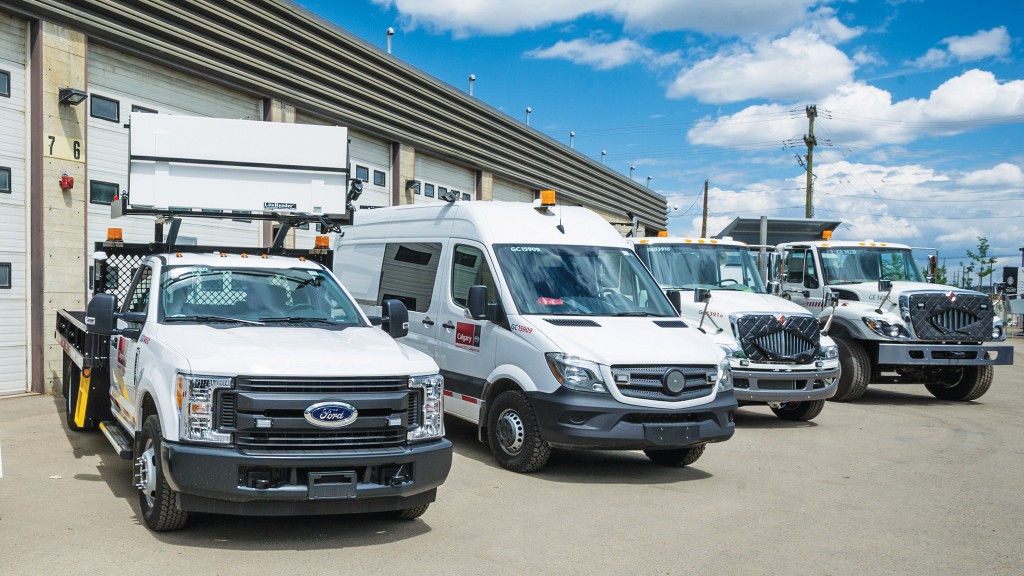 Waste and recycling, snow clearing, general duty and even construction work – a municipal fleet contains trucks and equipment of all shapes and sizes. All of those are tools that help the municipality do the best job possible for its citizens, but they come with a cost, both financially and environmentally.
With alternative fuel technology growing more efficient and less pricey all the time, when a municipal fleet has the opportunity to test-drive some options, it makes sense. That's what the City of Calgary is doing, thanks to some funding from a federal government program.
Federal funding kickstarts project
A grant from the Green Municipal Fund, through the government of Canada and the Federation of Canadian Municipalities, is making it possible for Calgary to purchase two new Class 8 refuse trucks – one battery electric and one hybrid – and trial them. The results could influence fleet purchases for both the refuse fleet as well as across the board.

"We have a significant complement of work trucks that are not the cleanest, and also need to run for a long period of time. Supporting a new green infrastructure and green vehicle options is driving the market – there hasn't been a significant push for these trucks," said Sharon Fleming, Calgary fleet services director.

A pilot project in Calgary provides some unique opportunities for manufacturers to place electric and hybrid vehicles in a challenging situation, Fleming noted, offering opportunities on both sides of the arrangement.

"We want to prove that these vehicles can work in our environment so we can, when ready, move forward on expanding our electric fleet in a way that makes the most impact for our environment," she said.
Reducing emissions is key
Reducing emissions has been a focus for the city, and is influencing purchasing decisions for the fleet, said manager of fleet operations Majid Asefi.
"We are looking for opportunities to reduce the environmental impact in terms of emissions," Asefi said. "In 2018 we commissioned a study and hired consultants to look at alternative fuels that included hybrid electric, compressed natural gas and biodiesel, among others."

Of the options, compressed natural gas was the least likely choice, according to Asefi, because of the significant infrastructure that would be required as well as the lower emissions reduction.

The current trajectory of electric vehicle technology suggests that the next few years are likely to see better and lower-cost options reach the market, and with most fleet vehicles on a roughly 10-year life cycle that means an opportunity to transition from the current diesel fleet straight to electric options in the future.

"The city is thinking in terms of a longer-term approach to lowering carbon emissions, and at the same time creating interest in the industry on the vocational side of trucks," Asefi said. "So the better choice medium- and long-term for the fleet was moving toward electrification, with some sort of strategy in the short- to medium-term for transition from fossil fuel to electric. We identified that to be, if it works in our operations, the combination of using B20 biofuel on the diesel side with hybrid technology."

That combination would reduce carbon emissions near term, save energy and bring the fleet closer to where its goals are over the next five to ten years of transition.
Refuse trucks a smart starting point
Refuse trucks make sense for the first step of the pilot, Asefi said, as the city has a fleet of automated side loaders and front loaders for a total of 268 Class 8 trucks. If the pilot proves successful, the potential to move electrification into other types of vehicles could be there. Asefi is particularly interested in the latter, as the city is using its dump trucks for multiple purposes, especially in the winter.
"Instead of using single-purpose unit, which were just sanding trucks, we are multipurposing them – we have the base truck, with components that go in the back of it so they can work year round," he said. "We're talking about sanding, anti-icing, flushing, cleaning and asphalt patching, and of course the dump truck is the base unit. It's five applications in one, so we're using the same chassis for all of that. Then, we're looking to move to electrify those chassis."

Construction equipment is another area that Calgary is looking at for electrification, potentially as early as this year, Asefi noted. The city runs everything from small skid-steers up to large loaders, and finding options for electrification is on the agenda.

"I think that toward the end of the year we're going to have our RPFs ready to go to market for those applications," he said.