Fat Truck uses Cat diesel power to conquer any type of terrain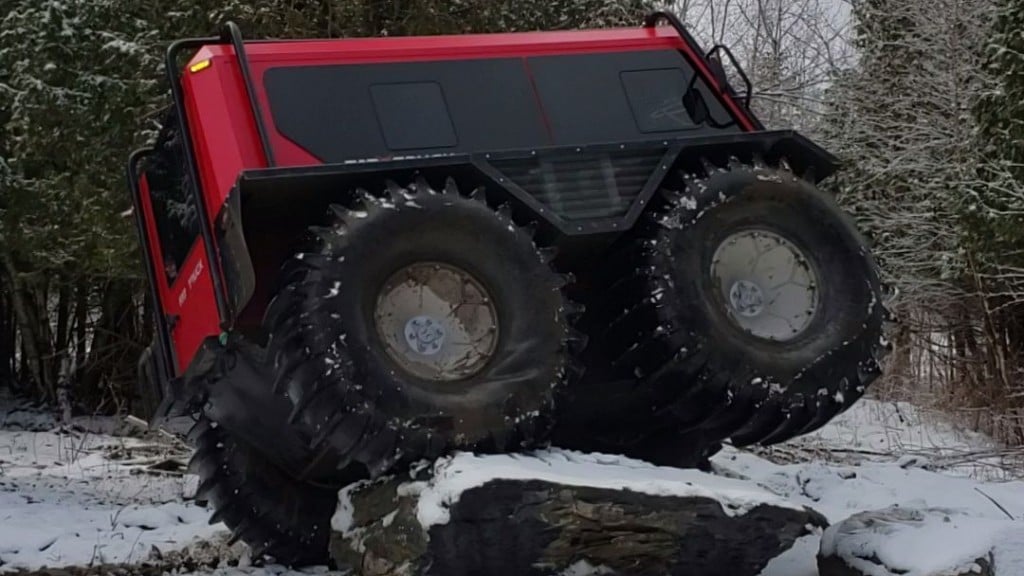 Pickup trucks are great for carrying people and gear to locations far off the beaten path, but even they have limitations. When conditions get muddy, swampy and unpleasant most pickups hit the end of the line. Plus, they just don't float very well.
That end of the line is where the Fat Truck takes over. Quebec manufacturer Zeal Motor has designed the low-ground-pressure, amphibious machine to tackle virtually any kind of terrain, from rock to snow to swamp. And yes, it floats.
The Fat Truck 2.8C, powered by Caterpillar's C2.2 diesel engine generating 67 horsepower, carries up to eight people and a wide range of gear, and has been garnering attention from a range of industries. Zeal Motors co-founder Amine Khimjee said during a recent live demo that the Cat power is essential for propelling the Fat Truck across challenging terrain.
"Up until today there's been no easy solution for transporting people to jobsites - people have used pickups, side by sides, and even school buses, but when it gets messy there's no way to transport people - it's impossible," Khimjee said. "The Fat Truck is defined as an industrial off-road amphibious vehicle; it's an extension of a pickup, but where the puckup stops the Fat Truck will continue."
The Fat Truck is unique in that it sits on four 24-inch-wide tires that stand five feet high; the tires are run at a low pressure that allows them to grip the material under them firmly while spreading out contact across the ground surface. An onboard air compressor makes it possible to deflate the tires fully and reinflate them within under a minute to adapt to the terrain being crossed.
Fat Truck fits into a gap in the transportation market left by vehicles like pickups, rubber track dumpers and others used on jobsites. It's unique in that it is designed specifically for that role, Khimjee described.
"How do you get to the jobsite when it's raining or muddy or there's too much snow? The solution is the Fat Truck with this Cat engine and a hydrostatic transmission," he said.
Amphibious and capable in a range of terrains
The capability of the vehicle was demonstrated from a remote mine site, where the Fat Truck was put through a range of its paces. It started out by diving down a 40-degree slope into a deep swampy pond, where it easily settled in on the big paddle tires and powered its way along the surface. Then it plowed through deep muddy ruts, turned around and did it all again going the opposite direction.
Driving the unit is done with a centre-mounted joystick, meaning it can be operated from either side of the cab. It has a maximum speed of 25 mph.
Khimjee said the Fat Truck 2.8C is built on a base that uses the same steel as an excavator, with an aluminum body to reduce weight. The 6,000-pound machine can be easily towed by a pickup without permits, he noted. The Cat C2.2 engine has been placed at the midpoint of the machine, providing a low centre of gravity that helps keep the unit balanced and upright. Just in case, though, it is fitted with safety features including a rollover cage. Optional equipment includes winches, back seats, tow hitches, a variety of lights, and more.
For crews who need to bring lots of equipment into the bush, a fully amphibious trailer using the same tires as the Fat Truck is available. The 2.8C can carry 1.1 tons itself, and is capable of pulling 5,000 pounds of trailer while maintaining its ability to travel up and down hills with ease, Khimjee said.
Maintenance requirements on the Fat Truck are minimal. Khimjee noted that there are no grease points on the vehicle, as everything has been designed as fully sealed, and that engine maintenance can all be done through a cowling in the interior that gives full access to the engine while protecting occupants from heat, fumes, and other potential issues. An oversized fan on one side of the machine pushes fresh air across the width of the Fat Truck to keep the Cat engine cooler.
Currently the Fat Truck is being used on a variety of jobsites, with utility contractors in particular finding it useful for their work.
"In Minnesota, we went out to patrol a line with a customer, and they said the Fat Truck had saved them $10,000 that day - usually if they were patrolling a flooded line they would need a helicopter, but now they don't need it; they can bring people and material and do that job at a lower cost," Khimjee said.
Caterpillar has been a strong partner in the development of the 2.8C, and the C2.2 has proven a successful choice for the vehicle.
"They have provided not only the engine, but the support to go with it. To develop a vehicle that travels in this kind of environments has been quite an engineering incentive to get all the specs worked out," Khimjee said.