Ford revives legendary Bronco name with family of rugged SUVs
Two-door, four-door and Sport models of off-road specialist trucks to hit market in early 2021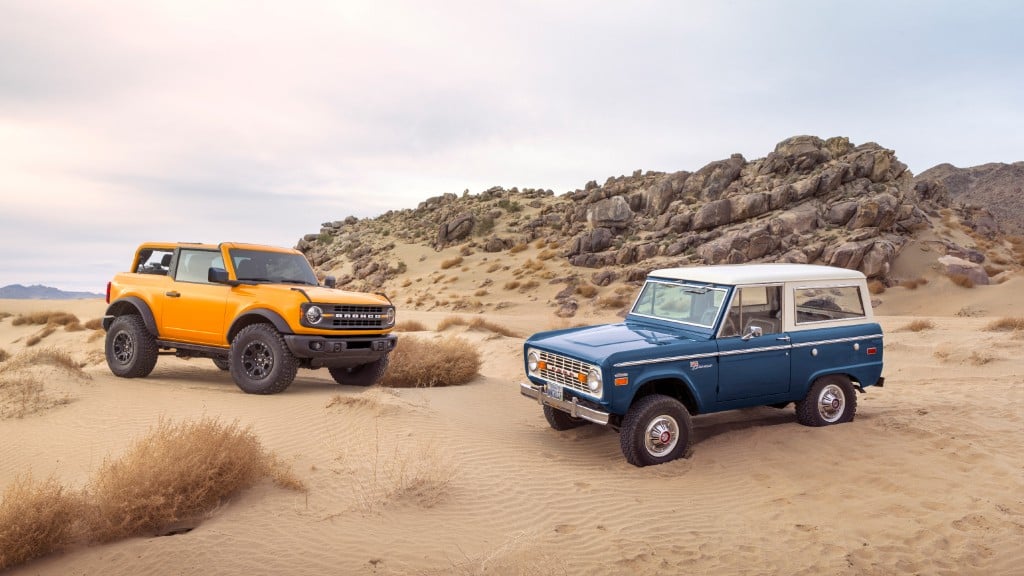 Back in the 1960s, Ford introduced a small truck that quickly built a big name for itself: the Bronco. Based off designs inspired by World War II jeeps, these small, rugged examples of early sport-utility vehicles were intended to take farmers to their back fields, fishers to remote fly streams, and climbers to their favourite mountains.
The nameplate was shelved thanks to declining demand for two-door SUVs in 1996, but Ford has announced it's bringing the Bronco back for the 2021 model year as a family of three vehicles targeted at different consumer segment - but all aimed at off-road performance.
"We created the Bronco family to elevate every aspect of off-road adventure and equipped them with class-leading chassis hardware and exclusive technologies to raise the bar in the rugged 4x4 segment and take people further into the wild," said Jim Farley, Ford chief operating officer. "They're built with the toughness of an F-Series truck and performance spirit of Mustang - and come wrapped in one of the most stunning and functional off-road designs that's true to the original Bronco design DNA."
Bronco will return to roads and trails in early 2021 with a trio of
models. The traditional two-door Bronco design is back, along with a brand-new four-door model and the smaller Bronco Sport. All three models come with four-wheel-drive standard, along with plenty of features that enhance the off-road experience for adventure drivers looking to get out of town.
Bronco revival boasts back road DNA
The first Broncos were nicknamed GOAT - Goes Over Any Type of Terrain - and that philosophy has been built into the new Bronco family. With 4x4 standard and the two-door and four-door models boasting what Ford says is best-in-class ground clearance, Ford has continued the off-road DNA that was the hallmark of the original Bronco truck line. Drivers will be able to select from a variety of setups with the click of a dial - the terrain management system's G.O.A.T. Modes will allow changes to suit the type of off-road challenge being faced.
"Bronco's advanced four-wheel-drive technology is at the core of its off-road capabilities, and at the heart of it all is Bronco's exclusive Terrain Management System with G.O.A.T. Modes that is designed to help drivers better navigate any type of terrain," said Mark Grueber, Bronco consumer marketing manager.
Up to seven modes are available, depending on the trim level and options selected - the base system offers Normal, Eco, Sport, Slippery and Sand, while others include Baja, Mud/Ruts and Rock Crawl.
An available Trail Toolbox gives owners the opportunity to use a collection of exclusive technologies like Trail Control - cruise control for low-speed trail driving - and Trail Turn Assist, which tightens up off-road turning radiuses with torque vectoring. Trail One-Pedal Drive acceleration and braking control offers more precise low-speed motion for rock crawling.
Ruggedness is built into the new Bronco, which is designed around a high-strength steel chassis. Every Bronco features an independent front suspension, with a rugged solid rear axle and coil springs; the combination offers control and comfort as well as off-road strength. An optional semi-active hydraulic stabilizer bar disconnect allows the Bronco to take advantage of greater articulation and increased ramp axle index, and then reconnect under all kinds of conditions for improved steering and stability.
The Bronco will be powered by one of two engines; the 2.3-litre EcoBoost is targeting an expected 270 horsepower and 310 lb.-ft. of torque on the Bronco Sport. The two- and four-door models will be able t take advantage of the 2.7-litre EcoBoost V6 projected at 310 hp and 400 lb.-ft. of torque. Those engines will pair with what Ford says is a segment-first 7-speed manual for low-speed rock-climbing ability. Also available is the SelectShift 10-speed automatic for easier driving both on-and off-road that also offers solid crawl ratios with the advanced 4x4 transfer case.
Ready for the wilds inside and out
The Bronco can be prepared quickly for outdoor adventure. Two-door models will boast a three-section roof system, while four-door models have four roof sections. All roof parts can be removed by a single person who can unlock the latches from the interior. Doors can be removed as well and stowed aboard the truck with ease.
Inside, the Bronco features an instrument panel inspired by its first-generation ancestors, offering easily visible and readable gauges and controls. In the middle of the dash is the 8-inch or available 12-inch SYNC system, which can be used for over-the-air updates and integration with the FordPass Performance app. One key benefit is the availability of off-road navigation and hundreds of curated trail maps that can be displayed on the screen. In addition the system links with an available 360-degree camera system that offers spotter views around the vehicle, useful in technical trail work like rock crawling.
Ford expects more detailed specs and finalized information about the Bronco models will be available closer to the truck reaching market in early 2021.
Watch the launch video for the 2021 Ford Bronco