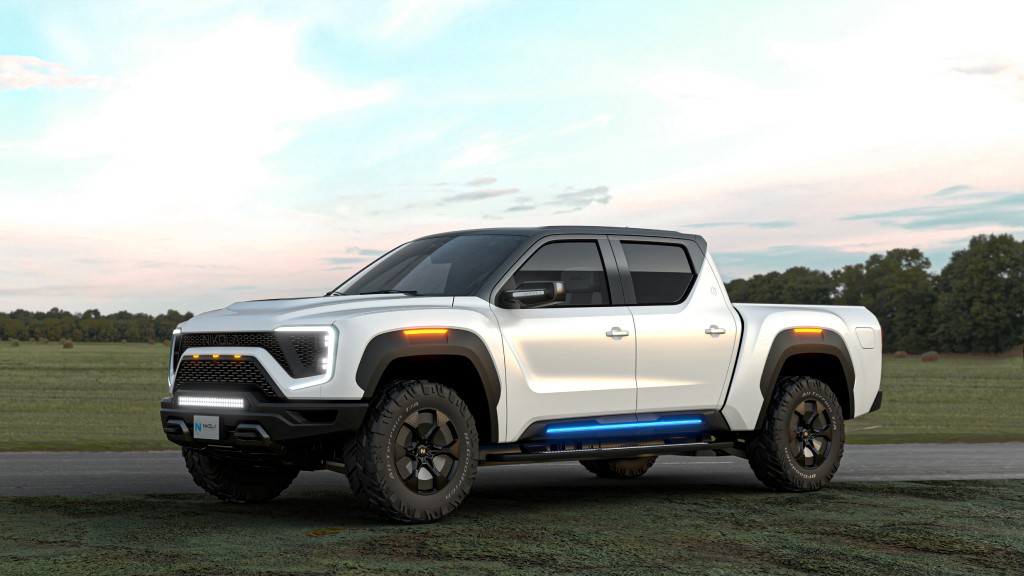 The trend towards fully electric vehicles is only accelerating, both in the automotive market and, more and more, among buyers of pickup trucks. Some big names as well as a variety of lesser-known manufacturers are pushing hard to put their electric pickup on the road within the next year or two; here's a roundup of what's in the works.
Nikola Badger
We start out with a look at this unique take on the electric pickup which takes advantage of two different approaches to alternative power. Nikola's Badger pickup, currently expected to enter production in 2022, will offer either battery electric or fuel cell electric models that will provide around 300 or 600 miles of range, respectively.
Nikola expects its truck to generate more than 900 horsepower at its peak and 980 lb.-ft. of torque, and boast a 2.9-second 0-60 mph speed. Projections indicate that the truck will be able to run on blended FCEV and BEV when needed, and swap at the touch of a button. The company says that with a fully loaded trailer and combined vehicle weight of 18,000 pounds, the Badger will be able to launch from a standstill on a 30 percent grade without motor stall.
Nikola was scheduled to announce more at an event this fall, that has now been pushed into December at the earliest. It is also expected to announce an OEM partnership sometime in the near future.
Ford F-150 Electric
Ford caused a huge splash with the launch of its redesigned F-150 in June, especially with the addition of the Powerboost hybrid option that the company says will provide horsepower and torque comparable to its standard power options. That design is expected to be a stepping stone, though, to a full electric version of the hugely popular truck that may be released within the next two years.
In 2019, Ford's president of global markets, Jim Farley, said the company would be producing battery-electric and hybrid F-Series trucks, though details have remained thin. However, the company has affirmed its dedication to producing EVs. It has also invested in fellow electric truck builder Rivian, which is expected to contribute its unique "skateboard" chassis to the F-150 design - more on that below.
A statement on the Ford Canada website from President and CEO Mark Buzzell, says "Ford has a bold strategy that includes going "all-in" on electrified vehicles. Earlier this year, the company announced a US$11 billion investment in electrification, with plans to put 40 new electrified vehicles on the road by 2022, bringing more capability, performance and efficiency to nameplates Canadians already know and love, from F-150 to Mustang to our entire utilities lineup."
Considering the buzz from the 2021 F-150 hybrid, when the F-Series does go full electric, it's going to be a very big deal.
GMC Hummer
Another major manufacturer with minimal information about a very buzz-worthy vehicle, GMC announced the Hummer EV in early 2020, only to have its launch pushed back due to coronavirus concerns. The company made a splash with a Super Bowl ad featuring LeBron James and a tantalizing look at the Hummer EV grille.
Thus far, we know that the Hummer EV will feature 1,000 horsepower and 11,500 lb.-ft. of torque. There's little information about how the truck will generate that power - enough to fling the hefty Hummer platform from 0 to 60 mph in a crazy 3 seconds - but it will do so with zero emissions and highly reduced noise, the company said. Another teaser image released in June shows a view from within an open-air cab design.
In all honesty, we know virtually nothing about the Hummer EV at this point, but if the new design carries on from the previous Hummer variants it's going to be quite a sight. Watch this space.
Bollinger Motors B2
Want a truck with a frunkgate? Bollinger Motors has you covered with one of the unique features of its B2 pickup truck. Announced in 2018, the B2 - and its companion B2 Chassis Cab, along with the B1 sport utility vehicle - are being designed around dual motors and a 120 kWh battery pack that the company says will allow for a minimum 200 mile range - further in city driving.
The B2, a Class 3 work truck with a hauling capacity of 5,000 pounds, features a box that, when the internal cab tailgate is down will allow the truck to carry full 4-foot by 8-foot sheets of plywood, according to the company. The rear glass also opens, allowing storage to the top of the cab. And, for things that are longer than the box, the truck features a passthrough that shoots straight through the cab, allowing for items up to 16 feet long - ladders, boards, railings, and so forth - to be carried entirely inside the truck.
And, there's that frunk - the front trunk - that offers additional space, accessible from the front seats and fitted with four electrical outlets, useful for plugging in power tools. Bollinger intends to have its vehicles in production in 2021.
Lordstown Motors Endurance
This most recent entrant to the EV pickup race is actually a bit of a legacy operation - sort of. Lordstown Motors CEO Steve Burns was previously CEO of Workhorse, an Ohio-based operation that was founded to build electric delivery vans, a project that was having trouble getting off the ground. In late 2019, Burns joined Lordstown, which licensed intellectual property from Workhorse and made a deal to purchase a closed GM plant in Lordstown, OH, touted by a Presidential tweet. Lordstown recently announced, during a splashy debut that featured U.S. Vice President Mike Pence, the Endurance pickup.
This somewhat convoluted and slightly political path leads us to a truck with a neat, modern look and a unique hub motor design - four electric motors in the wheel hubs will drive the truck, which is expected to have a 250-mile-plus range, 600 hp at peak power and a towing capacity of 7,500 pounds. Lordstown says the Endurance has the lowest number of moving parts of any motor vehicle.
Lordstown's delivery schedule is one of the most optimistic of the electric pickup manufacturers, as it says it intends to be the first to customers. Watch for the Endurance to be delivered to fleets by January 2021.
Rivian R1T
Billed as an "electric adventure vehicle," the Rivian R1T is an all-electric five-seat pickup built around a quad-motor all-wheel-drive platform - the "skateboard" that provides the basis for everything the truck needs while staying below the height of the wheel. That includes the battery pack, drive units, suspension, braking and thermal system, all out of the way to let the occupants and their gear use the rest of the truck's space.
That skateboard, as we mentioned above, was the focus of a $500 million investment into Rivian by Ford, and is likely to be a big part of Ford's F-Series electrification process moving forward. For the R1T, though, the skateboard will provide a range of at least 400 miles, and drive the truck to 60 mph in 3 seconds and 100 mph in less than 7 seconds while also offering a tow rating of 11,000 pounds.
In addition, the R1T features what Rivian says is the largest, most durable automotive battery pack, at 180 kWh, along with features like a front trunk (Rivian's not using 'frunk' just yet, but give it time), built-in air compressor and alarmed gear security loops, a gear tunnel for easily sealable storage, and numerous other features.
Tesla Cybertruck
No roundup of electric pickups is complete without the figurehead for the sector, Tesla's Cybertruck. This silvery, angular escapee from 1930s pulp magazines has kicked off much of the activity in electric trucks, and we still don't know exactly what the final product will look like when production gets underway.
What we do know about the Cybertruck is that Tesla will be targeting a range of more than 500 miles, a payload of 3,500 pounds and towing capacity of more than 14,000 pounds. The truck is built of ultra-hard 30X cold-rolled stainless steel, the same material Elon Musk's other venture, SpaceX, is using for its Starship project. Tesla says there will be three variants, single-motor rear wheel drive, dual-motor all wheel drive, and tri-motor all wheel drive.
More details regarding the truck are steadily trickling out, mostly through Musk's Twitter account, where he recently explained that the Cybertruck's angular design comes from the fact that the body panels are too hard to be stamped. He also notes that owners will be able to wrap the truck in any colour or design, and also noted that the steel can be tempered to different colours if owners so desire. The latest street date for Cybertruck is late 2021.