Survey captures snapshot of mobile compressed air industry in 2020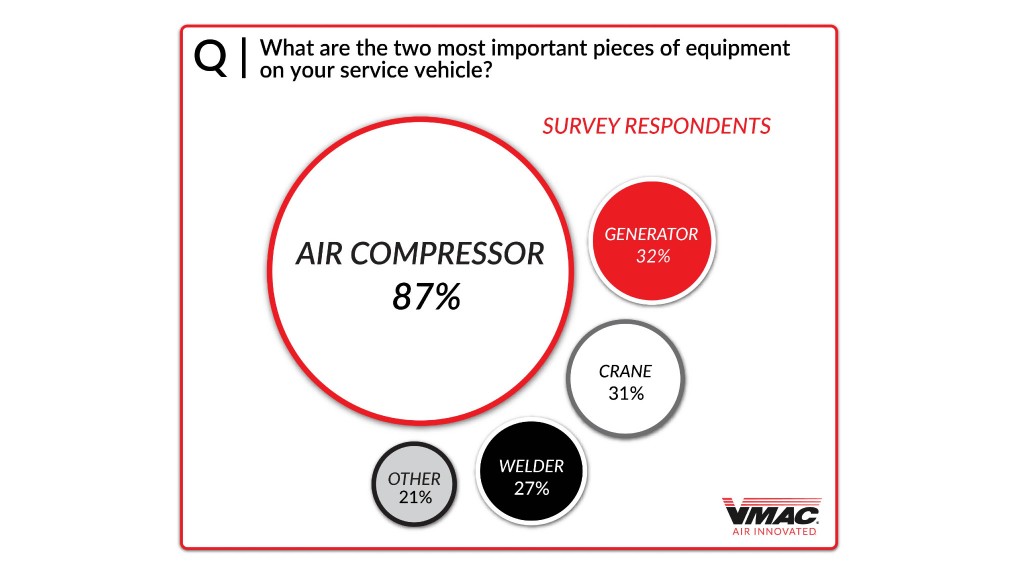 A survey of mobile compressed air users conducted by VMAC provides a unique snapshot of the service industry and its needs, including the importance of compressed air on service vehicles, preferred types of compressor, and other insights.
The survey, which features responses from more than 200 industry professionals, offers a good benchmark for others in the industry as to how their businesses compare to their peers, according to Mike Pettigrew, VMAC marketing manager.

"We're pleased to release this report to members of the industry, providing them with a benchmark for comparing themselves and their business to their industry peers," Pettigrew said. "By highlighting and analyzing industry trends, VMAC's report will help business owners and managers plan for the future."
VMAC's goal in producing the survey was to answer key questions surrounding the number of service vehicles in fleets, the types of compressor those trucks are equipped with, and other points. Businesses included in the survey were from a variety of sectors; the top five types of operations represented were from construction, heavy equipment, general equipment, utilities and tire service. VMAC noted that the survey took place in late 2019 and early 2020, and does not reflect changes that may have occurred due to the coronavirus pandemic.
Most of the businesses surveyed - 58 percent - had one to five service trucks in their fleets, the survey showed, with six to 25 at 15 percent. Large fleets of more than 100 trucks made up seven percent of respondents.
The survey showed that most vehicles with an air compressor are replaced between three and nine years after purchase, and that many fleets are working to right-size their trucks, with smaller classes preferred. 55 percent of respondents indicated that their fleet contained a service van with an air compressor. When choosing the type of service vehicle in use, diesel and gasoline power remain strong; 70 percent of responses indicated they would choose a diesel for their next truck and 44 percent gasoline. Electric and hybrid vehicles were of interest to 12 and 9 percent of respondents.
When asked what the two most important pieces of equipment on their service vehicle were, air compressors scored very high - 87 percent of respondents selected compressors as one of their key tools. Generators and cranes were at 32 and 31 percent respectively, with welder not far behind.
Interestingly, 30 percent of respondents said less than 10 percent of their service vehicles were equipped with air compressors, while 28 percent were 100 percent equipped.

67 percent of respondents prefer rotary screw compressors over reciprocating units, because of their level of performance. Reciprocating air compressors were preferred mostly for their ease of service and repair.
Deck-mounted compressors remain the most popular type, with 69 percent of respondents selecting them over underhood or engine drive units at 27 percent and underdeck at 25 percent.
"VMAC's 2020 State Of The Mobile Compressed Air Industry Report identifies trends associated with service vehicle lifecycles, truck class sizes, commercial van popularity, CFM and psi requirements on service vehicles, and more" explains Anne Fortin, Digital Marketing Specialist. "By making our data readily available, we hope to provide another resource for members of the industry to use when conducting industry analysis, and empower them to make even more educated decisions that will benefit their business."