Volvo Trucks partnership aims to streamline installation of roll-off bodies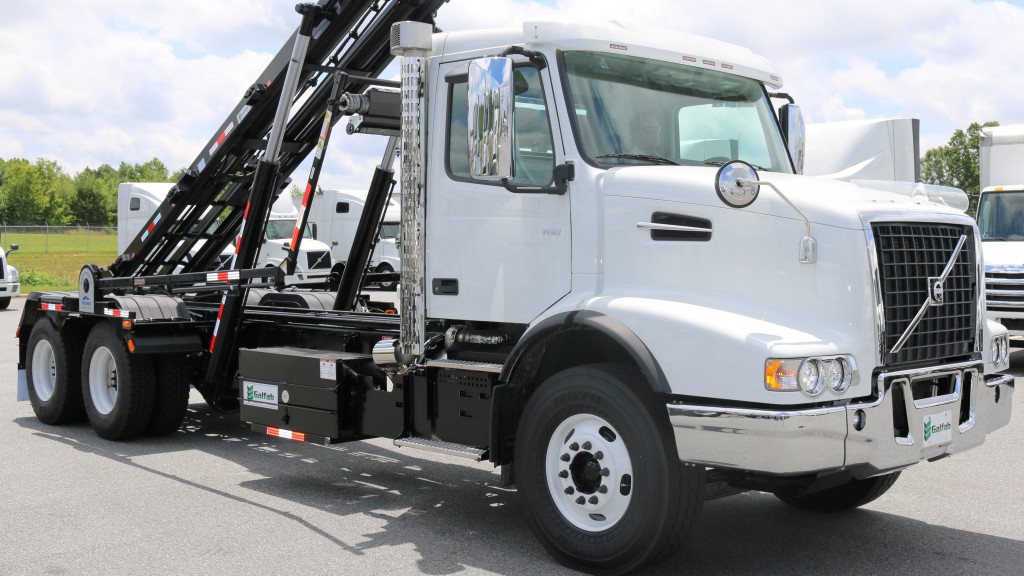 Volvo Trucks North America is collaborating with Galfab to have roll-off bodies available for installation at the Fontaine facility near Volvo Trucks' Dublin, Va., factory.
The local process will enable a more efficient body installation and delivery of Volvo truck models with 60,000 or 75,000 lb. Galfab roll-off hoist bodies to customers and dealers. The bodies are delivered from Galfab's headquarters in Winamac, Ind., to Fontaine Modification located adjacent to the Volvo Trucks assembly plant in the New River Valley of Virginia.
The most common model for this specification is the Volvo VHD, however it's also offered on other Volvo Trucks models that meet the minimum chassis requirements for the application. Specific option codes containing all chassis preparation requirements make the ordering process easy. Volvo Trucks performs allframe drilling, corrosion resistance coating and paint applications on the chassis at its assembly plant prior to the body installation process at Fontaine.
Previously, a finished Volvo truck chassis was transported to Galfab's Indiana facility, where the roll-off body was installed before being delivered to the customer or dealer. The new process reduces logistics fees and delivery times for fully finished, quality commercial vehicles that arrive straight to the customer or dealer.
"This new practice gives customers and dealers the option to order a Volvo truck with a Galfab roll-off body, which removes complexity from the body installation and delivery process," said Andy Hanson, product marketing manager, Volvo Trucks North America. "Not only does this save a significant amount of time and money for our customers and dealers, but Fontaine assures a high-quality installation and integration with our chassis."
Roll-off applications are typically used for transporting large containers such as trash receptacles with a hoist. Galfab produces bodies that utilize Volvo Trucks' rear engine power take-off (REPTO) mounted with an F1 piston pump as well as Volvo's transmission-mounted PTOs. The hydraulic tank is mounted to the frame rail to ensure optimum oil supply to the pump. Galfab bodies also enable coded troubleshooting through Volvo Trucks' Body Builder Module (BBM) in the dashboard, which simplifies the installation and testing of electronics and data components.
"We are proud to partner with Volvo Trucks North America as the body vendor for this initiative with Fontaine," said Mike Miller, vice president of sales at Galfab. "As a premium OEM dedicated to the highest standards of quality, Volvo Trucks shares our commitment to industry-leading products and customer service."
Volvo Trucks already has long-standing partnership with Fontaine, which completed an exhaustive training process to become a certified Galfab installer.
"Fontaine is excited to expand our long-term relationship as a body installer with Volvo Trucks North America," said Jason Clark, director of Volvo operations at Fontaine Modification. "We look forward to working with Galfab to bring a new level of efficiency to the delivery of roll-off hoist bodies for Volvo Trucks customers."
More from Trucking & Transportation
The all-new CASE TR340B compact track loader — operating at 90 horsepower with a 3,400-pound rated operating capacity — is the most powerful radial-lift CTL in the CASE lineup. Its all-new 8-inch LCD display improves on industry-leading CASE visibility with a new backup camera that is viewable in both forward and reverse operation. The display also showcases critical operating information and "trip" details. All-new electro-hydraulic controls, managed through the display, make it easier than ever for operators to dial CASE CTLs into specific application demands. All new cab controls and joysticks make the new TR340B easy to own and operate.
Industries such as construction, mining, energy, utilities and forestry, face many challenges when it comes to tracking assets and employees. Equipment often has to be transferred between locations, or monitored while it is dormant during off seasons. Lone workers may have to travel long distances or visit multiple sites during the course of their activities. And, all of this is further complicated today with shifting supply chains and economic realities putting further strain on the bottom line.