Engcon upgrades control system for tiltrotators with improved compatibility, new functionality
The DC2 control system fits all excavator brands on the market, and can control the excavator's belt and wheels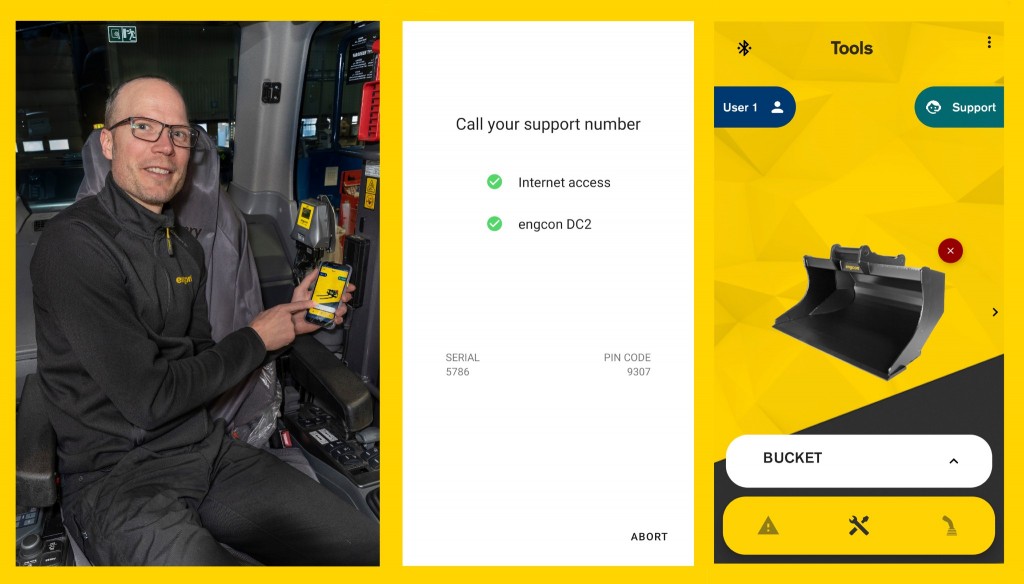 In 2012, Engcon launched its proportional control system, DC2 (Digging Control) for tiltrotators, with an associated app for remote support via the mobile phone network.
Engcon has now updated the app with improved compatibility and a new easy-to-navigate user experience with improved performance and stability to optimize machine control and installation.
Engcon's DC2 control system fits all excavator brands on the market and can, in addition to controlling Engcon's tiltrotators, also control the excavator's belt and wheels as well as boom swing or variable boom function. The app enables remote access to the control system and has been updated to be more intuitive to use. The upgrade also means increased compatibility with the latest versions of Android and the most up-to-date smartphone models.

On installation, all control systems need to be calibrated. Previously, this was handled by an on-site service technician. Now, it can be done remotely by connecting the driver's smartphone directly to support staff. The setup also saves time in the case of troubleshooting, no matter where the machine is located. Engcon support can quickly locate the fault and, if necessary, send out a service technician with the right parts.

In many cases, support on control systems is about minor adjustments and with the Engcon DC2 and an Android phone no one needs to physically visit the machine to do this, saving time, the environment and money. A smartphone can be connected to the DC2 via Bluetooth and it is possible to switch between different operator profiles and tools or enter speed settings.
The new DC2 has been released first for Swedish users to ensure that the new app works as expected before it is released for use in the USA.
More from Attachments
A bottleneck of haulers waiting to be loaded is inefficient. Idle machines burn unnecessary fuel, increase maintenance costs and decrease resale values when you're ready to trade them in.
When you pair the new Volvo EC950F crawler excavator and A60H articulated hauler, you can load trucks faster. The EC950F can utilize a 10-yard bucket to fill a 60-ton capacity A60H in only four passes — reducing passes lowers fuel consumption and drastically speeds up cycle times to keep your haulers moving. See how the massive EC950F and A60H improve cycle times and more to boost your profitability.