Dynapac expands line of small asphalt rollers
The newly released CC1400 VI roller falls into the 4.3 ton class
Dynapac has expanded its small asphalt roller range with the CC1400 VI - a roller in the 4.3 ton (9,480 Ibs) class with 1380 mm (54") drum width. The new CC1400VI includes power and capacity packaged in a small roller. The CC1400VI roller follows the same concept as the previous generation VI rollers.
The rollers feature a unique design with a cross-mounted engine that provides visibility over the drums. The robust engine hood is designed for an optimal view over the front drum and, with the sliding seat, it provides enhanced visibility to maximize operator control. Optional ROPS-mounted working-lights in LED provide additional light during night-work.
The increased drum diameter ensures the asphalt is not shoveled in front of the drum which creates transversal cracks. The eccentrics guarantees optimum powerful performance in the vibration start-up process. Dual frequencies and optional dual amplitudes provide quality compaction for different conditions and applications. The mechanical adjustable off-set function of the front frame (0-50 mm/0-2 in.) enables compacting close to high curbs with less risk of machine damage. It also increases the surface capacity in order to eliminate marks in the mat.
The powerful Kubota engine alternatives meet the worldwide engine emission regulations. For Europe and North America a 37 kW/49 hp T4/V engine is available with a diesel particle filter after-treatment system. For markets without the T4/V emission regulations, there is a stage IIIA 35 kW/47 hp engine available.
Meanwhile, flexible lifting/towing/tie down possibilities are built-in in the robust casted forks, enabling fast and easy transportation. The foldable ROPS and the optional canopy are easy to fold for efficient transportation.
Related Articles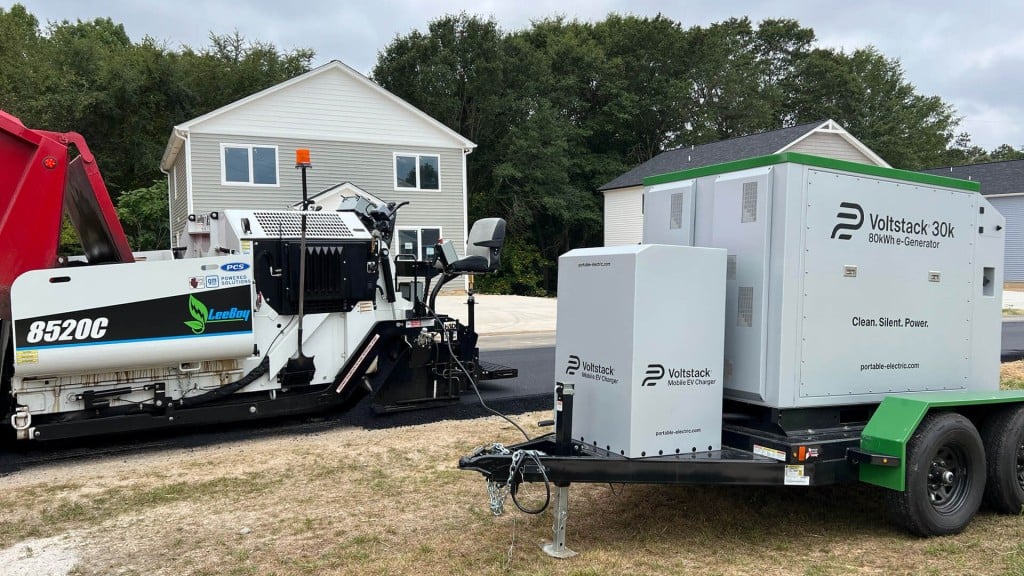 How LeeBoy and Portable Electric are advancing electrification in asphalt paving