MAJOR places FLEX-MAT screen data at customers' fingertips with new ID enabled technology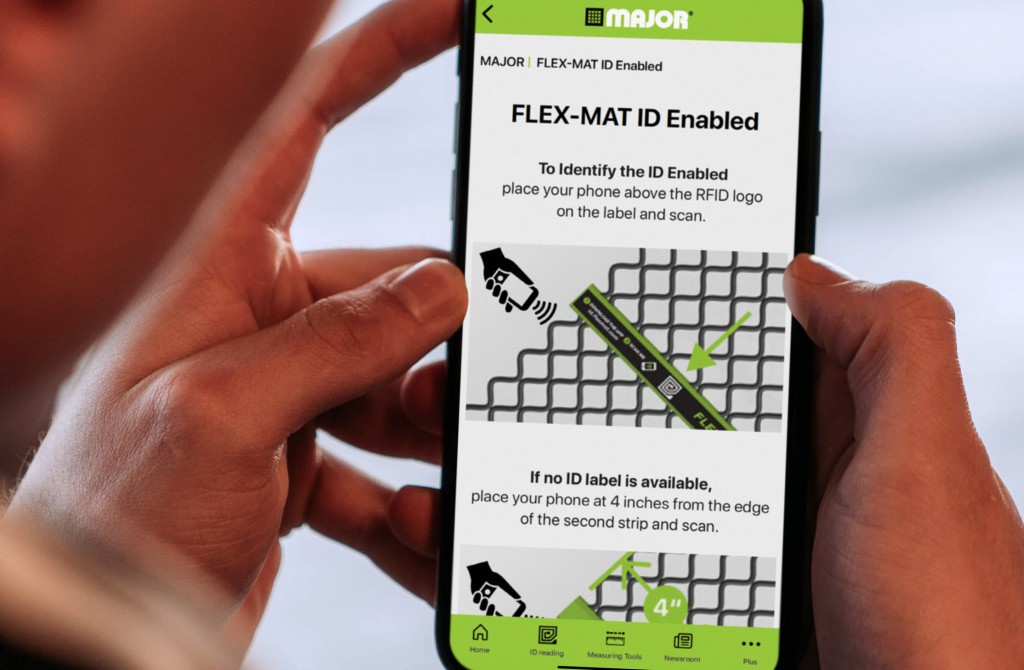 MAJOR, has introduced the FLEX-MAT ID Enabled a new productivity measurement tool. The RFID based technology tracks and stores screen media data such as panel dimensions and customer-defined details to offer users information at their fingertips for simple reorders. The technology improves convenience and productivity for any operation using FLEX-MAT with ID Enabled installed. It takes the guesswork out of re-ordering and prevents costly mistakes that can result from measuring incorrectly and ordering improperly-sized screen media. All FLEX-MAT screen media is now embedded with the ID Enabled microchip. Product information is easily accessed through the company's new MAJOR App without the need of an additional reading device.
MAJOR launched its ID Enabled technology at CONEXPO-CON/AGG 2020 in Las Vegas.
"Our customers' efficiency is always top priority, which encourages us to continue to push limits and be at the forefront of innovation in the industry," said Bernard Betts, MAJOR president. "We are introducing ID Enabled technology as a way to help customers track screen media specifications and improve accuracy during reordering, ultimately resulting in a more consistent end product."
Operations simply scan the FLEX-MAT panel with the MAJOR app to access product information, simplifying re-ordering and inventory management. MAJOR can also program the chip during production with some customer-defined information to improve convenience. Unlike some systems, users just need their smartphone to view the data and don't need to use a separate RFID reader.
Prior to ID Enabled technology, operations required time-consuming gauge measuring — by hand — to order the properly-sized media, which left room for human error. Even the slightest mismeasurement could mean ordering the wrong size screen media, resulting in material not meeting proper specifications and leading to lost profits. ID Enabled also enables operations to track orders with an electronic record instead of paperwork.
More from Aggregates & Quarries
The all-new CASE TR340B compact track loader — operating at 90 horsepower with a 3,400-pound rated operating capacity — is the most powerful radial-lift CTL in the CASE lineup. Its all-new 8-inch LCD display improves on industry-leading CASE visibility with a new backup camera that is viewable in both forward and reverse operation. The display also showcases critical operating information and "trip" details. All-new electro-hydraulic controls, managed through the display, make it easier than ever for operators to dial CASE CTLs into specific application demands. All new cab controls and joysticks make the new TR340B easy to own and operate.
Industries such as construction, mining, energy, utilities and forestry, face many challenges when it comes to tracking assets and employees. Equipment often has to be transferred between locations, or monitored while it is dormant during off seasons. Lone workers may have to travel long distances or visit multiple sites during the course of their activities. And, all of this is further complicated today with shifting supply chains and economic realities putting further strain on the bottom line.