Dynapac pneumatic tire roller offers new features and fantastic finish on asphalt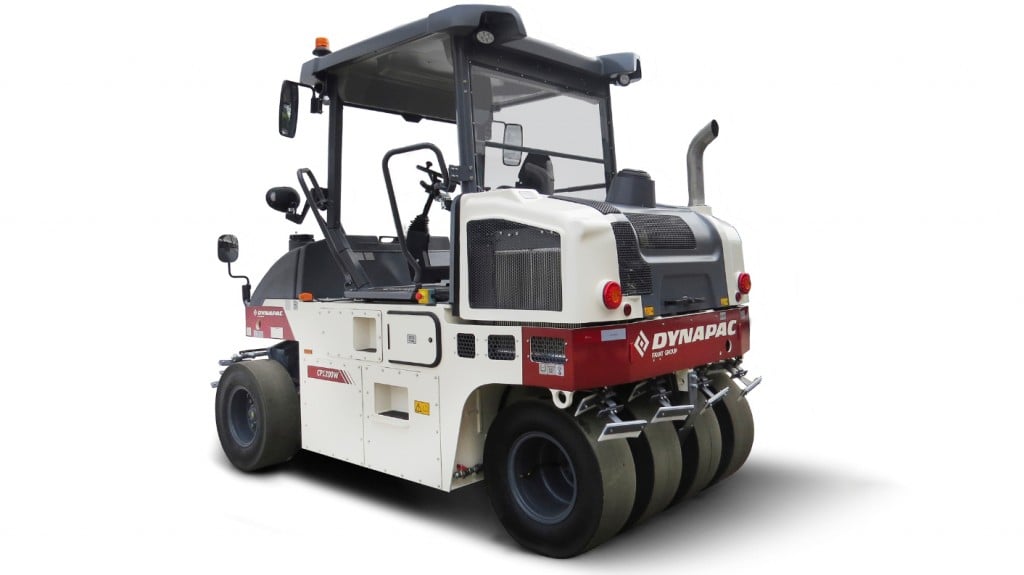 The highly cost-efficient CP1200 is the smallest of Dynapac's series of pneumatic tire rollers. This machine shares many of the features that make Dynapac a strong and reliable partner for all kinds of jobs.
The CP1200 is used for chip sealing and to compact asphalt for sealing purposes, and to compact base, sub-base and stabilized soil. The CP1200W has been developed keeping CP1200 base for a larger compaction width of 2080 mm (82 in.). The wider tires improves the surface finish on asphalt paving or chip sealing applications.
STRONG AND SMOOTH
The CP1200W has enough power reserves to ensure effortless and efficient finishing and sealing. Add to that a smooth start-stop procedure and users have a trusty working companion for long efficient passes. The power source is the reliable Cummins QSF2.8 Tier 4 Final with an output of 55kW (75 hp) which provides fuel efficiency and less noise to the operator. Specially developed wide tires ensure smooth finish whether asphalt or chip sealing. The tires are individually secured with spring-loaded scrapers and Cocoa Mats to keep it clean and wet at all times.
RELIABLE PERFORMANCE
The ergonomically designed Front/Rear handle, located on the right side of the operator's seat, makes operation smooth and easy. With full control of the engine power applied, the surface quality and end-result will be top level. The flexible steel ballast system is perfectly balanced for easy weight adjustment, improving performance on any jobsite. To achieve the same ground pressure on front and rear tires, the ballast is evenly distributed, whether water, sand or steel is used.
SAFE AND SECURE
A clear view and undisturbed operator control is important both from a quality and a safety standpoint. The CP1200W operator station slides and rotates, and location of the ROPS/cab prevents obstruction. The operator can keep an eye on the finest details - and stay aware of movements close to the machine.
The operator's platform features a user-friendly instrument panel. All indicators, switches and controls are clearly visible and easily reached. Dynapac feels that efficient and profitable operation directly aligns to the quality of the operator's environment. The CP1200W is offered with a Canopy, ROPS or Cab. The rotating operator's station allows operator to swivel control console from left side to right side for maximum operators comfort.
ENVIRONMENTAL CARE
Protection of the environment and careful use of resources are keywords in all Dynapac development. The company strives for reduced fuel consumption and emissions. Its machines allow the use of bio-degradable hydraulic fluids, and cautious design has reduced the risk of spillage.
Company info
Related products