Dynapac paver and screed pairing redefine paving quality and comfort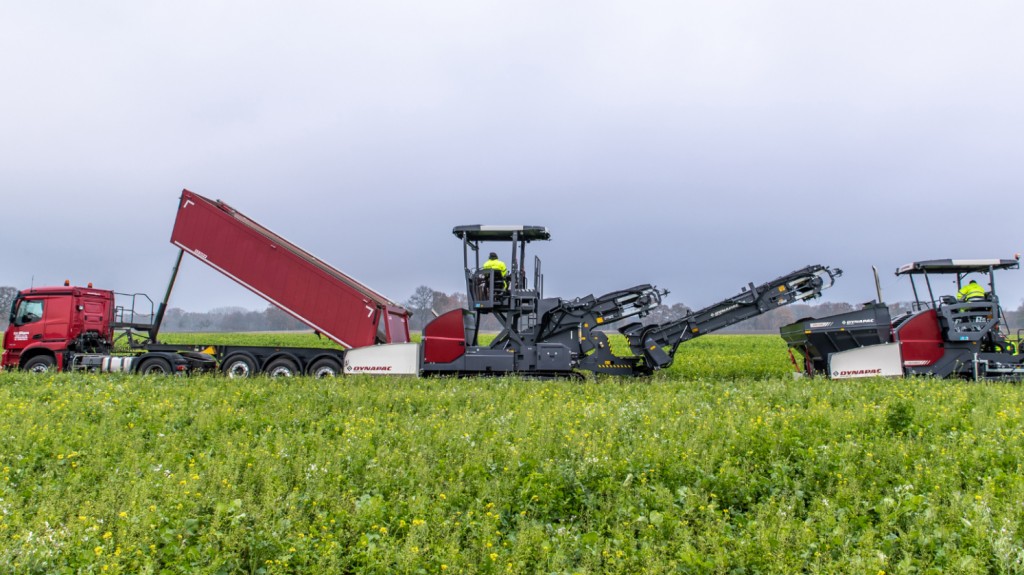 At CONEXPO-CON/AGG, Dynapac premiered its Dynapac SD Paver Range with newly developed high compaction TH E Screed.
A confident operating crew ensures high quality results and optimized jobsites. All the right controls at the fingertip of the operating crew is the primary focus for the new generation of asphalt pavers from Dynapac. A newly redesigned screed remote control with extended functionality, a new set of operator assistance systems, a well-designed operating cabin and low noise emission levels ensure a comfortable working environment like no other. In addition, Dynapac introduced its new High Compaction Screed V5100 /V6000 TH E for pre-compaction up to 94 percent.
Re-defined Screed Control
Access to the right control at the right time is crucial in ensuring high quality results on a jobsite. Dynapac spends hours on jobsites along with operators and end-users to identify the right functions on the new remote control surface, such as the quick access to crown profile setting. This makes the screed operator's work more efficient and faster, wasting no time in navigating through the menu. Thanks to the ergonomic holder, the remote control can be positioned at the operator's preference. Dynapac end gates offer a central control location and central connection points for safe operation and a fast paving start.
Efficiency with Dual Speed Control
Quick reaction times in tight jobsites are key in avoiding errors and manual corrections. The dual speed screed control offers two levels of speed for extending the screed, providing faster reaction around quick obstacles and slower control for fine adjustments. The popular Dynapac toggle switch control remains, for blind access and intuitive operation wearing gloves.
Electric Track Plow
A track plow (lane cleaner) keeps the path of the track undercarriage clean so that the tracks run level without interfering with leveling. With the new generation of paver, the deployment and retraction of the track lane cleaner is electrically operated from either the main control panel or the screed remote control, which comes in handy when you are ready to load the machine.
More light, more awareness, safer jobsites
The amount of night jobs in road construction is increasing - work sites are scheduled during hours with less traffic. A complete lighting concept is therefore a crucial part for the safety around the machine. Dynapac offers LightAssist package focused on operator comfort as well as safety at work sites. The package consists of coming home light, integrated end gate lights, platform lights and an updated overall lighting concept.
The Operator Station
Minimizing the non-productive task maximizes the efficiency of the overall jobsite. Dynapac makes this happen by re-inventing faster, easier ways of setting up the machine. Electric roof deployment enables the operator to lift and lower the roof at the press of a button even without starting the engine. A place for all the tools and documentation is another highlight of the newly refreshed operator platform. The screed station also features removable storage for spraying cans, water bottles and rulers.
A new multi-adjustment operator seat with heating is a feature of the new generation paver platform. For a hot summer day, Dynapac offers a new thermoelectric cool box to store beverages and food.
Most Quiet Paver in its Class
Long working hours can be exhausting. Loud noise can aggravate on the job exhaustion. The new Dynapac Highway Class pavers have impressive noise power level of 104 dB (A) one of the lowest rating for this class of machine.
In tough applications like roller compacted concrete or thicker subbase, special jobsites like airports and racetracks, or just cold weather, higher and deeper pre-compaction is expected from a screed before the roller passes.
Dynapac has presented a new generation of high compaction screeds. The fully redesigned high compaction unit has been developed with a focus of durability and serviceability combined with the goal to fit our noise level guidelines. The Dynapac TH E screed range performs perfect on every layer and offers customers a highly flexible machine to fit their needs in every situation and on every material. The integrated hydraulic pressure bar system has been developed to lower the paver's fuel consumption while providing perfect compaction values, combined with first class surface quality and even faster paving and less roller passes at the same time.
The new system not only adjusts the vibration RPM, but also adds hydraulic pressure up to 70 Bar (1015 psi) which pushes the pre compaction to the max. Because of the possibility to set the values fully independent the TH E screeds ensure perfect compaction values for thick layers and for thin asphalt mats without crushing stones providing our customers the opportunity to react fast and easy to changing surrounding conditions. All this is directly controlled with the Dynapac Screed Remotes and from the main control panel. The V5100 TH E and V6000 TH E are available with working widths from up to 9.0 m (29.5 ft) while offering a compaction value from up to 94%.
More from Roadbuilding
The all-new CASE TR340B compact track loader — operating at 90 horsepower with a 3,400-pound rated operating capacity — is the most powerful radial-lift CTL in the CASE lineup. Its all-new 8-inch LCD display improves on industry-leading CASE visibility with a new backup camera that is viewable in both forward and reverse operation. The display also showcases critical operating information and "trip" details. All-new electro-hydraulic controls, managed through the display, make it easier than ever for operators to dial CASE CTLs into specific application demands. All new cab controls and joysticks make the new TR340B easy to own and operate.
Industries such as construction, mining, energy, utilities and forestry, face many challenges when it comes to tracking assets and employees. Equipment often has to be transferred between locations, or monitored while it is dormant during off seasons. Lone workers may have to travel long distances or visit multiple sites during the course of their activities. And, all of this is further complicated today with shifting supply chains and economic realities putting further strain on the bottom line.