How rubber-tracked carriers are redefining the transport of materials, equipment and personnel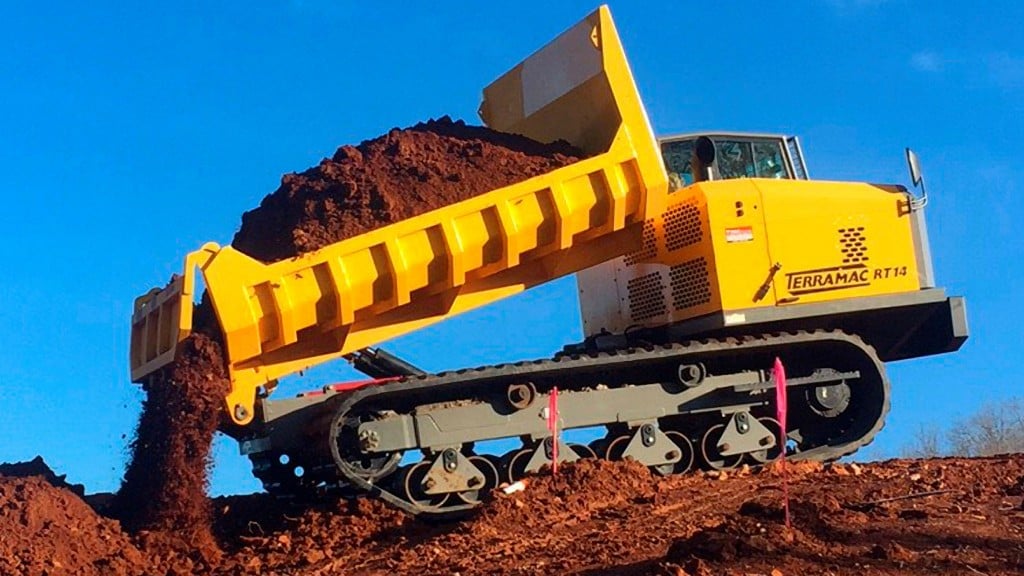 While standard wheeled and steel track carriers have traditionally been the go-to solution for most material transport applications, a growing number of industries were finding productivity suffered when these heavy haulers became stuck in wet ground conditions. In addition, the footprint of these machines often caused enough soil damage in transit to call for remedial repair work, which led to project cost overruns.
For companies working in highly competitive industries such as pipeline, general construction, environmental, drilling, utility and mining, even a slight miscalculation in budget could mean the difference between making a profit or not.
"Crawler carriers are designed for the kind of terrain that wheeled trucks and other vehicles can't handle due to ground conditions, grade or working angles," says Mike Crimaldi, CEO of Terramac, a manufacturer of rubber-track crawler carriers.
A unique flotation design of the units' rubber tracks allows the vehicle to exert low ground pressure at full capacity, leaving a minimal footprint for less soil disturbance while providing reduced slippage for the toughest weather and terrain conditions. The result is the ability to take field workers, equipment and raw materials such as dirt, mud and rocks into remote locations to complete projects on time and on budget.
Innovation spurs customization
Conquering the ability to tackle tough terrain soon led to outfitting these rubber-tracked carriers for industry-specific applications to further enhance jobsite productivity.
"Built with a frame to easily accommodate customizations, the multi-purpose carrier can support various types of specialized equipment for the job at hand," says Crimaldi. "Electrical power sources, frame adjustments and hydraulics can all be modified to suit any attachment without altering the unit's chassis."
Crawler carriers are redefining the transport of materials, equipment and personnel as manufacturers engineer the units to allow for limitless application customizations. Recent industry examples include:
Utility
Adding a digger derrick to the crawler chassis provides utilities the ability to dig holes, lift/set poles, turn screw anchors and set transformers in the hardest-to-reach locations. Rubber tracked carriers can also accommodate boom tip configurations, multiple sized augers for different jobsite applications and outriggers for extra stabilization.
"The crawler carrier and digger derrick unit is a great addition to the utility industry because it can adapt to the environment of any jobsite," says Matt Slater, Director of Sales at Terramac. "Its ability to effortlessly maneuver through the toughest terrain, reach the most remote jobsites and dig, lift and set on any ground condition makes it a unique customization for the industry."
Other utility support equipment such as aerial lift trucks, cable handling trailers and combination pole/reel trailers can be mounted to the carrier for ultimate versatility.
Mining and Drilling
The low ground pressure of tracked carriers is ideal for tailings pond management, travel on leach pads and exploration drilling on mining jobsites due to the units' ability to conquer wet and unstable ground conditions.
Rubber-tracked carriers can also be configured with a water tank and hydraulic crane unit to support mineral exploration applications, a spray boom for dust suppression on tailings ponds and a variety of technical drill rigs for soil sampling year-round.
Pipeline
To conquer the toughest pipeline jobs, rubber-tracked carriers can be outfitted with a variety of industry tools and equipment including welders, pipe heating units and cranes. Crawler carriers also improve the process of potholing on a pipeline when mounted with hydro/vacuum excavation units.
"Utilizing a crawler carrier with a hydro excavation unit allows our customers to have easier access to jobsites in rougher, more treacherous terrain," says John Lucki, Vice President of Operations at Cross Country Infrastructure Services. "The two-in-one machine provides our customers with safer, faster and more cost efficient exposure to pipelines and positively impacts their bottom line."
Personnel Transport
Transporting workers to and from a jobsite can be challenging, but personnel crawler carriers make it a cinch. Personnel carriers are widely used on remote jobsites for their ability to easily maneuver over rough, soft and steep ground conditions to transport crews along pipeline spreads efficiently and safely.
"One carrier can take up to 25 crew members plus all their tools and meals safely out to the job and back," says Jeff Wade, Owner of Ace Pipeline. "No more multiple vehicles getting in the way or getting stuck trying to get through. They can be enclosed with heaters to protect them from the elements. That makes a big difference." Many personnel carriers up to the 9-ton size class can accommodate anywhere from 10 to 25 people with cabin configurations for safety and comfort.
Hauling
Flatbed crawler carriers lead the way on oil and gas pipeline jobsites by hauling mats to be laid in preparation for heavier equipment to come through, while dump bed carriers that are fully loaded haul the heaviest material and exert a very low PSI. The bed versatility allows these units to transport various types of material including dirt, mud, rocks, crib blocks, pipe and sand bags.
"Crawler carriers enable contractors to effortlessly transport raw materials and supplies to jobsites while minimizing environmental damage," says Slater. "And with the ability to maneuver in all types of terrain, crawler carriers can easily haul material on asphalt roads without damaging the surface."
Environmental
The low ground pressure of rubber tracked carriers minimizes the footprint and soil disturbance, increasing the ability to move materials and personnel into sensitive ground conditions. Crawler carriers can be equipped with specialized restoration equipment such as hydroseeding units, broadcast seeders, bark blowers and straw blowers.
"The hydroseeding unit allows the environmental crew to spray the seed mix for erosion control with fewer disturbances on the surrounding soil," says Billy Evans, General Manager of Shafer Equipment. "The crews can finish the job with little evidence they were ever there working."
Due to the flotation from its rubber tracks, a crawler carrier will leave a minimal footprint, while the hydroseeding unit allows users to seed, fertilize, and mulch in one simple process. Crawler carriers with water tanks are also used to supply the hydroseeding crew with a steady supply of water to increase production.
Tight Quarters
Breakthroughs in gaining the ability to conquer any type of terrain led to other innovative developments for haulers. Tighter spaces create limited productivity due to a lack of maneuverability while offloading materials using standard straight frame technology.
To enable the crawler carrier to haul and dump materials at any angle, an innovative rugged upper frame with a unique 360-degree functionality was developed. This rotational solution has dramatically saved time by eliminating the need for the driver to navigate the truck into a dumping position through a series of start and stop maneuvers. Instead, a simple touch of the switch rotates the bed into the desired position to deliver the material to the exact location without any adjustment of track positioning.
"This unique rotational functionality allows materials to be offloaded faster than standard straight frame models," says Jesse Whittaker, Regional Sales Manager at Terramac. "The rotating unit provides contractors with a versatile solution to tackle a range of applications while improving efficiency and cost savings. The amount of time saved adds up quickly when you factor in how many loads are being hauled on a daily basis."
The rotating crawler carrier is ideal for applications in tight spaces and environmentally sensitive areas such as settling pond construction, stream restoration, pipeline padding, dam and levee work, and slip remediation.
Erica LoPresti is a senior account executive at InQuest Marketing.
This article originally appeared in the February 2020 issue of Heavy Equipment Guide. Check out the digital edition here.