ASV exhibiting new compact track loader at The Rental Show and CONEXPO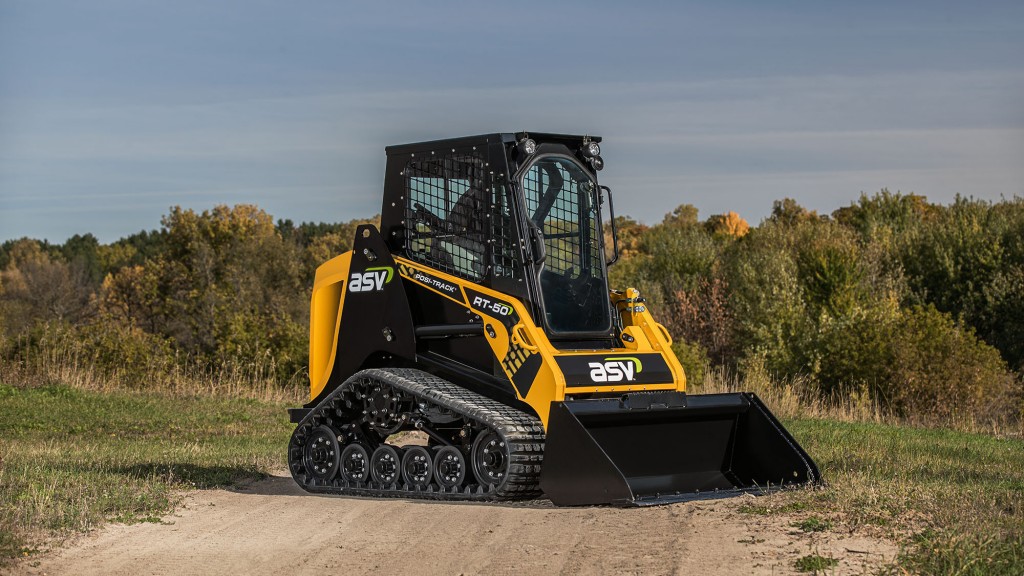 The RT-50 provides operators more power in tight areas other machines have difficulty accessing, opening doors to new applications for contractors and offering an accessible rental option. The track loader features a 1,400-pound rated operating capacity while weighing just 5,350 pounds. High performance in a lightweight machine means easy transportability and less risk of turf damage.

Operators get more done in a day thanks to exceptional digging and pushing power resulting from ASV's Posi-Power system combined with a 50-hp engine, high-efficiency drive system and a light overall weight.
The RT-50 handles demanding attachments with ease. This is thanks to a highly efficient cooling system and a robust hydraulic system that includes 3,000 psi of auxiliary pressure and a 13.3 gpm flow. The system features large line sizes, hydraulic coolers and direct-drive pumps, transferring more flow and pressure directly to the attachment with maximum efficiency.
ASV builds the RT-50 with features to optimize productivity and quality of work. Operators can use the machine to load landscape trucks and small dump trucks thanks to the loader's 109.6-inch pin height. Getting around the jobsite quickly is easy due to the loader's 7.1 mph top speed. Travelling to the project is also simple. Contractors, homeowners or rental customers can easily tow the RT-50 behind a 1/2-ton pick-up truck or SUV, as well as on small, narrow trailers. This ease of towing is the result of the machine's low trailer weight and 58.5-inch width. Plus, tight area work such as sweeping or plowing snow on sidewalks or working in narrow backyards is made easier by the RT-50's slim design.
The lightweight RT-50 excels in soft ground conditions, allowing operators to get back to work sooner after wet weather, even on sensitive turf. The machine minimizes the risk of turf damage as a result of a class-leading low ground pressure of 3.1 psi. An optional smooth turf track further minimizes turf damage. ASV achieves this low ground pressure with 15-inch-wide tracks and an even weight distribution brought on by the large number of contact points within the patented Posi-Track undercarriage.
The innovative undercarriage also means ASV customers can use the machine as an all-terrain, all-season piece of equipment with maximum control, flotation, traction and pushing power in steep, wet, muddy and slippery conditions. In addition, the risk of track derailment is virtually eliminated thanks to numerous contact points and guide lugs. Operators can easily drive over logs, stumps, rocks and other obstructions with less risk of getting hung up. This is because of the 14.4 inches of ground clearance.
Comfort
The patented Posi-Track undercarriage significantly improves operator comfort. Operators experience a smoother ride over tough terrain, meaning less fatigue during a long day in the cab. This is made possible by a torsion axle suspension system. Operation is easy and intuitive as a result of standard joystick controls.
For additional comfort, ASV offers an optional suspended seat. An optional cold weather cab with heater or pressurized all-weather cab with heat and A/C allow for year-round comfort while working in extreme temperatures.
Serviceability & Reliability
The RT-50 includes features allowing for the highest ease of serviceability, saving operators maintenance time so they can get back to work. All maintenance points are easily accessible thanks to a large rear-tilting hood. Maintenance is simple and speedy as a result of easily accessible drain plugs for draining, Zerk fittings for convenient greasing, and spin-on, frame-mounted filters with single-wrench service. In addition, a direct-drive pump eliminates the labor-intensive belt servicing that comes with belt-driven pumps. Operators also save time and money with the RT-50 because ASV builds its loaders with individually replaceable steel sprocket rollers, as well as standard metal-face seals that ensure the idler wheel hubs don't require maintenance for the life of the machine.
Operators see increased sprocket and bogie wheel life along with easier and faster undercarriage cleaning because of the open-rail and positive drive sprocket design. All of the wheels are exposed in the undercarriage, allowing material to spill out, reducing the risk of abrasive material getting trapped and wearing away at components.
All Posi-Track loaders are backed with ASV's new, industry-leading 2-year/2,000-hour warranty. The warranty covers tracks for the entire period and includes the industry's first and only no-derailment guarantee.
The RT-50, RT-40 and RT-25 are just one part of ASV's many product segments. In addition to offering the smallest sit-in compact track loaders on the market, ASV also offers the largest available today: the RT-120 Forestry. The Posi-Track loader operates massive, demanding attachments without breaking a sweat.
For more information on available options, visit ASV online: www.asvi.com. Interested in seeing or test driving the equipment? Find a dealer near you.