Modular 65-ton trailer from Talbert offers optimum flexibility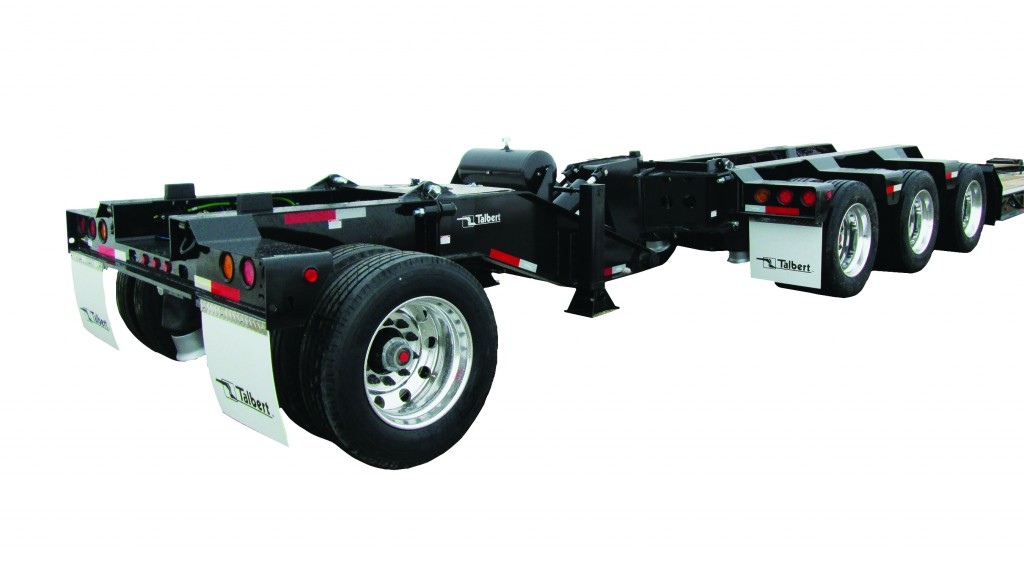 Talbert Manufacturing offers the 65SA Modular Trailer. This innovative trailer takes advantage of Talbert's custom-engineering experience to incorporate multiple axle configurations based on customer requirements for optimum versatility.

The trailer's unique design features a flip extension to accommodate a tandem- or tri-axle jeep dolly, allowing for maximum load configurations. It can also pair with Talbert's revolutionary E2 or E3Nitro axle extension, which dampens axle movement and controls load transfer. The modular trailer maintains a 65-ton rating at half the deck length with a 16-inch loaded side deck height and 6-inch loaded road clearance.
Talbert Manufacturing will feature a 3+3+2 configuration, raised-center version of the 65SA Modular Trailer, along with other custom-engineered innovations, at booth F5504 during CONEXPO-CON/AGG, March 10-14, 2020, in Las Vegas.
"Every day, loads are getting bigger, wider and heavier," said Troy Geisler, vice president of sales and marketing for Talbert Manufacturing. "On top of that, government agencies are pushing for stricter controls to protect aging infrastructure. To help our customers stay ahead of the curve — to run safely and efficiently, no matter their area of operation — Talbert has always offered first-class engineering and industry-leading versatility. The 65SA Modular Trailer is designed to help operators adjust axle configurations to fit the specific requirements of the load and the road."
The 65-ton Modular Trailer is individually engineered for customized axle configurations including 2+3+2, 3+3+2 or other variations. For example, adding a tri-axle jeep allows a 3+3+3 configuration. Featuring 60.5-inch axle spacing, as well as an airlift on axle 3 and a chain lift on axles 1, 2, 4 and 5, the trailer is capable of running with 3, 4, or 5 axles in a row without a booster. The base model offers a 120-inch swing radius with connections for up to 70-inch gooseneck extension and can be custom-designed to provide a larger swing radius if necessary.
Talbert's E2 or E3Nitro axle extension can also be engineered into the design. This innovative technology uses a combination of hydraulic fluid and nitrogen to equalize axle pressures, providing proportionate weight distribution of each axle grouping. It optimizes the range of suspension movement, which minimizes stress and provides a smooth ride. In addition, the ENitro system features a bearing pivot and pivot lockout for backing the trailer. Users can also hydraulically lock in axle loads regardless of terrain. The E2Nitro comes standard with two-speed dual landing gear for optimal stability when disconnected from the trailer.
Offering a 28-foot deck length, the 65-ton Modular Trailer is rated for 65 tons in a 13-axle configuration. Capacity increases to 70 tons in 15 feet with a 4-axle close-coupled configuration. The trailer can also be designed to accommodate an additional 10- or 15-foot section of deck, varying in type from beam to drop side.
"While every Talbert trailer is built to customer specifications, the 65SA is one of our most adaptable models," Geisler said. "Adding additional axles after the fact can't increase capacity, but factoring in these options during design allows our engineers to provide maximum flexibility with Talbert's unmatched strength, reliability and longevity."
Like all its trailers, Talbert manufactures the 65SA Modular Trailer with heavy-duty T-1, 100,000-psi minimum yield steel for extreme durability and longevity. Talbert trailers are standard with Valspar R-Cure 800 paint to prevent corrosion, offering a long-lasting finish and better return on investment.
Company info
Related products
More from Trucking & Transportation
The all-new CASE TR340B compact track loader — operating at 90 horsepower with a 3,400-pound rated operating capacity — is the most powerful radial-lift CTL in the CASE lineup. Its all-new 8-inch LCD display improves on industry-leading CASE visibility with a new backup camera that is viewable in both forward and reverse operation. The display also showcases critical operating information and "trip" details. All-new electro-hydraulic controls, managed through the display, make it easier than ever for operators to dial CASE CTLs into specific application demands. All new cab controls and joysticks make the new TR340B easy to own and operate.
Industries such as construction, mining, energy, utilities and forestry, face many challenges when it comes to tracking assets and employees. Equipment often has to be transferred between locations, or monitored while it is dormant during off seasons. Lone workers may have to travel long distances or visit multiple sites during the course of their activities. And, all of this is further complicated today with shifting supply chains and economic realities putting further strain on the bottom line.