Epiroc to showcase surface drilling automation at CONEXPO 2020
The company will also exhibit a variety of new and updated products for the first time in North America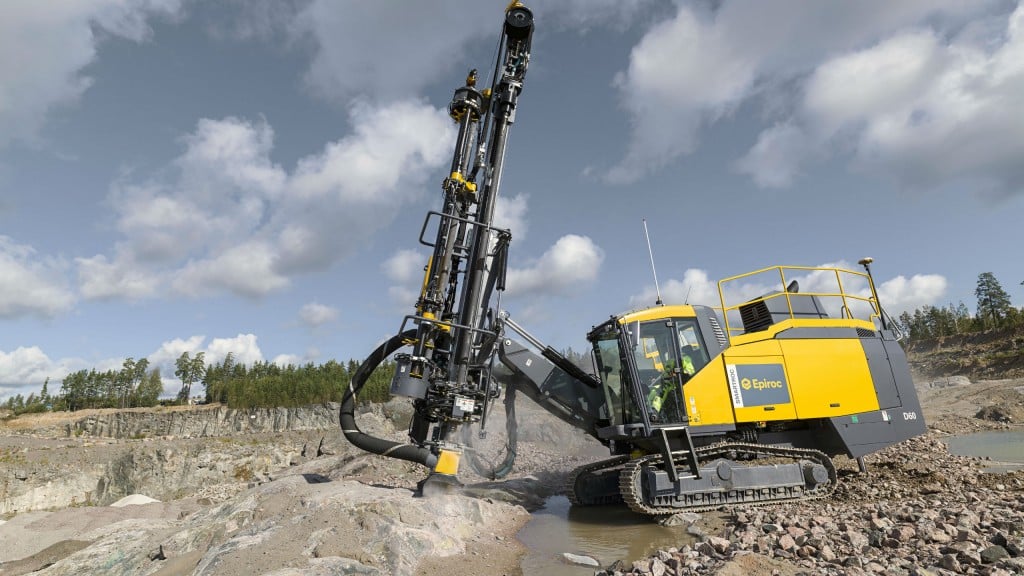 Epiroc will exhibit a variety of new and updated products for the first time in North America at CONEXPO-CON/AGG 2020 to help customers increase productivity, safety, efficiency and sustainability.
Here are some of the new and enhanced products Epiroc will highlight at the exhibition:

Automation-ready SmartROC D60 surface drill rig
The new Epiroc SmartROC D60 down-the-hole surface drill rig for quarrying, mining and construction has been updated with Epiroc's innovative automation-ready platform. The robust and dependable SmartROC D60 offers the intelligence and power to consistently and efficiently drill high-quality blast holes with accuracy and precision. It is loaded with smart features such as automated drilling and rod handling that increase safety, efficiency and consistency for a lower total cost of ownership.
The automation-ready platform also includes the new Auto Feed Fold feature. With a single action, Auto Feed Fold enables the operator to fold the feed for tramming or position it for drilling. This also comes in handy when operating one or more drill rigs remotely with the BenchREMOTE option.
Available with a shorter boom specially designed for efficient and demanding quarry work, the D60 can drill holes of 4.6 to 7 inches in diameter and to a maximum depth of 182 feet. All these features and flexibility are packed in a rig that is economical to run due to the intelligent control of the compressor and engine rpm. The SmartROC D60 also uses 79 gallons less hydraulic oil than previous versions and features fewer hoses and pumps. This helps to further reduce costs and makes servicing easier, while increasing sustainability and reducing the environmental impact of the rig.
PowerROC D60 Tier 4 Final surface drill rig
The PowerROC D60 hydraulic down-the-hole surface drill rig for mining and quarrying not only drills the largest holes in the PowerROC family, it is now equipped with an engine that meets Tier 4 Final emissions regulations to reduce its environmental footprint.
The straightforward, robust rig can drill large holes ranging from 4.31 to 7 inches. In addition, the 5+1 Rod Handling System makes it possible to drill holes down to a depth of 98.5 feet. Epiroc technology also helps to ensure that holes are straight and high in quality. The rig features a pilot hydraulic system and straightforward electronics which make the PowerROC D60 both easy to operate and simple to service. The rotation unit ensures that the rig can operate reliably in all types of rock conditions. In addition, a highly effective dust collection system ensures that the work environment is kept clean and safe, which protects both machine and personnel.
DM30 II blasthole drill rig
Built off the same platform as the DM45 and DML blasthole drill rigs, the newly enhanced Epiroc DM30 II is suitable for a variety of multi-pass rotary and down-the-hole (DTH) drilling applications. The compact yet heavy-duty design of the DM30 II delivers powerful performance and easy transport between benches or even between properties.
A crawler-mounted, hydraulic tophead-drive rig, the DM30 II can achieve a clean hole depth of 28 feet for single-pass applications and up to 148 feet for multi-pass applications with a starter rod under the rotary head. It also features a 30-foot drill pipe change and a four-rod carousel. The DM30 II is now designed to handle 4- to 61/2-inch drill pipes with a pulldown of up to 30,000 lbf and a hole diameter of 51/2 to 7 7/8 inches.
The mainframe and layout of the machine has been updated for 2020 to better assist customers needing a small-profile machine for tight drilling conditions or transit between sites. Reductions include: working width (to 14.16 feet); transport width with ladders and non-cab side jack removed (12.3 feet); and height, tower down (15.4 feet).
Customers can choose a low- or high-pressure compressor to create the right configuration for their drilling operation. The DM Series drill rig can be equipped with on-board technology capabilities with the optional Epiroc Rig Control System (RCS) Lite for added safety and productivity.
My Epiroc fleet management solution
My Epiroc is a new digital fleet management solution available on web and mobile devices with features for increasing fleet efficiency and safety. My Epiroc platform enables mining and infrastructure operations to optimize fleet performance – any device, any job role, any time.
Robust hydraulic attachment tools
Epiroc will display a spectrum of models from its lineup of hydraulic attachments for demolition, recycling and rock excavation. These include concrete busters, bulk pulverizers, combi cutters, steel cutters, hydraulic breakers, breakers with integrated dust suppression, hydraulic compactors, drum cutters, and multi grapples. These models offer high efficiency, application and carrier flexibility, and longer service life.
Total drill solutions with rock drilling tools
Epiroc will exhibit rock drilling tools solutions perfect for integration with the FlexiROC T30 R, PowerROC D60 and SmartROC D60 drilling rigs on display at the show – highlighting Epiroc's ability to deliver complete equipment solutions from the rig to the drill string.
Related Articles
Searching for the best-performing excavator? Your search ends here. We tested the Volvo EC350E and EC380E against a leading competitor in three different tests: trenching, truck loading and lifting capacity at reach. The results show a 20% difference in cost-per-ton, a 15% difference in tons-per-hour and a 12% difference in both operating costs and lifting capacity. See the results and put an end to your search for the best excavator.