How technology is making pickup trucks safer to drive
Radar, cameras and other features are making pickups safer on roads and jobsites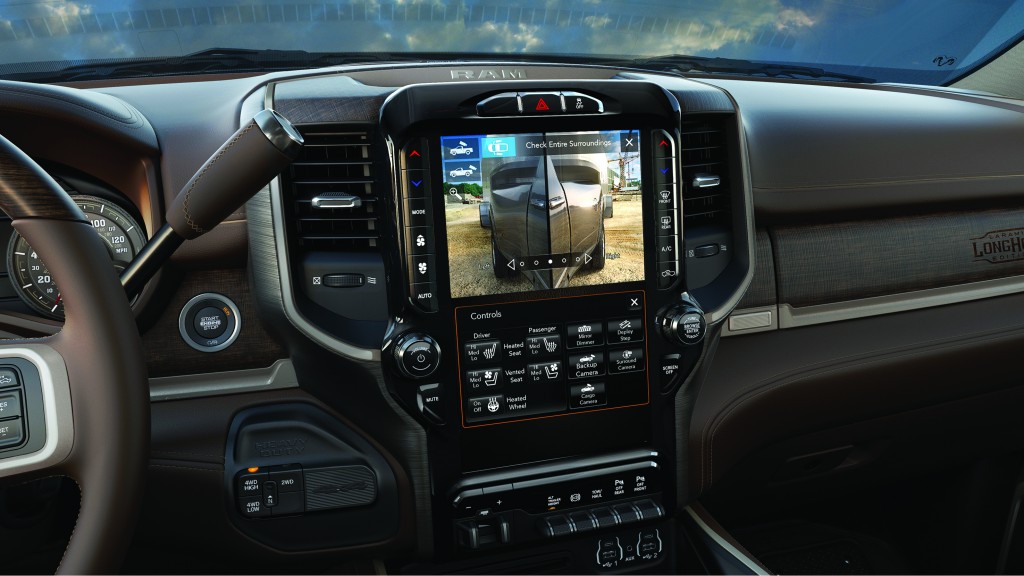 Anyone who regularly drives a pickup truck knows that negotiating the road can be difficult - trucks are naturally a larger vehicle than everything else out there, and it takes some skill to drive them safely. Owners who use their pickups for work are even more aware of that, especially on tight jobsites where there may be everything from people on foot up to heavy machinery moving around.
Today's pickup manufacturers are taking a long look at safety improvements to help keep drivers safe in all kinds of situations, leveraging technology improvements to make trucks stronger and expand on the ways in which drivers can protect themselves as well as other vehicles that share the roads with them.

Safety starts in the truck design itself for Ram Trucks, for example, with structural considerations providing a base that ensures drivers and passengers are well protected.

"In a pickup truck there are some unique challenges; with vehicle mass being what it is in a pickup truck versus a sedan, that can create some challenges in trying to get there efficiently and ensure crashworthiness," explained Matt Kasprowicz, engineering manager of vehicle integration with Ram Truck. "From an impact and crashworthiness perspective, what the Ram 1500 has done is looked at an efficient frame rail design."

The patented frame design on the 1500 features a splayed and tapered frame rail technology, which Ram says creates an efficient energy absorbing front frame rail structure for all impact modes. In addition, the frame features steel tire blockers mounted in a position to direct the tires outwards during a front-offset impact. That design also helps to save some weight overall, which actually improves the payload, Kasprowicz noted.

Above the truck's structure, though, is where technology plays a greater part in protecting today's pickups and their passengers. Systems using cameras and even radar have become part of the package, adding more tools for drivers to use with the goal of staying safe and reducing potential collisions. The Ram 1500's frame design, combined with technology features like the Integrated Radar Camera Module and Automated Emergency Braking, earned the truck an Insurance Institute for Highway Safety (IIHS) Top Safety Pick + award for 2019.

Mounted high on the windshield behind the wiper path, the IRCM is designed to be in a better spot than many other camera systems on pickups, Kasprowicz pointed out.
"Pickup truck guys and people on the jobsite using the previous technology, a low bumper-mounted camera system, they find it gets dirty faster," he said.
Radar module the centrepiece
The radar module provides the centrepiece of several safety features, including adaptive cruise control and forward collision warning.

"Adaptive cruise control is built on top of what we know of today as cruise control; the radar sends and receives signals that can track the vehicle in front of you. Then, as a custom setting on the steering wheel, adjust the time distance between you and that vehicle, and it will track that up to your maximum set speed," Kasprowicz said. "If the vehicle in front of you slows down a little, it will track that same gap and even take you down to zero if you're in a stop-and-go situation."

The adaptive cruise control will, if the truck stops completely, wait a few seconds for the vehicle in front to move again, and then will resume the set distance; if it's been a longer stop, the driver can hit the gas pedal or press a button to continue on.

The IRCM also plays into the forward collision warning, which uses radar and camera data along with other inputs to determine if there's a danger of an accident - with a response time of milliseconds.

"It compares your speed, whether you're on the gas or brake, and whatever is happening in front of you; if it calculates that you are in a potential collision event, it has escalating warnings and provides some braking assist," Kasprowicz said. "Some customers don't brake as hard as they should. . . it provides braking boosts above what youre pedal displacement is telling the truck to do. And, if you're not braking, it will start applying brakes for you."
A gentler approach to lane departure
Lane departure warning is another safety factor that is available on Ram trucks; vehicles moving more than a certain speed track road markings and, when the vehicle drifts, alert the driver. While some alerts are more aggressive, Kasprowicz said Ram's is a little more gentle.

"While some systems buzz and beep, ours provides a nudge back into the centre of the lane. . . it's not autonomous driving, but it puts you back in the lane," he described.

Sensors toward the rear of the truck provide peace of mind when backing up as well. Where backup cameras and sensors provide a certain viewpoint while parking, rear cross path sensors look at a broader angle that spots vehicles or other obstacles and alerts the driver of their presence.

Blind spot monitoring has become a popular addition for many vehicles, and the addition of trailering to it has been a benefit for drivers who handle a lot of towing. Ram's system can automatically sense a trailer has been hooked up, as well as the length of the trailer, and provide blind spot warnings based on the length of that trailer.

In the larger 2500 models, Ram has added trailer reverse guidance, which offers a side view image all the way along the side of the truck and trailer. Those camera views, along with others - Ram also offers options that can give drivers a 360-degree view of their pickup - are shown on the large screen in the cab. An auxiliary camera can be added on a trailer as well, Kasprowicz noted.

"On the Heavy Duty products we have a second camera that looks down at the bed of the truck - a lot of people use that for hooking up fifth wheels," he noted.