Increase safety and efficiency with the Comtruk Sport utility bed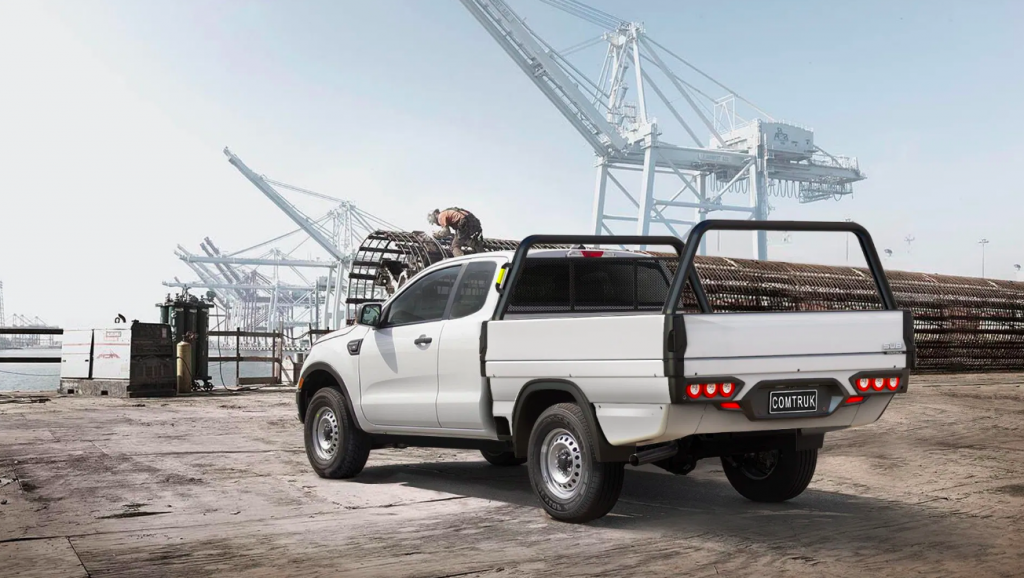 Comtruk's Sport Utility Bed (SUB©) is a load management system that checks all the right boxes. You'll save your fleet money, reduce overheads, improve productivity, and improve safety. The SUB is a game changer.
Comtruk's Tri-Gate commercial bed is a load management system that really delivers. It helps fleets save money, reduce overheads, improve productivity, improve safety, increase fuel efficiency, and improve brand image.
The Tri-Gate bed is changing the way pickups and chassis cabs are used in commercial applications. With a tailgate and side gates that can be opened or completely removed, the Tri-Gate allows for total access to the load space. Greater access means easier and safer loading.
Customizable for the job or industry, Tri-Gate beds deliver flexible load management. Cargo is more secure with integrated heavy duty uni-strut channels in the top side and underside of the floor, inside all four sides of the bed, and inside and outside the rack bars.
Tri-Gate beds were designed to meet commercial cargo management needs. The system offers hassle-free loading and hauling of freight, merchandise, or other equipment the job demands.
Made from industrial grade aluminum, Tri-Gate beds are strong and durable, yet light in weight, and corrosion-resistant.
The EZ Lift-N-Load side lifter was designed for use with Comtruk beds on mid- and full-size pickup trucks. Rated for a safe working load of 500lbs, the EZ Lift-N-Load side lifter makes it possible for one person to safely load a hot water heater, oil drum, pool chemicals, or similar.
The EZ Lift-N-Load is light in weight, yet high in strength. It features a large platform, remote control with safety lock, and the system enclosed within the lift arm.
Recognised in Australia for its safety benefits, the EZ Lift-N-Load side lifter received the "2019 WorkSafe Awards Best Solution to a Manual Handling Issue" and the "Best Solution of a WHS Risk (Medium to Large Business)" at the 2019 National Safety Awards of Excellence.
The combination of Tri-Gate and EZ Lift-N-Load make an efficient and effective resource for commercial fleets to increase productivity and safety.
Available now. Contact our team today, [email protected].
The Comtruk SUB, the professional's choice
Customize the SUB for your business by attaching accessories to the floor, underside, and perimeter of the bed, as well as the operable gates, and the inside and outside of the rack bars. Safely secure a load using the SUB's adjustable floor channel tie-down points and strapping from inside the bed.
Use the SUB as a mobile work station. Lock the gates into place at 90° to create a workbench; bolt on a saw and get to work.
The SUB adapts to the job or industry. Configure it to carry ladders, water tanks, timber, tools, and more. With efficiency and safety built-in, employees can do more, with less effort. Made of industrial-grade aluminum, the SUB is strong, lightweight, and durable, using less fuel and delivering a longer service life.
The SUB offers more usable space than a pickup tub or ute tray. It delivers more payload in terms of weight and larger payload in terms of size and volume. Lower one of the gates and load the SUB with a forklift. It fits large pallets the wheel arches of a pickup tub won't allow.
Easy, efficient, economical
Comtruk beds are the new standard for commercial-use pickups and light-duty chassis cabs like Chevrolet Silverado 1500, Ford Transit, Ford Ranger, and RAM ProMaster. The 2020 Chevrolet Silverado 1500 bed delete option makes a Comtruk upfit easy, efficient, and economical.
The 2020 models are available now.
Contact our team to learn more, [email protected].