Snorkel begins production on zero-emission Speed Level sigma boom lifts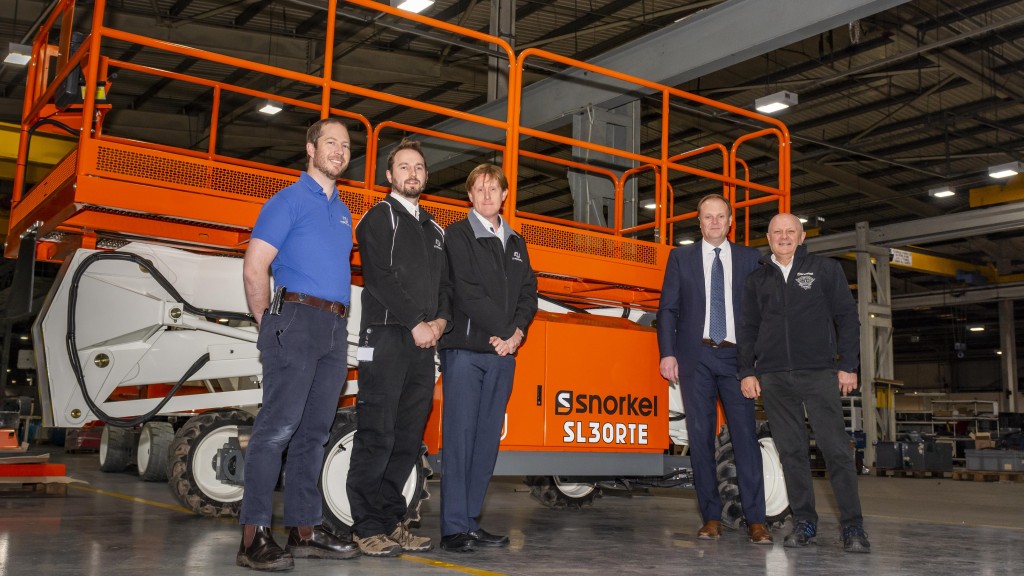 Snorkel has begun full production of two new lithium-powered Speed Level models at its U.K. assembly facility. These models were previewed at Bauma 2019.
The two new models, the Snorkel SL26RTE and SL30RTE, produce zero emissions thanks to lithium-ion battery packs with built-in battery management system (BMS), and an integrated electric powertrain developed with Hyperdrive Innovation, a Sunderland-based developer and manufacturer of lithium-ion battery technology for electric vehicles and energy storage systems.
The electric Speed Level models are available to order with a choice of lithium-ion battery pack configurations to suit a range of applications, including a high-capacity option for long distance driving and tunnel work.
John Gill, Chief Manufacturing Officer at Snorkel said, "We are pleased to have signed an official supply agreement with Hyperdrive Innovation, with whom Snorkel has worked closely with to develop a stable electric powertrain that can deliver the reliability and performance that our customers require. Following very positive feedback to our preview at Bauma, the design has undergone thorough testing, both in concept and in field evaluations, and we are confident that these models will exceed our customers' expectations."
The use of maintenance-free lithium-ion battery packs reduces running costs by up to 95 percent when compared to an engine, and are shown to last up to 20x longer than lead acid batteries. The low voltage system is easily serviced, without the need for specialist high voltage training, and has been tested in climatic chambers between -25°C and +60°C.
The zero-emission, lithium-ion batteries also deliver significantly less jobsite noise. The company says that the new SL26RTE is 60 percent quieter than the existing Snorkel SL26SL, at less than 68dB.
Fitted with a 2.5kWh 50A battery charger, the battery packs can be fully charged in less than 6 hours, at a significantly lower cost than the diesel equivalent.
Stephen Irish, Founder and Commercial Director at Hyperdrive Innovation commented, "It's been fantastic to partner with Snorkel on their first lithium-ion battery powered machines. To have the opportunity to collaborate with another progressive and forward-thinking business that is at the forefront of their industry is testament to our capabilities and a great example of the wave of clean growth being driven by changing legislation internationally. We are delighted to secure the contract to supply the SL26RTE and SL30RTE with the very latest Hyperdrive battery technology and working to a demanding timeline, it has been a pleasure to support Snorkel to take these initial concept vehicles through the development cycle and into production."
The Snorkel SL26RTE delivers a maximum platform height of 8.0 m (25 feet 6 inches), a lift capacity of 680kg (1,500 pounds) and a spacious 1.72 m (5 feet 8 inches) x 4.6 m (15 feet) platform with the 0.91-m (3-foot) roll-out deck extension deployed, the SL26RTE weighs 3,500 kg (7,826 pounds) and, available with non-marking tires, is ideal for all types of indoor and outdoor applications.
The larger Snorkel SL30RTE can reach a maximum platform height of 9.0 m (29 feet 4 inches), lifting a maximum platform capacity of 590 kg (1,300 pounds). Drivable at full height, the SL30RTE has a fixed platform of 1.72 m x 4.23 m (5 feet 8 inches x 13 feet 11 inches) and weighs 3,450 kg (7,605 pounds).
Both models share the same 4-wheel drive performance, 50 percent gradeability and self-levelling capabilities without stabilizers up to 9 degrees front to rear, and 13 degrees side to side, as the original diesel-powered Snorkel SL26SL and SL30SL which are also still available. As of January 1 2020, the SL26SL and SL30SL models will be rebranded as the SL26RT and SL30RT.
Company info
Related products