Prinoth to show crawler carriers and vegetation management products at ICUEE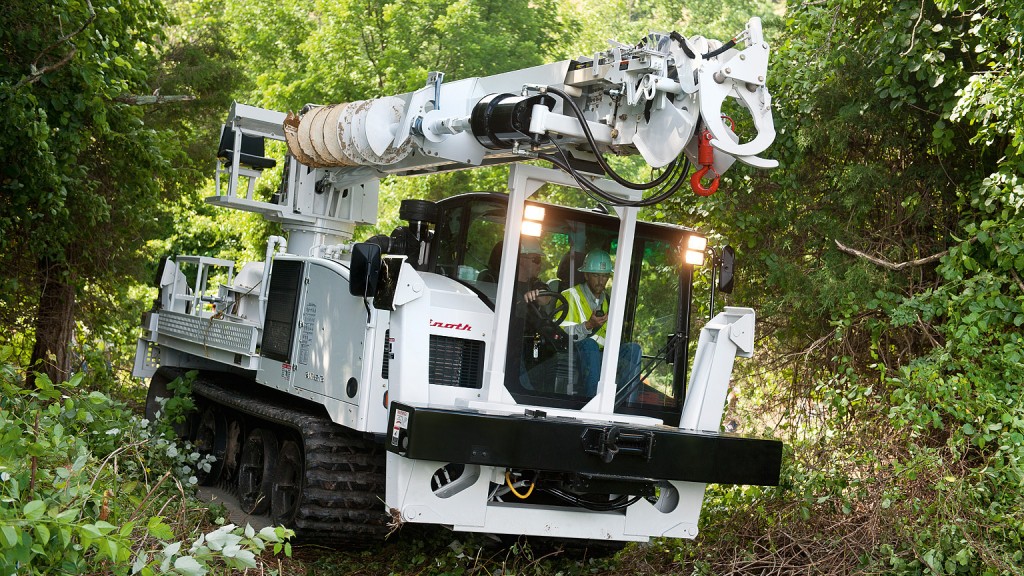 Prinoth will participate in the International Construction & Utility Equipment Exposition (ICUEE). Prinoth has been producing tracked vehicles of all shapes and sizes for over 65 years.
At ICUEE 2019, Prinoth will display a variety of sizes and models from both their crawler carrier Panther lineup and their Vegetation Management offering, which is both extensive and powerful. The company says that it will be talking to operators and linemen who use their products to get their impressions, understand strengths, and see what areas of improvement need attention.
Crawler carriers of all sizes, for all job types
The biggest crawler carrier from the Prinoth line, the Panther T22, will be equipped with an ALTEC AC45-127S crane. This unit can access to hard-to-reach areas through a crane with a reach of 127 feet telescopic main boom, which can be equipped with an optional 31- or 55-foot jib. The Panther T22 with an AC45-127S crane offers best-in-class safety, reliability and off-road performance.
The brand new Prinoth Panther T7R will be shown for the first time at a trade show. Prinoth says that this model is set to redefine the standards for tracked dumper productivity and cost effectiveness.
The Panther T8 is a legacy product from Prinoth. The first of the Panther lineup remodel was first introduced in 2011. The company says that it remains one of the most versatile crawler carriers on the market and offers exceptional performance and versatility in electric utility, mining, construction, as well as oil and gas applications. The powerful Prinoth Panther T8 tracked vehicle fits just about any implement to its 860 mm (34-inch) truck-inspired chassis with little to no modification. The PANTHER T8 effortlessly carries up to 7,260 kg (16,000 pounds) worth of heavy equipment, materials and supplies to any worksite while exerting very low ground pressure.
Finally, the Panther T12 on display at ICUEE will be equipped with a new type of equipment for this size of tracked vehicle, which will be announced closer to the show.
Prinoth Vegetation Management for solid ground
Prinoth Vegetation Management, which is headquartered in the south of Germany, will be presenting a comprehensive product portfolio in thebooth.
At ICUEE, Prinoth Vegetation Management will show a carrier vehicle perfect for special jobs such as mulching operations on very challenging terrain – the RAPTOR 300r. The undercarriage adapts to any type of ground, either swampy, uneven, or steep. The extremely low ground pressure prevents it from getting stuck and sinking in soft soils up to a water depth of 47 inches (120 cm).
The rubber track also provides the advantage to cross paved roads like a wheeled carrier without damaging roads. The Raptor 300r is thus ideal for working on power lines maintenance jobs, pipeline or roadside maintenance and even larger land clearing jobs in swampy areas.
Prinoth launched the Raptor 500 with 440 hp in April 2019. Compact dimensions and the light weight of the carrier ensure excellent maneuverability. More power with less noise emissions – the new RAPTOR 500 carrier vehicle is mainly used for afforestation of areas damaged by storms. With 640 hp, the Raptor 800 is excellent for heavy duty applications.
Adding to Prinoth's line of forestry mulchers and excavator attachments is the M450s-1900. Designed for use on 80- to 150-hp (100-200 l/min) skid-steer loader class, this powerful and compact mulching head is ideal for a wide range of end-uses. At ICUEE, the M450s-1900 will be mounted on a Takeuchi skid steer.
With its excavator attachments, Prinoth covers the range from 6 to 25 tons. The M450e-900 is the lightest excavator-mounted mulcher for 6- to 12-ton excavators. A built-in gear motor allows easy mounting on different excavators as well as a rapid change of carrier units, without having to install additional leak oil lines. The mid-range includes the M450e-1100 mulcher for use on 12- to 18-ton excavators. The M550e-1300 is the solution for heavy-duty jobs. This mulcher is designed for excavators in the 18- to 25-ton range. The power pack ensures top shredding quality thanks to the counter blades and is reinforced with wear-resistant steel, even in critical points of the housing.
The S700 is designed for excavators from 6 to 12 tons (S700e) and for skid-steer loaders up to 90 hp max (S700s) with equivalent extension arm. As well as the excavator mulchers, the S700 stands out with its "plug & mulch" feature, which means an easy mounting on every vehicle without an extra drain line. Furthermore, the structural layout of the machine allows a highly weight optimized structure. The ICUEE visitors can compare the S700e on a special developed support transport system with the S700s mounted on a skid-steer loader.
Company info
Related products