Enerpac introduces new self-locking cube jack
56 ton capacity incremental lifting system with automated mechanical locking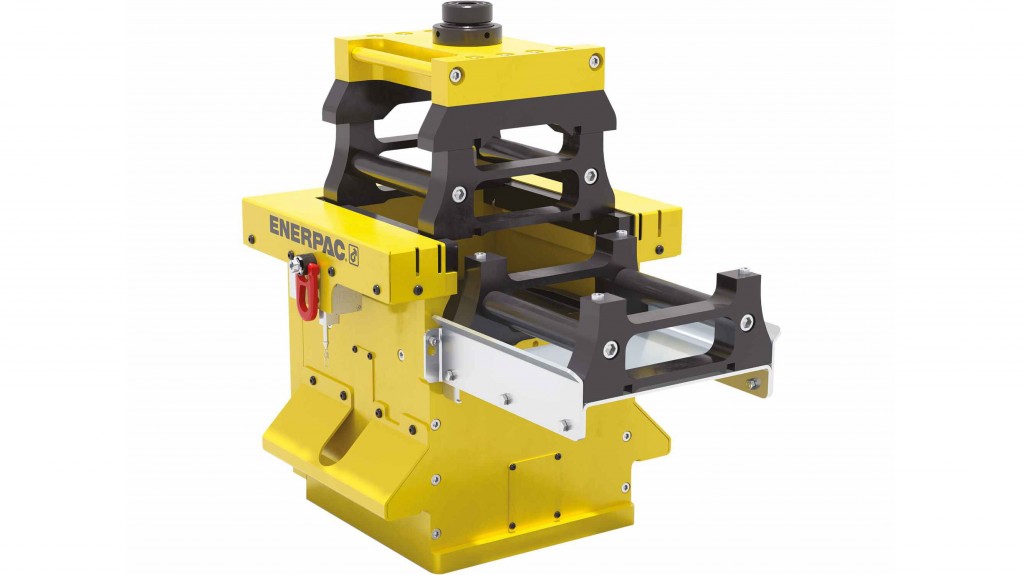 The Self-Locking Cube Jack from Enerpac offers a new compact and portable hydraulic solution for incremental lifting and lowering of heavy loads. The SCJ-50 Cube Jack uses a base lifting frame and self-aligning, lightweight steel cribbing blocks to provide high-capacity and stabilized lifting - offering a safer, controlled and more efficient alternative to climbing jacks with wooden cribbing.
The SCJ-50 Cube Jack is based on an operating principle similar to our 125-750 ton Jack-Up Systems, but in a vastly smaller footprint and without the need for electrical controls. Up to eleven 35-lb. (16kg) steel cribbing blocks can be safely and easily stacked onto the compact Cube Jack base frame yielding a maximum height of 2067 mm (81.4 inches). The base frame footprint measures just 500mm x 428mm (19.7 in x 16.9 in), making it ideal for portability and restricted operating space. A low 494mm (19.4 in) minimum initial jacking height increases flexibility and reduces operational startup time.
The SCJ-50 Cube Jack operates with standard 700 bar (10,000 psi) hydraulic pressure and is compatible with standard Enerpac pumps, such as the Split-Flow Pump that offers the ability to synchronously operate multiple Cube Jacks.
The compact size and portability of the Self-Locking Cube Jack offers a powerful solution for numerous applications, such as equipment maintenance, vehicle unloading or jacking a transformer, module, or bridge.
Company info
Related products